Who wants to get married the Carrie Bradshaw way? I Do!
613 total views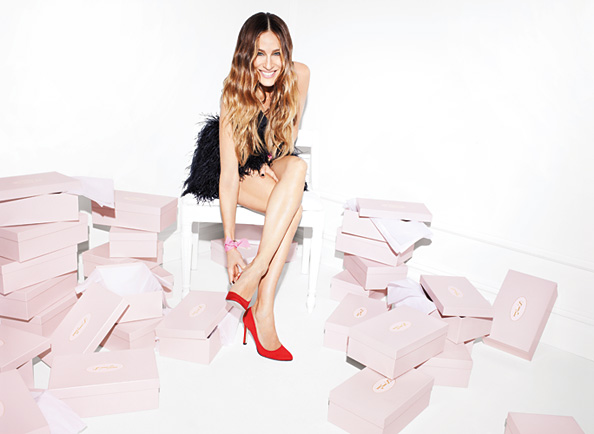 Brides Rejoice! Okay, it may be too soon to talk about that given the age we all are, but who hasn't fantasized their own dreamy, elegant, romantic wedding day? Who doesn't want to inject a little Sex and the City style into their big day? Good news, Sarah Jessica Parker has just announced that the SJP Collection is adding special styles for brides that will allow you to come one step closer to channelling your inner Carrie Bradshaw on your wedding day!
You all remember that moment of Sex and the City, when Big tells Carrie that he can't go through with the wedding. That weighted moment that shattered through the movie seats when people went to see the film and still brings tears to my eyes when I watch the scene. It was a weight that could only be lifted with a pair of Manolo Blahnik's, as Carrie sat lonely, waiting for the perfect moment to revive the broken love between her and Mr. Big. Now, Sarah Jessica Parker inspired by her fashionable jewel-toned evening shoes, gives a chance to all her fans to walk in her on-screen shoes.
Accessible by spring 2015, her collection will include leather and satin styles in white, ivory and blue. Of course, all will be complete with her signature grosgrain detail. The stylish pumps will be priced $355 to $545, depending on the fabric, will first be released on Zappos.com Wedding Shop, and eventually will roll out to other retailers. From what we already know, Sarah Jessica Parker designed her debut shoe collection in collaboration with Manolo Blahnik CEO George Malkemus. How very fitting, Ms. Parker.
As Sarah Jessica Parker exclusively told Vogue, "Because I got to play that role, I wore a lot of shoes, and by default I learned an enormous amount. It's hard to walk away from that."
While we have yet to see images of the designs, we are sure they will make us want to say "I Do" in no time.