Interview: Rhianna Tomlinson
742 total views
Rhianna won the Strictly Come Dancing competition of the 2015 Charity Showcase, where campus celebrities are paired up with members of the Ballroom Dancing Society.  She danced the rumba with the Mikey Aspinall to (the) Rihanna's 'Love the Way You Lie (Part 2)'. I was able to catch up with her after the competition. 
Congratulations! Did you think beforehand you were in with a good chance?
Well I've danced in the past so it wasn't like I was starting from scratch, but we're both hugely competitive so we kept making it more complicated every time we met up – there was always room for another lift!
What dancing have you done before?
Mainly just tap and ballet on a Thursday after school!
So if you're both dead competitive, was Mikey getting stressed during practices? Or were you able to pull your weight?
Haha thankfully he never got mad at me. It was difficult picking it up at first because we went through almost half the routine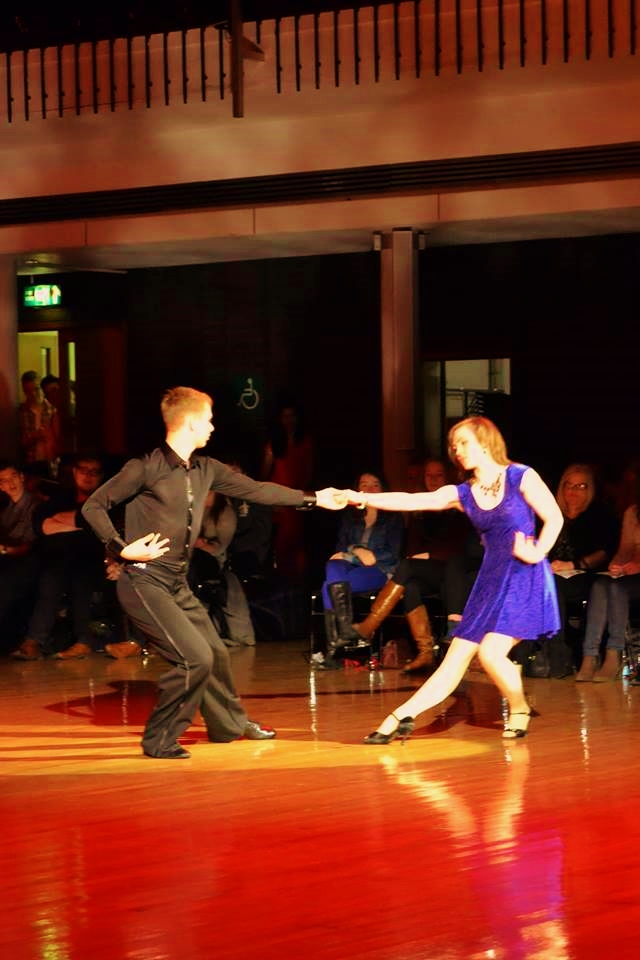 in our first rehearsal which was a lot to take in. My mind wanders pretty often though so we definitely went over the beginning a lot because I wasn't paying enough attention…

Did Mikey make up the routine?
Yeah, as we went along. His regular dance partner Petra came up with some extra fancy things I could do as well.
How many hours would you say it took?
We were thinking about this the other day. We met up two or three times each week for a couple of hours so somewhere around 25 hours I think.
For those who weren't there, how would you describe the dance?
Hot, sexy and intense… I hope! Mikey tried to choreograph it so we went from close and intimate to pulling away so it fit with Love the Way You Lie. At first I was nervous about doing the rumba with a complete stranger but it was just super fun!
Think you'll stay friends?
Oh definitely!
And keep up with the dancing?
No question, I'll be at the ballroom dancing lesson tomorrow. It's made me so happy dancing again so I'm definitely not giving it up.
You're the treasurer of the Comedy Institute. Can you tell me a bit about what the society does?
Gosh, we do a bit of everything – if anyone wants to see what the society is like we have our general meetings in Bowland North 20 every Friday at 6pm. We have County Comedy Club every even-week Thursday where stand-ups from the society perform with the occasional improv section. We put on a sketch show every term which is always a lot of fun. We have a weekly comedy panel show, Talk Of The Devil Sundays at 1pm on Bailrigg. And we're working on the second season of our original radio sitcom, Off Course. We'll also be taking a sketch show to the Edinburgh Fringe Festival this summer!
Have you done the Fringe before?
Yep, we took a show up called Cosmonauts last year which was a real success and lots of fun. It was packed out most nights despite having a 1am slot on the top floor of a pub and we even received a 4 star review from the Ed Fringe Review.
What do you think of the comedy scene in Lancaster?
We're pretty lucky in that the Borough gets a lot of circuit comedians performing there, so you can get relatively big names for a good price. It can be hit and miss, but it still makes for a nice evening. Also the Grand sometimes hosts popular comedians – Lancaster's pretty good if you know where to look!
Do you think we could get more professional comedians on campus? I remember Milton Jones coming in my fresher's week but that's about it…
Yeah, we don't get many comedians on campus. I would argue though that most of our society's stand-ups are just as good (if not better) than many established performers. And I'm not just saying that because they're my friends.
More people to County on even-week Thursdays then!
It's free as well – there is literally no reason not to.
Who is your favourite comedian in and outside of the Comedy Institute? 
Outside, I love Dylan Moran. Inside, even though everyone's amazing, I'd have to say either Dave Duncan or Mateusz Jurczyński. Dave is just a cool dude who has a lot of good advice to give, and Mateusz is great if you enjoy watching an angry Polish guy shouting at anything. Ed Colley also does great character comedy. I'm just going to start naming everyone…
Plans after graduation?
I would like to open up a board game café someday. Nothing to do with my degree (data science), but it's the dream. There's one in Edinburgh that I've been to and one or two opened in London last year so it's a very new thing – hopefully I can get in there before anyone else. But no board game café could be as beautiful and welcoming with as delicious food as mine so it should be fine if I can find the money from somewhere.
A bit of stand-up to bring in the pennies then?
Haha I don't think it pays that well! But I'm leaning towards dancing anyway now.