Welcome To Arts City
748 total views
After living in Lancaster for a certain length of time you will become accustomed to hearing a number of phrases. "Wow the weather really is shit here, isn't it?", "Will it ever stop fucking raining", and of course the infamous "nothing ever goes on here". That last phrase get's repeated so much that, initially, I believed it. However, it doesn't take much to realise that in Lancaster you are surrounded by culture. There are over 20 live music venues, 3 major theatres, 3 cinemas, and that's just scratching the surface. For all new arrivals to Lancaster University, congratulations on making a wonderful decision. Without ever leaving the campus you could fill virtually every night of your time here watching innovative theatre performances and films, mind-blowing dances routines, hilarious stand up comedy, incredible music acts, and all without spending more than a few pounds. Make the best of what your new home has to offer you, and I promise you will never be bored.
Before running through ten of the top places in Lancaster to get your culture fix, I'll leave you with what my predecessor, Simon James, had to say in his final article last year:
"If you're here again next year, I'm envious of you. Make it your own – a cultured individual with a 2:1 trumps having a first and nothing to talk about. Download the Lancaster City Arts App. Don't ignore all the posters on the spine. If your friend is in a performance, go and support. Do everything you think sounds good"
Campus Bars
The bars on campus are so much more than just a place to pre-drink. Every bar on campus has its own unique identity, and offers exciting events. For example The Northern Oaks (County College's bar) plays host to the regular term time music night Live @ The Oak as well as the County Comedy Club, both of which are free. Grad Bar (otherwise known as The Herdwick) hosts an annual beer festival, nearly every campus bar hosts regular quiz nights, and of course the end of year Extravs (themed end of year parties).
One of the best venues in Lancaster, and a must for all cinema, theatre, and comedy lovers. Complete with a bar, and a regularly updated room for artwork, The Dukes succeeds in being one of the cultural centres in Lancaster. As well as professionally produced theatre productions, music performances, dance performances, and a cinema dedicated to screening some of the best independent films; Dukes also takes part in Theatre on Screen which provides access to some of the nation's best theatre at a fraction of the price. In October, the sold out production of Hamlet, led by Academy Award Nominee Benedict Cumberbatch, is making its way to the screen.
Although easy to miss, The Gregson is one of the most charming places in Lancaster which provides a friendly, accessible, community-based social environment. It is home to many local organisations and groups as well as a favoured spot for local promoters bringing in a wide range of popular cultural events over the year. Not only that, but it has one of the best pubs and restaurants in Lancaster.
Lancaster Castle was recently described by English Heritage as being the North-West's most important historical monument, which is no small title given the plethora of historical monuments in the region. The Castle itself dates back to the Roman era, and over the years has been witness to religious persecution, witch hunts, and most recently acted as a prison. Tours of the castle are a great experience and a must-see for all history lovers. It also is host to a number of music events across the year, which at night provides an unbelievably evocative atmosphere.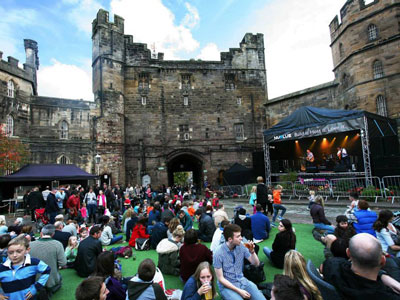 Open Mic Nights
Whether you're an aspiring musician, or just love to hear live music, Lancaster is the place to be. The city is packed full of open mic nights, and they've helped to develop the career of artists such as Rae Morris and Jay Diggins. There are open mic nights at The Bobbin (every Monday), The Golden Lion (every Tuesday), The Stonewall Tavern (every Wednesday), The Park Hotel (every Thursday), and at the Apothecary (every Thursday). This is just scraping the top of the barrel, there are 21 live music venues in Lancaster, so make sure to get yourself down to one.
Live at LICA was formed through the combination of campus-based venues The Nuffield Theatre, The Peter Scott Gallery, and the Lancaster International Concert Series. It also runs the LICA Building, which will become familiar to all Art, Film, and Theatre students. The Peter Scott Gallery's collections (which include significant European artists such as Dürer, Miró, Ernst and Vasarely) are shown throughout the year as part of changing exhibitions. The Great Hall, meanwhile, offers a varied array of music including orchestral concerts, chamber music, jazz, world music, opera and new music. Finally, The Nuffield Theatre (which was described by The Guardian as "the place in England to see the most innovative work") presents up to 30 visiting professional shows a year, as well as a number of performances from the Lancaster University Theatre Group.
The Storey dates back to the Victorian era, having been established by Thomas Storey in 1898 to offer educational opportunities to the people of Lancaster. Today it hosts an array of events, ranging from music and film, to literary performances, workshops, and art exhibitions. One of their most popular events is Stories at The Storey, which is a free true story open mic night hosted by Yvonne Battle-Felton and Naomi Kruger on the last Thursday of the month.
If you're willing to be patient about seeing the best new releases, Take 2 Cinema is an amazing opportunity. Located in Bowland College, Take 2 screens all the biggest blockbusters roughly a term after their initial release, for the cost of just £3. Films are shown on Mondays, Thursdays, Fridays, Saturdays and Sundays during weeks 1-9 of every term. One film is shown per day, and the showing starts at 7:30pm on each day. Take 2 even have a refreshments kiosk, and a high quality digital projector with 3D technology equal to those of big Cineplex cinemas.
The Grand Theatre has a proud history dating all the way back to 1782, and since then has remained a central part of the Lancaster cultural scene. Operating as a venue for both professional and amateur productions, all for a relatively low price, the Grand Theatre is one of the best places in Lancaster to see theatre. This autumn, don't miss their production of Sweeney Todd.
54 acres of beautiful parkland, with views stretching all the way to Morecambe Bay, complete with the iconic Ashton Memorial, Butterfly House, and Mini Beast Cave. No matter what time of year, this park is an absolutely beautiful place to visit and it also regularly hosts plays, concerts, and outdoor film screenings, and you can find out what's on here.
But Lancaster isn't just a place to enjoy culture. Lancaster University is home to some of the best arts societies in the country; catering to a wide range of interests. So, whether you're a beginner or a seasoned expert, there's plenty to get involved in.
Lancaster University Theatre Group
A fun and exciting society for everything theatre related with opportunities on and off stage to get involved. We put on at least 9 shows a year and this Summer we took a show to the Edinburgh Fringe.
Auditions: 3rd/4th October
Backstage Meeting: Thursday 8th
Location/Time TBC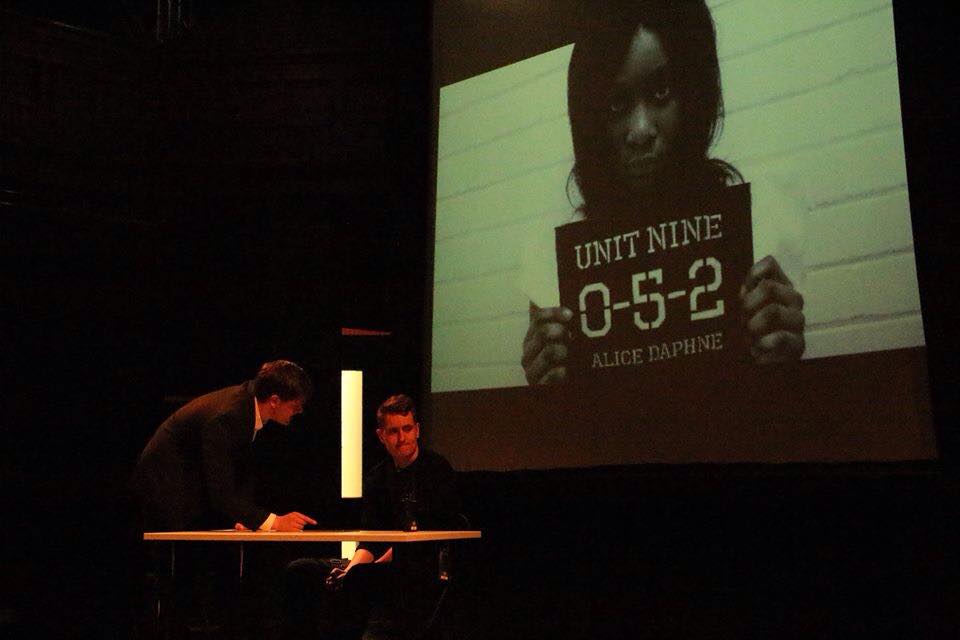 Pentecostal Gospel Choir
The Pentecostal Gospel Choir is a welcoming, vibrant international community of people who love singing gospel music. We rehearse weekly and love getting involved in performances both on campus and off.
Rehearsals: Every Wednesday 3-5pm in the Chaplaincy Centre
Lancaster Folk Society
A society for anyone interested in folk music and dance.
Find us at Freshers' Fair, the Cartmel Ceilidh on 1st October at Barker House Farm, or come and play with the band on 7th Oct
Lancaster University Ballroom Dancing Society
LUBDS provides professional Ballroom and Latin American dance classes for people of all abilities. We also provide other opportunities including competitions, workshops and regular socials.
Taster Sessions: Monday 5th October (7-10pm) and Thursday 8th October (8-10pm) in County South Lecture Theatre
Lancaster University Film Society
Do you enjoy watching films, talking about films, or just eating popcorn? If so, then film society is for you! We hold weekly screenings every Tuesday, ranging from cinematic classics to the latest blockbusters and everything in between. We also host regular socials, quizzes, and film themed nights out. For more information, find us on Facebook.
Lancaster University Glee Club
LUGleeC is the society for anyone who just loves to sing but wants to be relaxed about it; no auditions, no sheet music, no pressure. Just a lot of fun!
Lancaster University Comedy Institute
LUCI is a society dedicated to allowing those interested in writing and/or performing comedy the opportunity to do so with like-minded individuals. We operate primarily in radio and live formats, though are looking to expand to other mediums, such as filmed sketches. We accept anyone, regardless of whether you think you're funny or not; as long as you're eager, we'll show you how to make other people laugh. For more information visit www.lucomedy.co.uk
Lancaster University Film Production
We are Lancaster University Film Production society – by name and by nature! Join to become part of a new community of student film makers with a diverse range of skill sets as we embark on a number of short and feature length products! For more information, find us on Facebook, or you can watch all our films from the past year on Youtube.