#Outfit Of The Day
513 total views
Chiara Ferragni
If you don't know her yet, you probably should. Originally from Milan, this Italian fashion blogger is about to hit 5 million followers on Instagram. Chiara moved to LA a couples of years ago to pursue her fashion career with her boyfriend, the American photographer Andrew Arthur. She posts every day about her outfits and constantly updates her followers on her journey and her projects. She also has her own personal line of shoes, for which she collaborated with Steve Madden.
You should follow her if: you're interested in haute couture and designer clothing. Chiara campaigned for Louis Vuitton, Yves Laurent and Calvin Klein, just to name a few.
Find her at @ChiaraFerragni on Instagram or on her blog www.theblondesalad.com/it.
2. Julia Sarinana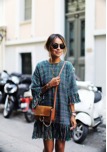 This LA girl started her blog, Sincerely Jules, in 2009 and slowly reached the top of the list of the most influent fashion bloggers. On her Instagram profile, followed by 2.7 million people, she describes herself as a "Dreamer. Believer. Achiever." She posts daily about her life-style in general, her outfits and her journeys.
You should follow her if: you're a lover of street style and want to learn how to be tanned all year long.
You can find her @SincerlyJules on Instagram or on her blog: http://sincerelyjules.com.
3. Adam Gallagher
Ladies, this one is for you. He was only 17 when he started his blog I AM GALLA, in 2009. This NYC based blogger currently has 1.5 million followers on his Instagram profile. He's now 23 but he has already had very important collaborations, featuring in a Levi's ad and sponsored by Gucci.
You should follow him if: you like stylish (and good-looking) guys and if you're interested in travelling.
You can find him @IamGalla on Instagram or on his blog: http://iamgalla.com.
4. Tamu Mcpherson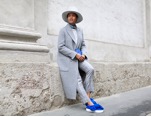 Originally from Jamaica, Tamu moved to NYC during her childhood. After graduating, she decided to pursue her real passion of fashion, and made the brave decision to move to Milan. She started her career collaborating with Glamour Italia in 2006 as a street style photographer. She later opened her blog All the Pretty Birds, and finally achieved her dream of becoming the Editor-in-Chief of fashion magazine Grazia Italia in 2011.
She's now a very important influencer on Instagram, where she posts about her job and her daily routine.
You should follow her if: you're interested in finding out how the fashion machine works behind the scenes.
You can find her @TamuMcpherson on Instagram or on her blog: www.alltheprettybirds.com.