Lancaster on Target in NEUAL
705 total views
The Saturday of Week 6 saw Lancaster University's Archery Club face off against Manchester Metropolitan University of Chester (MMU) and the University of Central Lancashire (UCLAN) in one of their first major matches of the year. This was part of the Northern England University Archery League (NEUAL), of which Lancaster is part of the western group.
Lancaster have traditionally performed well at archery, so they hoped to convert this historic success into a victory when it counted, against relatively local competition. On home turf (the turf in question being the sports centre's floor), Lancaster had a larger squad then their adversaries, but it was fortunate that UCLAN turned up at all, having been delayed by trains.
Despite Lancaster being filled with experience from the likes of captain Tom Bott and advanced competitors Gemma Ainsworth and Jay Tserkezie (to name just a few), many archers were making their competitive debut. For Cameron Thornton, Robin Cape, Naomi Smith, Arne Tjora and Alfio Fabio la Rosa, this was their first competitive tournament at university level, but nerves didn't show.
Bott and co. were optimistic about their chances, and that showed over the two hour marathon. To be quite honest, it's rather difficult to describe the events of archery. 14 archers from all teams line up and shoot three times, before the next archers repeat this process. Arrows are then scored and collected, before this process being repeated several times.
At the end of a strenuous day for all archers, Lancaster won. Their senior team convincingly overcame MMU and UCLAN by almost 700 points, scoring 2202 compared to 1516 and 1226 respectively. The Lancaster novices were not quite as dominant, however they still pipped their opponents marginally, finishing with 1023 points against UCLAN's 965 and MMU's 696. The final scores are collated from the top four senior archers from each university, and the top three novices.
The rounds were in the Portsmouth style, where 60 arrows are fired at 20 yards to a 60cm diameter target. This means a heap of 600 points are up for grabs. Captain Bott believed his senior members were aiming for a total individual score of 550, but that 525 was a decent average amount. Bott also said that he would be impressed with anything more than 250 from his novices, and all of the debutants secured this.  Arne Tjora was arguably the pick of the newbies, scoring 355 points. When it came to the seniors for Lancaster, Tserkezie topped the bill with a mighty 560 points, including 32 gold scores of 10 throughout his 60 arrows.
There were three types of bow on display for this event, being the recurve, barebow and the longbow. All of Lancaster's competitors used the recurve, which is the most common generally, and is also used at the Olympics. Everyone from MMU bar one brave soul used the barebow, which is almost identical to the recurve, and does not utilise sights or stabilisers, making it more challenging than the recurve. From the whole field, only one archer used the traditional longbow. This man with the golden bow was Ian Fleming from MMU, who impressively scored 442 points during 60 accurate arrows to knock the living daylights from his target.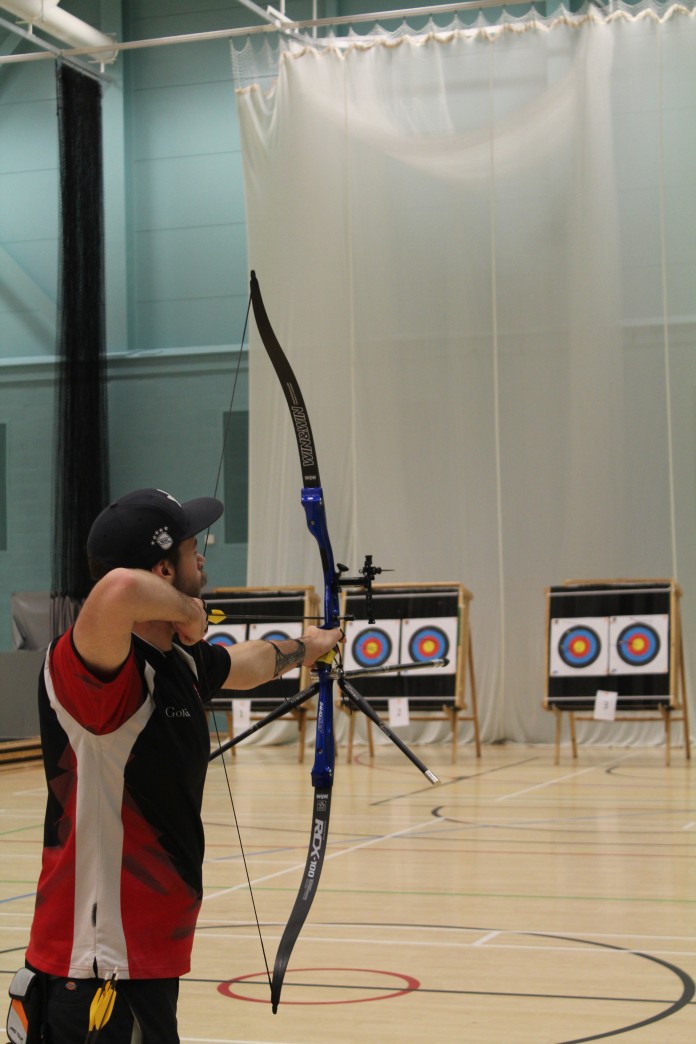 The consistency of the shooting was remarkable considering the physical and mental concentration required by all. So light relief was provided halfway through by Lancaster's Tserkezie, who mercilessly butchered a fly with his bow. He felt 'slightly disturbed' as the string from his bow naturally recoiled from a fire, only to obliterate a fly who was simply minding their own business. Alas, there were no bonus points available for this.
The competition was not without its hitches though, as the tannoy system in the sports centre distracted the archers near the end of the event as its tones echoed throughout the hall. Fortunately, most archers saw the funny side of this, and it was lucky that no-one was preparing to fire in this sport of intense concentration.
Despite losing out in the overall picture, MMU's Laura May arguably secured the best shot of the match by almost splitting her previous arrow with her second shot. To intensify this incredible marksmanship, both arrows scored her 10 points each thanks to her excellent precision. Players from all teams were staggered by this accuracy, and even May herself was shocked. 'I'm in shock,' explained the MMU novice, 'I'm just surprised I haven't broke anything yet, that's what usually happens.'
Yet despite this excellent work, it could not stop a rampant Lancaster from securing a solid victory and grabbing the headlines.