Artist Spotlight: Tracey Emin is Queen of the Unconventional
1,232 total views
Tracey Emin has been an international bad girl of the art world since the 1990's. Whether creating eccentric art works, or marrying a rock, controversy follows no matter where she goes. Her synonymy to modern art initiates interest, whether critical or complimentary, and has allowed for a personal understanding of contemporary work that I would have otherwise disregarded as amateurish and unskilled. It is easy to forget Emin's versatility when 'My Bed' has encouraged conversation ever since its shortlisting for The Turner Prize in 1999. The chaotic composition of vodka bottles, cigarettes, underwear, and condoms surrounded by her unmade bed has created a notorious identity amongst a variety of people, ranging from the highest of art critics to the general public.
For me, the piece engages with portraiture in a new fashion, and as a portrait artist myself, Emin acts as a mentor for the avant-garde in this type of work; peculiarity and originality being key to my practice, as well as experimenting with different ways to represent the self. For those who don't understand the functions behind modern art, it is easy to overlook 'My Bed' as a cop-out, asking why her bed is considered art more than the next person's. Yet, I believe it is those fully educated in the arts who gain more benefit from works like 'My Bed', as it is they who see that artistic form is not always dependent on skill and effort, and can be classified based on mere thought utilised on a creative platform.
The scene showcases the confessionary, convulsive depressive experience Emin underwent, providing raw emotion and a vulnerability that may strike viewers to disgust, as the sculpture visualises the reality of living inside of your own mind, causing Emin to have lived in a disorderly physical state. The candid set-up of an everyday object offers audience members to find relevance and relation to Emin's 'My Bed'; Emin almost brands herself as a symbol of all others by sharing her own private environment, engaging with the flaws of all human beings and emotional insecurities we find ourselves inhabiting mentally at some point during our lives. Her sound integration of experience into art formulates an intimacy with onlookers; the personal nature of the bed asks us to take a closer look at the clutter surrounding it, yet abruptly disagrees with our instinct to avoid another's self-contained territory. Generally, once explained and/or thought about, it is clear to see that 'My Bed' gives a more sombre tone than the one that may be constructed at first glance. The use of the every day out of its usual setting is perhaps what confuses, and therefore causes the uproar which it still receives today.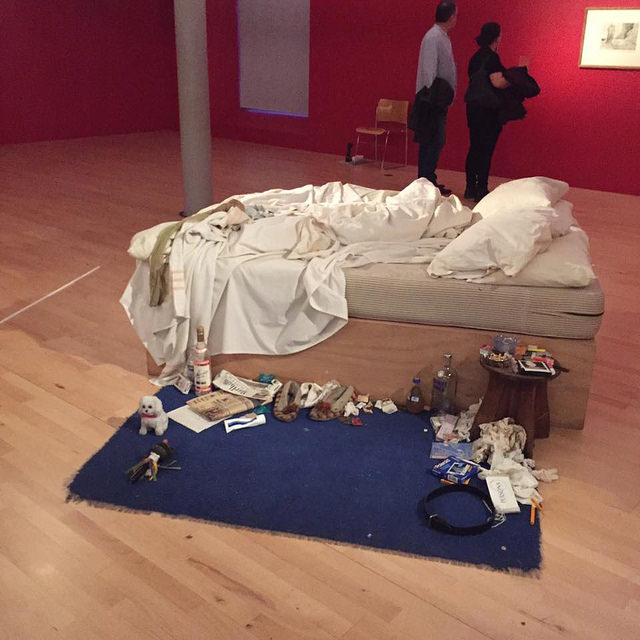 Besides the popularity surrounding 'My Bed', Emin offers versatility between works, differentiating in media from textiles to photography, monoprinting, film, and watercolours to name a few. During the noughties, Emin increasingly produced works built from neon lighting. Few of these were actual constructed images – most were a result of quotes stylised by Emin's distinctive handwriting, a scrawly and scribbly panache that can be recognised from its use in her other works. Her custom of including written text offers a new form of personalisation, gaining an insight into her psychological activity in a new way, just as we saw in 'My Bed'. The illuminated phrases speak of love, passion, desire, fear, insult – themes which manifest amongst all her inventions. Her application of words pairs perfectly with the stream of consciousness she already negotiates in many of her visual works, causing her art to hone an identity, clarifying the expressions she wishes to exploit. This co-operation of both image and wordplay exaggerate Emin's concepts, resulting in the powerful reaction she receives.
The juxtaposition, defined by the neon lights commonly used for utilitarian, practical reasons, and Emin's handwriting creates a poignancy for what she phrases. 'It's not me that's crying, it's my soul', 'Is anal sex legal?', and 'Sorry flowers die' are just a few of the slogans she irradiates. The signage we identify with neon lights now gives Emin's quotes an almost directory feel; she tells us how something is, demands it to us, makes sure we take notice of it, and the idiosyncrasy of her words allow them to stay with us. This self-revelation puts Emin at the centre of her work once more, allowing for one to see her deepest confessions and secrets.
From her voyeurism to her political commentary, it is true that Emin fully embraces her every living moment and immerses her inner self to provide us with work that at times may seem repulsive, yet is truly beautiful and fragile. The fact she utilises her platform to visualise the taboo, makes her work progressive and consistently relevant to culture, on top of continuously pushing artistic boundaries in terms of what art can be and what it means. Emin once explained that in her studio she liked to drink wine, get drunk, and dance with her large canvases at 3 am. She is a woman after my own heart.