The Sugarhouse to Sell
4,888 total views
Lancaster's 30 year old nightclub to go to housing.
Lancaster University Students' Union has entered negotiations with a developer to potentially sell its student club and venue "The Sugarhouse". The aim of this is to provide affordable student and key worker housing in the city.
Lancaster SU has owned the Sugarhouse since 1985 and has been extremely popular with students over the years. They have sited that the decision to enter negotiations has been made after considering the best interests of present and future students.
In reaction to the news, a current student at Lancaster University spoke to SCAN. They stated: "Sugar is the quintessential student night club in Lancaster, you always know you'll see a familiar face. I feel like the selling of Sugarhouse is going to be a significant loss to the student community, its a part of the package of coming to Lancaster University. It's a part of its history. "
A Students' Union spokesperson said: "We understand that students, past and present, have become very attached to The Sugarhouse, and will be concerned at the decision to sell, but we as a Students' Union have to consider the interests of the whole student body, not just now, but in years to come."
"We will now work to identify other social opportunities for students, in Lancaster and on campus. We will invest proceeds from the sale in a range of facilities and services that would be of lasting benefit to the student body as a whole."
"There are a small number of staff and student staff who might be impacted by any sale. Staff will be consulted of the developments and should a sale go ahead the Students' Union would work to support all staff to find alternative roles."
This is a developing story.
Update 18:45pm
As the news reaches the student community, they share their reactions.
"The loss of the Sugarhouse is going to be detrimental to the university. Having a University-owned club is a huge part of being a Lancaster student. It's about safety too; there needs to be some kind of replacement for this loss".
Want to have your say? Comment your reactions below.
Update 19:25pm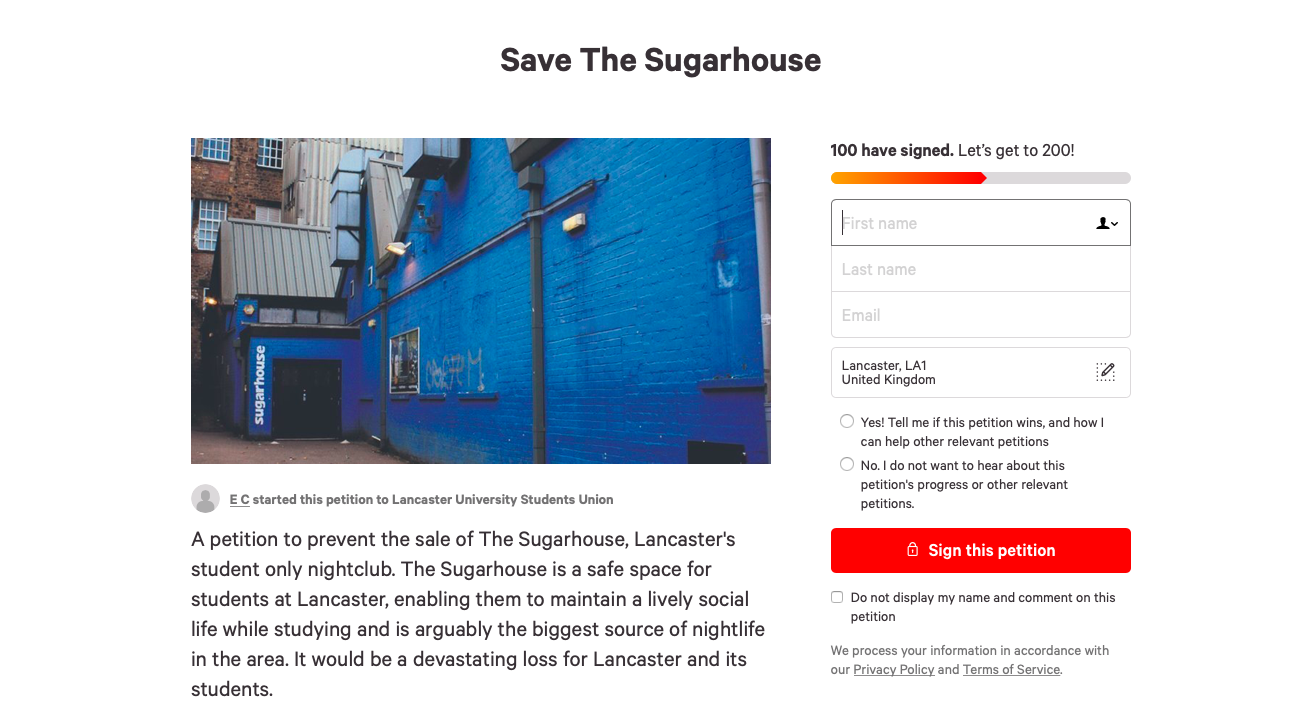 Within less than an hour of the announcement, students have already started a petition and a Facebook page entitled "Save Our Sugarhouse" in response. As of 19:25pm, the petition already had 100 supporters and growing.