Students' Union's second Sustainability Conference a success
1,261 total views
A productive and informative evening was to be had for the attendees of Lancaster University Students' Union's second Sustainability Conference, which took place on 30 October 2019. The conference, which was in the LICA Building, ran for two hours and was well-attended with a mix of around 40 undergraduates, postgraduates, academics and Students' Union Full Time Officers.
Two keynote speakers began the evening, the first being Paul Morris, the University's Director of Capital Development and Estate Operations. He looked at changes in the energy sector since he began working in 1993 and covered some of the advances the University had made in terms of sustainability. He mentioned the significant decrease in the University's carbon footprint, an increase in LEC teaching, courses, and research, and an enormous increase in staff and students using public transport.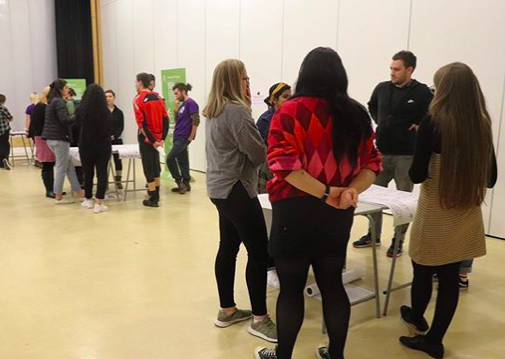 Morris was followed by Jonathan Mills, the University's Carbon, Environment and Sustainability Manager, who highlighted six current action plans: Carbon Management, Travel, Waste, Energy and Utility, and Ecology and Behaviour. Mills explained the role of the Students' Union's Environmental Sustainability Team, who was facilitating the evening. The Students' Union's Development Manager for Environmental Sustainability, Darren Axe, then took over, and explained the process of the evening and 'The Global Café'.
The Global Café involved conference attendees splitting down into groups and moving between five stations, each manned by a member of the Green Lancaster team, to provide ideas and suggestions on five topics: Agriculture and Biodiversity, Energy Supply and Demand, Mobility and Transport, Resources and Circular Economy, and then the bigger picture of University Sustainability. Once attendees had visited each station, they then revisited them and ticked their top three ideas at each.
Ideas ranged from small to large, from temporary to long-term. Popular ones included increasing community fridge usage, redevelopment of the Forrest Hills site, energy generators connected to exercise machines within Sport Lancaster, and promotion of reusable cups for new students. I was pleased to see my suggestions of a rent-a-bike system between the town and the University, and a reusable shopping bag system across campus, both being received positively by other attendees.
Darren Axe commented that it was wonderful to see such passion among the student body around the Climate Emergency motion passed at the Students' Union's AGM two days before the conference. He said that he thought the motion contained a very articulate and thought-out argument and that he would encourage the motion supporters to work with him on future sustainability projects. Axe said that his current personal interests were in sustainable mobility and transport, and he wanted to look at how people choose to travel and why, as his background was in physical geography which he studied at the university.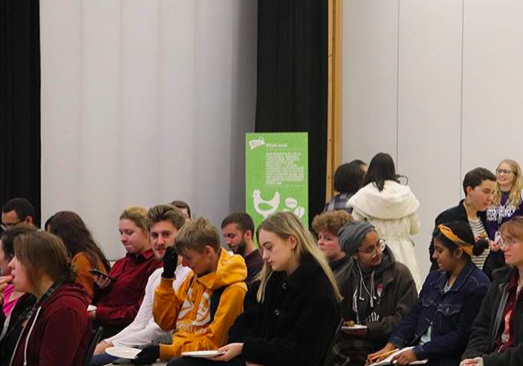 Naomi Young, a Sustainability Intern, commented that she was happy to see so many from different backgrounds and areas of the University working together at the conference. She noted that there were many volunteer opportunities within the Environmental Sustainability Team and that they were always welcoming more volunteers. Her interests were in the potential of a circular economy and of reusing resources within the University. She also told SCAN that she was enjoying her time working for the Environmental Sustainability Team, having started the role in September.
I also managed to catch up with Jonathan Mills, who said he had heard lots of interesting ideas and had taken note of certain themes coming up throughout the conference. He mentioned that many ideas and issues raised within the Students' Union had also been raised by students independently of it. He noted that it was good to see several approaches to the same issue and added that students often have a more "radical" approach to solving environmental issues.
The Environmental Sustainability Team also said that they would be attending the NUS Sustainability Summit in Sheffield next week to talk about the successes of Green Lancaster and to take part in workshops on topics like divestment.
One of the six Environmental Sustainability Team members, Laurie Butler, said that his time on the team so far had been "really exciting." All six team members are students who work part-time for the Students' Union. He said that their jobs were brilliant, and he felt they were making a real difference on campus. Butler said that his interest is in getting the University to divest from fossil fuels and to introduce further cycling and walking initiatives. He agreed with Axe that it was brilliant that the Climate Emergency motion had been passed at the Students' Union AGM.
The conference closed with thanks from Darren Axe and the promotion of a Climate Change petition by University students that asks the Vice-Chancellor to focus on making the University carbon neutral by 2030. My feeling by the end was that it had been a positive place to suggest ideas on several environmental issues and that the Green Lancaster initiative is only going to grow in productivity and reach as time goes on.
To sign the climate change petition mentioned in the article, follow this link: https://www.change.org/p/lancaster-university-declare-and-respond-to-the-climate-emergency