Jeffree Star So Far: What's Going on in Shane Dawson's New Series?
1,291 total views
As I write, Shane Dawson and Jeffree Star have released part four of their series. At this halfway point, there's already so much to unpack!
Shane and Jeffree have fantastic chemistry together. The series delves into their relationship to see how close they've become. Where there was a wall of professionalism between them for parts of the first docu-series, here we see that Shane and Jeffree share a really healthy friendship, something that is refreshing to see in the world of YouTube- especially the beauty side.
Jeffree is always there for Shane, as the more experienced of the two in the business beauty world, while Shane is growing in confidence right before our eyes.
The focus of the series hasn't actually been Jeffree; rather, we experience Jeffree through Shane. The series has been fascinating; it documents the scarcely seen process of creating a makeup line. It's interesting to see them talk numbers and formulas, especially when there are always controversies about the quality and originality of palettes and other products released by YouTubers. For example, some time back, Jaclyn Hill launched an infamously disgusting lipstick, while recently James Charles released a fresh 'anniversary' edition of his pigment palette which was criticised as being a shrunken re-release of his original product.
The series tackles its fair share of controversies – from the slander Shane deals with in episode three, to the massive units of Jeffree's Blue Blood collection that are stolen, to Jeffree's reveal that NikkieTutorial's collaboration with TooFaced was a complete non-profit for Nikkie.
The world of makeup definitely isn't a safe place, and we see Shane navigating that. However, that's what makes it so compelling.
Shane is so earnest in this series. He comes into the process slightly over his head but with Jeffree in his corner – a genius move, especially from a marketing angle. Huge profits and unit orders aside, you find yourself wanting to root for Shane's collection, wanting each colour to be super pigmented and just right. He doesn't believe that he can do it, and hasn't plugged his brand in constant merchandising and over the top brand schemes: it feels like he's picked his moment to do something big.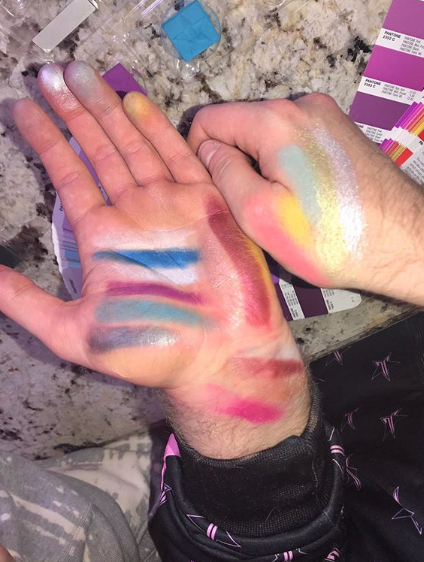 Watching Shane assess the products with Jeffree and actually develop his own makeup skills, really does make you want the product to do as well as predicted.
My favourite moment so far has to be Shane's proposal to Ryland of course. However, the logo was such an exciting reveal for the end of episode four – it felt like the whole collection was real. We also got to see Shane asking people, like Morgan, what they wear on a daily basis – which was the best part of the series (so far) for me.
This type of content shows that amazing colours and names aside; he cares about the line's longevity as much as making a statement.
Equally, it says something when one of the products I'm most looking forward to is a clear gloss (Shane Glossin').
In the most recent episode, Shane expressed his fear of the brand flopping. He worried that the huge quantity of products that Morphe predicted they'd need, would go to waste. Yet right now, the beauty world is watching their calendars for that November 1st release. In two weeks, the first episode has amassed over half the number of views that the first Jeffree Star docu-series received in a year.
This is a monumental launch in the beauty world – even before they have released the products.