On the Picket Line: UCU Strikes Begin
3,750 total views
Monday 25 November was the first day of strikes at Lancaster University, and across the UK, by the University and College Union (UCU). Lecturers and academic-related staff from the various departments of Lancaster University were on the picket line from 7.30 am to 10 am, at three locations – the zebra crossing by the Sports Centre, the Cycle Path, and the entrance to Alexandra Park. There were around 70 picketers by the Sports Centre and 100 across all three sites.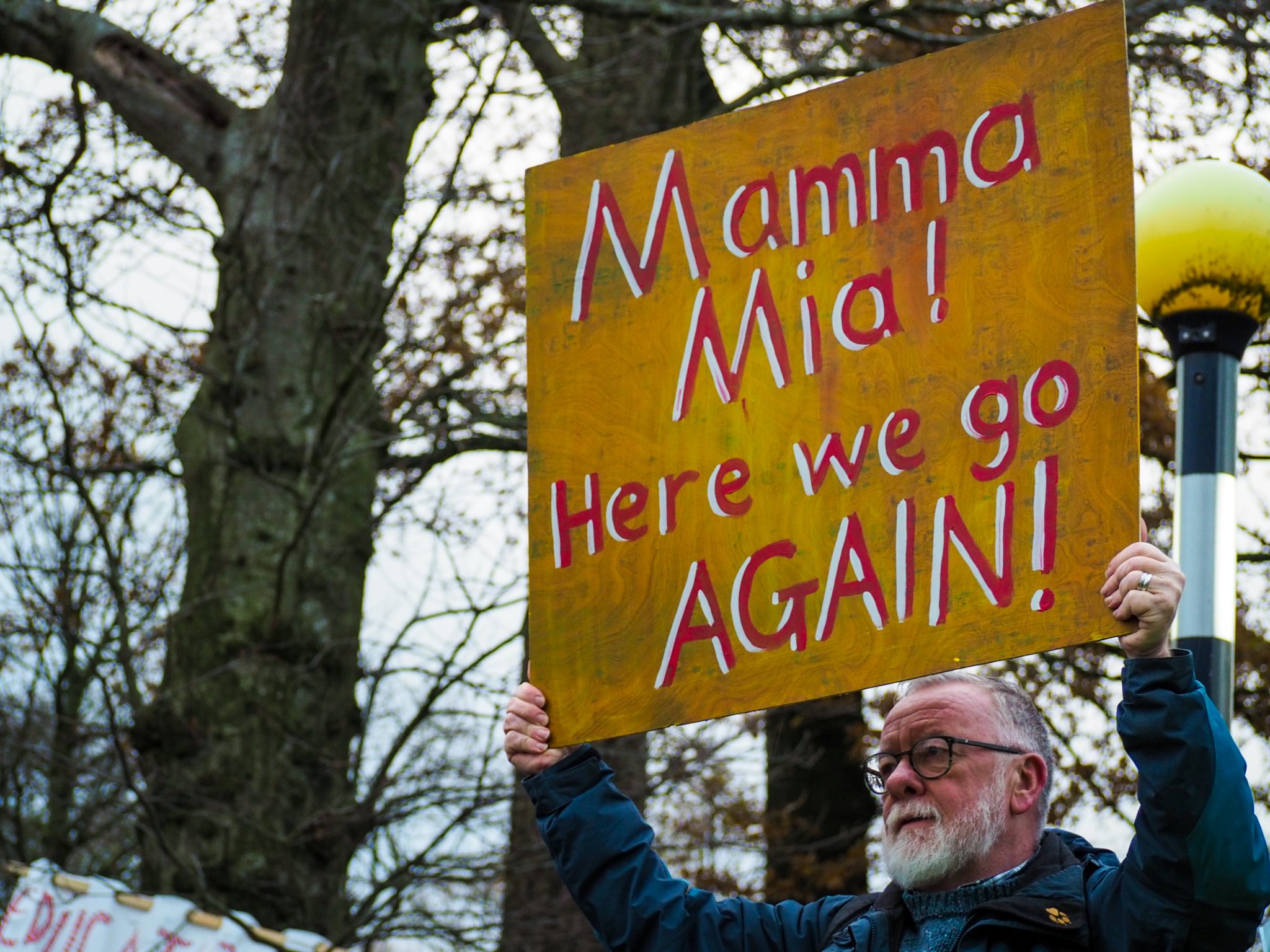 One of the more dramatic parts of the morning came when Dr Julie Hearn, Lancaster UCU President, informed picketers that Paul Boustead, the University's Director of Human Resources and Organisational Development, was planning to come down to the picket line to ask them to move from the Sports Centre to outside Bigforth Barn. Deeming this a less safe location, Hearn told picketers that UCU would refuse to move. When Mr Boustead visited the picket, he had a couple of quiet conversations with picket supervisors before conceding defeat and moving off. The picket remained by the Sports Centre.
A handful of Hong Kong students, organised by Dr Ngai-Ling Sum, also visited picketers. They held up half a dozen large spreads of images of the Hong Kong protests while capturing the crowd's interest with the loudspeaker. They told UCU members about the protests in Hong Kong, the history behind them, and the actions of the Chinese government. Several of them expressed their concern for the safety of their friends back in Hong Kong. Hearn expressed solidarity with them on behalf of UCU and said that education trade unions across Europe stood in solidarity with students in Hong Kong.
Three Students' Union Full Time Officers (FTOs) visited the picket line at various points – Grishma Bijukumar (VP Welfare and Community), Hannah Prydderch (VP Union Development), and George Nuttall (SU President). Nuttall told SCAN: "The Students' Union is proud to stand in solidarity with our striking lecturers and encourages all students to come down and show their support."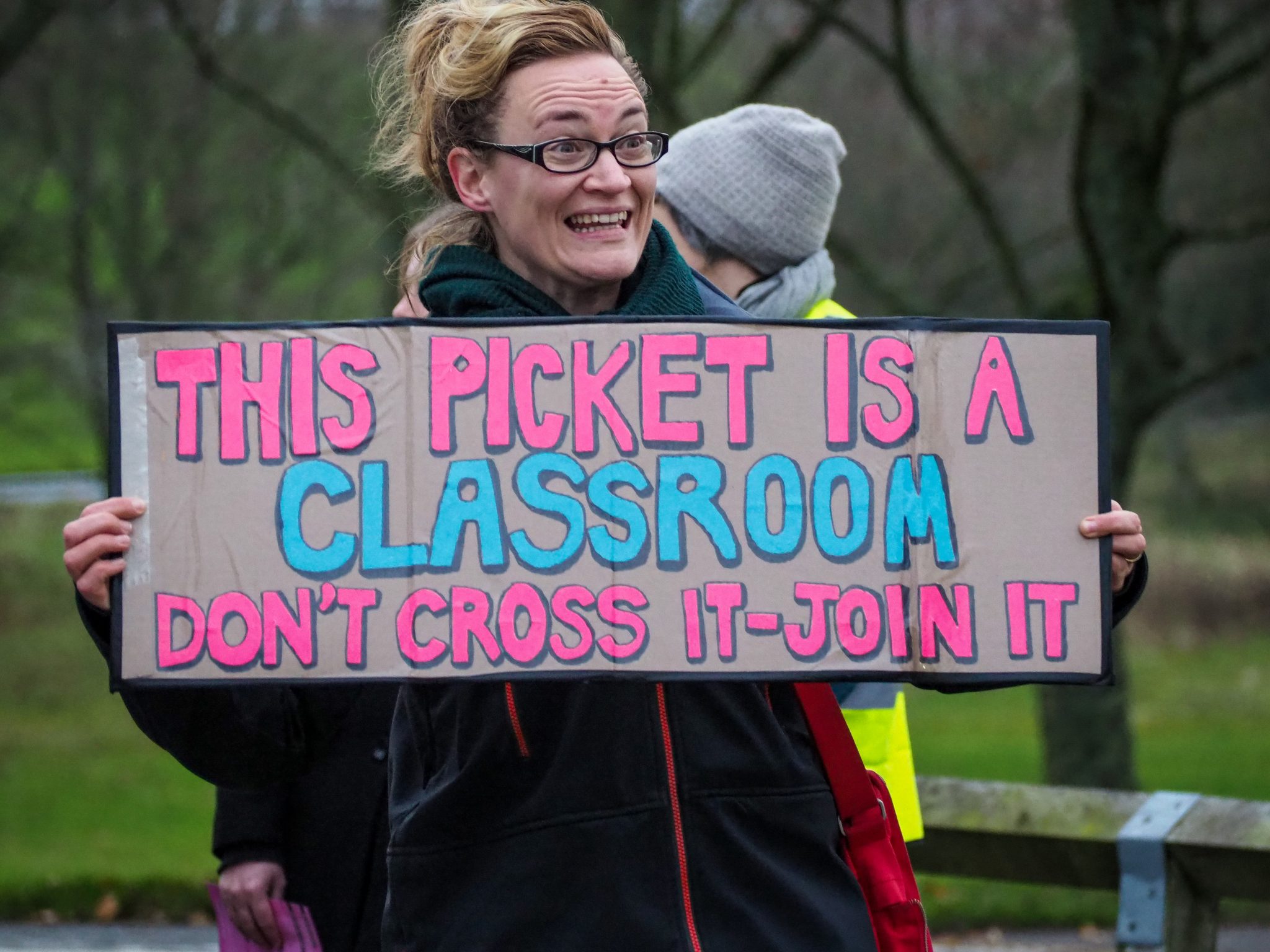 Towards the end of the picket, Cat Smith, the Labour parliamentary candidate for Lancaster and Fleetwood, came down and said some words. She noted her past as a trade union rep and expressed solidarity with the striking education workers.
The afternoon saw UCU members retire to the Gregson Centre in Lancaster, where staff and students heard a "teach-out" on 'Marketisation in Higher Education: Complicity and Resistance' delivered by Dr Richard Budd and Dr Janja Komljenovic from Educational Research. The conversation touched on issues such as managerialism, commodification, competition, and structures like the Teaching and Research Excellence Frameworks (TEF and REF).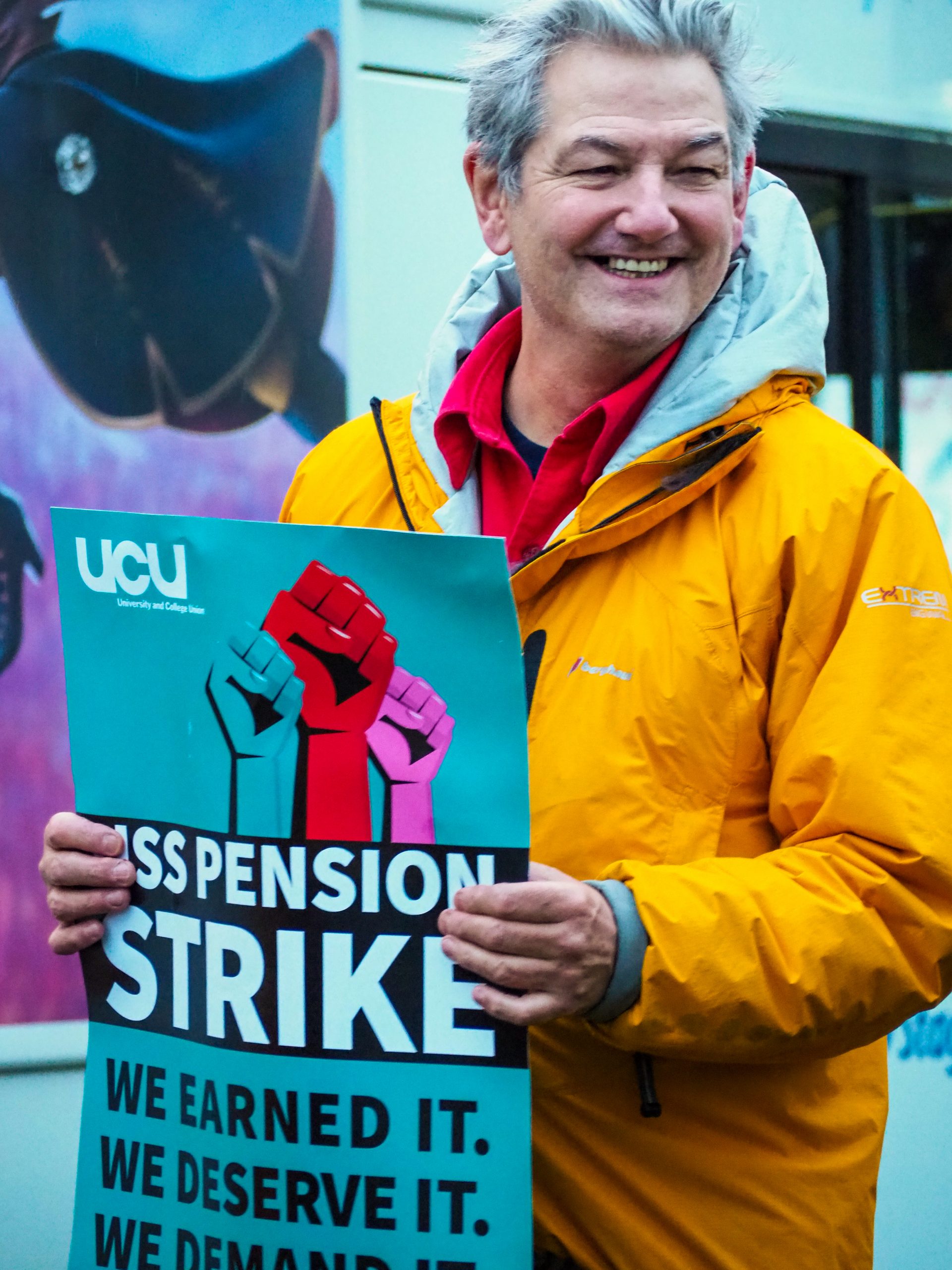 SCAN was able to speak to several students who were at the picket line. Steve Birkett, a History PhD student and Graduate Teaching Assistant (GTA), told SCAN that he was contracted to work six hours per week but ended up working around 12 hours. This was because of the need to do seminar prep, attend lectures for the module, and to do background reading on areas that are not part of his academic expertise. He said the result of this was that he was effectively being paid a sub-minimum wage for the work he has to do. Toby Atkinson, who is a Sociology PhD student and GTA, told SCAN that the three-hour framing for seminars is not realistic. He is paid one hour for prep, one hour for the seminar, and one hour for marking. He said that it could take up to four hours to mark – time that he is not correspondingly paid for.
Several supportive undergraduates were also in attendance. Jude Rowley, a third-year History and International Relations student, said that being out on the picket line "is about building a community." He noted the old trade union slogan: "An injury to one is an injury to all."
Oliver Robinson, a third-year History, Philosophy and Politics student (and City Councillor), told SCAN: "It's important for students to support their striking lecturers. High-quality teaching and research staff do more for the student experience than any other aspect of the University."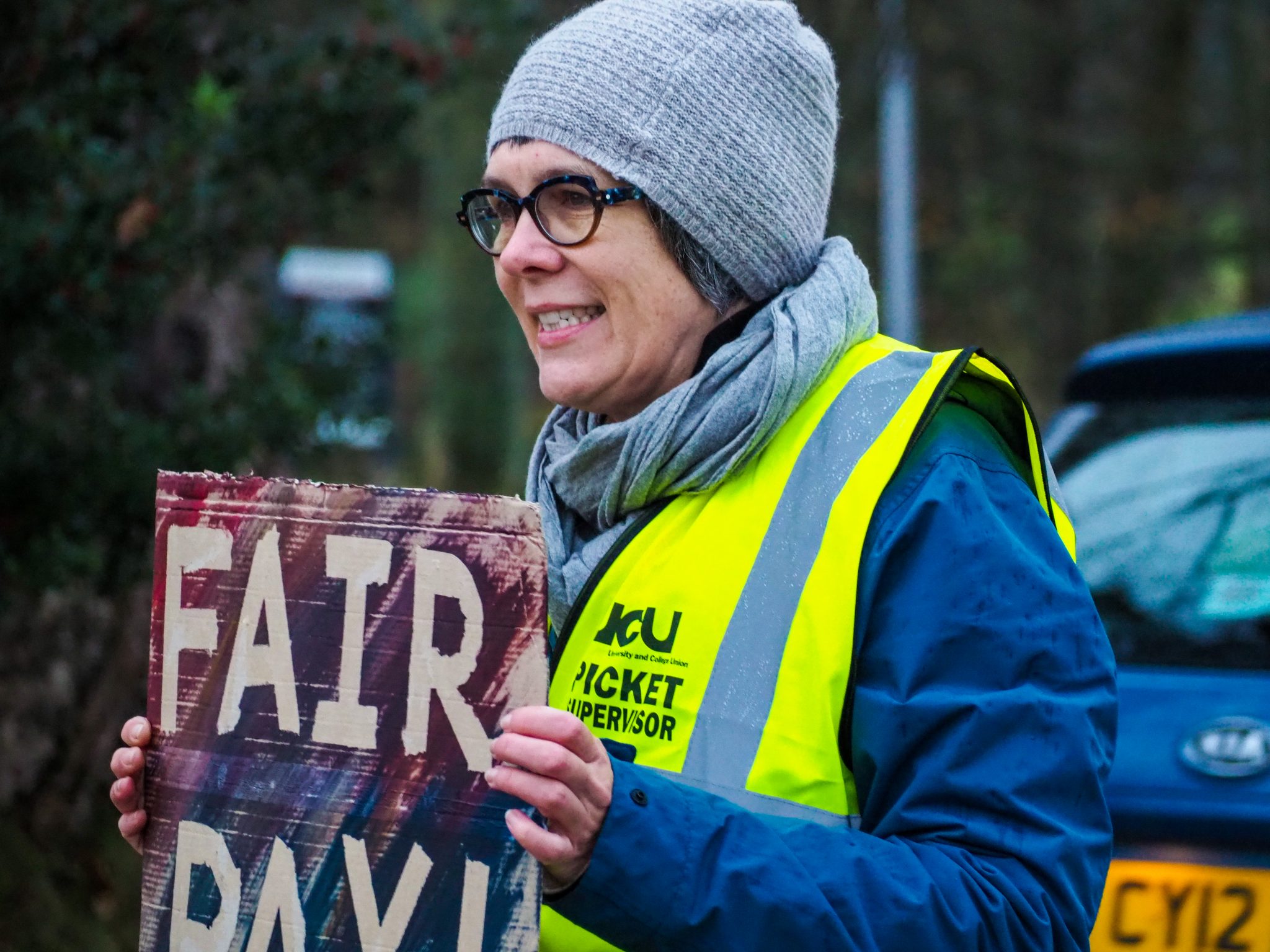 Jack O'Dwyer-Henry, a second-year History and Politics student (and also a City Councillor) said that "It's shameful that the University has been trying to intimidate students from showing solidarity on the picket line." The University's strikes portal says "A lawful picket can only include trade union members. For that reason, students and non-union members may not join the picket line." However, UCU has argued that this is semantics – students may still "visit" the picket line.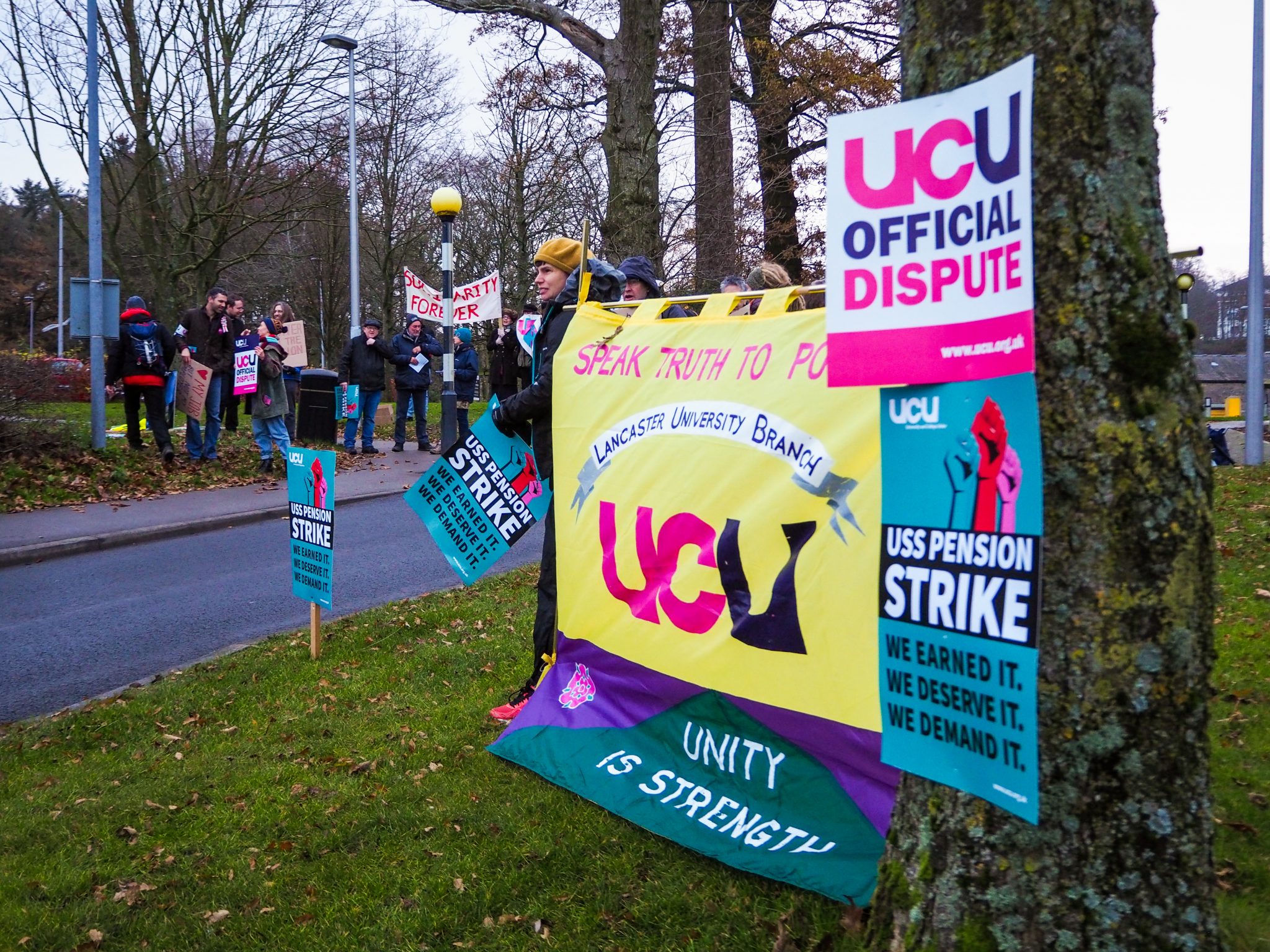 However, not all students are pleased with the strike action, as demonstrated by the 35% of students who voted 'no, I want my lectures' versus 'yes' in a recent SCAN Facebook poll. One student told SCAN, "While I see their reasons for striking, it's the students who are being affected, not the University. We're missing out on our degree, the degree that we paid for."
The strikes are due to go through to the 4 December, after which UCU members may undertake 'action short of a strike', which can include working to contract or a marking boycott.