DIY Skincare Recipes
462 total views
Sometimes I feel like I was born in the wrong era… I'm sure some part of me is stuck in a 17th-century apothecary, mixing up potions that definitely don't protect people against the plague. So, until time travel is possible, I'll just stay concocting toners and face masks, rather than working on my dissertation!
My friend bought me the most fantastic book for Christmas – Plant-Based Beauty by Jess Arnaudin – which talks about all the benefits of clean, natural ingredients. It's filled with gorgeous, natural skincare recipes for every skin type – so, of course, I immediately set about trying to make as many as I could.
I needed supplies, so I headed to the internet to find where I could get all these things that I didn't know existed. I knew what essential oils were, but carrier oils, hydrosols, white kaolin clay? I had no idea where to start. Luckily, I stumbled a brand called Naissance, which had everything I needed. I managed to find most of my basic essential oils at Boots (gotta get those points and that sweet student discount), but Naissance is perfect for carrier oils, floral waters (hydrosols), and those harder to find essential oils.
These recipes can get a little pricey – my initial order was about £26 in total, (got me free shipping!) but it all should last for ages, meaning that I'm good for face masks and oils for the year ahead. One recipe that I was planning to make called for Rose Otto Oil but the £69.99 price tag (for a measly 2ml) had me quickly closing the tab.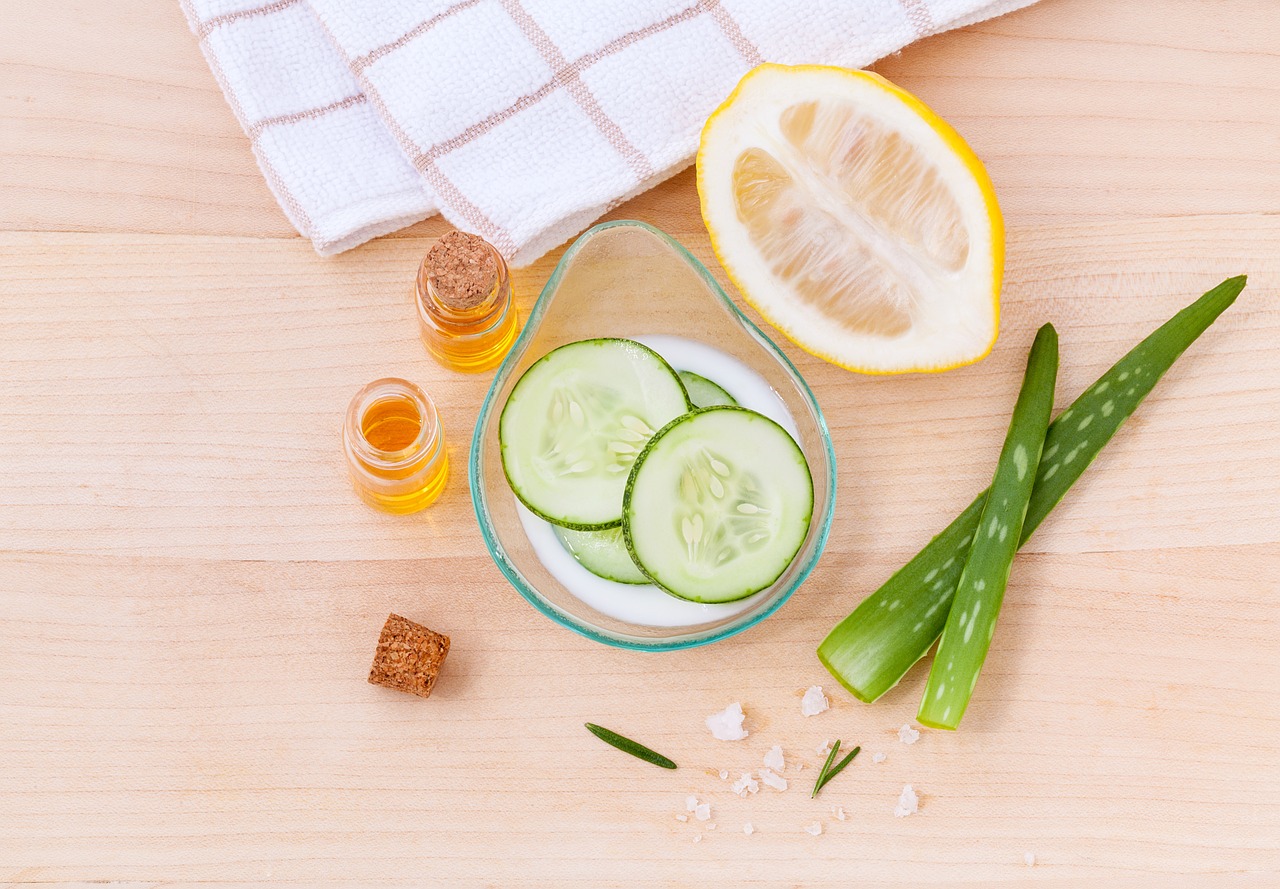 Something important to remember with natural skincare is to never put essential oils directly onto your skin – always dilute them. Please, patch test before just whacking anything directly onto your face! I learned my lesson when I put on a face mask I made and, on rinsing off, I became bright red (I have the pictures to prove it).
Patch testing is pretty straightforward. Dab some of your creation onto the inside of your wrist or by the crook of your elbow. Then leave it on for 8-12 hours. If you don't react, then you're good to go!
Here are a few DIY recipes to get you started!
Apple Cider Vinegar Toner
If you have oily or spot-prone skin, this is an absolute lifesaver.
I've already been making my toner for about eight months now, it's incredibly cost-effective and has majorly cleared up my skin. Apple Cider Vinegar and Tea Tree Oil both have antibacterial properties (the Tea Tree also helps to cover up the harsh scent from vinegar).
You can find Apple Cider Vinegar everywhere – Boots, Aldi, Holland & Barrett – and it has so many other uses besides skincare. You can cook with it, drink it for health benefits… the list goes on!
For this Apple Cider Vinegar toner, you'll need:
A large-ish plastic/glass bottle (I repurposed an empty micellar water bottle)
150ml apple cider vinegar
250ml filtered/bottled water
Several drops of Tea Tree essential oil
Throw everything in the container and shake it up!
This toner is so simple, so cheap, so good – and whenever you run out, you have everything you need to make another batch without having to go out and buy anything.
Sugar Face and Body Scrub
I mainly use this for my face, but you can use it anywhere and everywhere! Don't be afraid to mix up the carrier and essential oils you use – the original, online recipe I found called for Almond or Grapeseed oils, but I used the Rosehip and Pumpkin Seed oils I already had.
The spice combination is a fun blend – I used cinnamon and turmeric, you could use one, the other or both! Turmeric is fantastic to eat, drink, and whack on your face thanks to its anti-inflammatory purposes, and cinnamon is packed with antioxidants and helps to keep skin fresh. Beware though – turmeric will stain you yellow! Don't worry; it does come off! Just wash your face after the scrub, preferably with a soft cloth or flannel, and use a toner afterwards.
For this scrub, you'll need:
A smallish container (I used an empty moisturiser pot)
Sugar
1-2 tablespoons of honey
3-4 tablespoons of carrier oil
Several drops of essential oils
Two tablespoons of spices (turmeric or cinnamon – whichever you prefer!)
Combine your carrier oil, essential oil, and honey – then add in the sugar and spices! Adjust the amount of sugar or oils, depending on your desired viscosity. Your scrub should keep for about six months – make sure you don't get too much water in it, or it might go off.
Face Oil
I never thought I'd be using a facial oil considering you can fry chips on my skin on a bad day. Several carrier oils are good for even oily skin! For example, jojoba oil, which is the closest thing to sebum, the skin's naturally produced oil, allowing it to absorb beautifully. Rosehip oil helps to even out skin tone, and Pumpkin Seed oil contains zinc to help with irritation; along with vitamins and minerals to hydrate and soften the skin. There are so many types of carrier oils, suitable for every skin type, ranging from something as fancy as Red Raspberry Seed Oil to a basic Olive oil.
Do some research and see which ones are right for you! I've mentioned Tea Tree oil in a different recipe, rosemary oil also has natural antiseptic properties, which helps ease breakouts and reduce pigmentation.
For the facial oil, I used:
A small dropper bottle (like one you'd get from The Ordinary)
1 tablespoon of jojoba oil
1 tablespoon of pumpkin seed oil
1 tablespoon of rosehip seed oil
5 drops of tea tree essential oil
3 drops of rosemary essential oil
Add them all to the small bottle and shake it up!
Massage and press a few drops into your skin at night, under your moisturiser. It smells incredible and leaves my skin feeling super hydrated! Even being as oily as I am, I've not had a single breakout since I started using it.
For more DIY skincare recipes, head to the internet and google until your heart's content. Don't forget, recipes are just guidelines – don't be afraid to adapt them as you wish. Have fun!