I tried online stretch classes for two weeks – and omg!
582 total views
When lockdown closed gyms (and, more importantly, Inversion Pole Fitness), I signed up for Gingie Snap's class, 'Splits for Christmas'!
At first, I was a little unsure. Of course, I would miss the trek to Inversion over the bridge in Lancaster to practice pole fitness with my flatmate; and, of course, I'd miss the soreness and everything aching the day after – not to mention the fire photos for Instagram. But I've never done an online exercise class before, and I wanted to try it out.
Gingie Snap is one of the pole instructors at Inversion and, despite the awkwardness of trying to climb a pole in tight briefs and nipple covers, she always makes us laugh. She also prides herself on her gift to teach anyone to do the splits. So, with some hesitation (but mostly excitement) I signed up for eight Monday classes taught over Zoom.
Monday rolled around and I had already changed my mind. I had start-of-the-week blues and my bed was so much comfier than the yoga mat that I got courtesy of Primark last year. Nevertheless, I dragged myself into leggings and listened to Gingie talk me into various stretching positions for an hour. And by the end of it, I'm not ashamed to say that my legs were shaking too bad that I basically had to do a bum-shuffle down the stairs.
The next Monday, I was expecting much of the same. I was still wallowing in the soreness around my hips and thighs (and the fact that my split didn't look especially low). Several times through the class, I was cursing my hamstrings so audibly my housemate was starting to get suspicious and all I wanted was for the hour to roll around and I could get a hot bath to relax my sore muscles.
And I thought it would follow on like that for the next week, but, this time, my legs had been feeling slightly better all week. I opened up the Zoom call and Gingie was there grinning and chatting about how to do leg stretches in small rooms – and with ten other people in the call wobbling and groaning at the same stretches I was struggling at, I started to feel better. By the end of the class, I tried the splits again and got my front leg straight!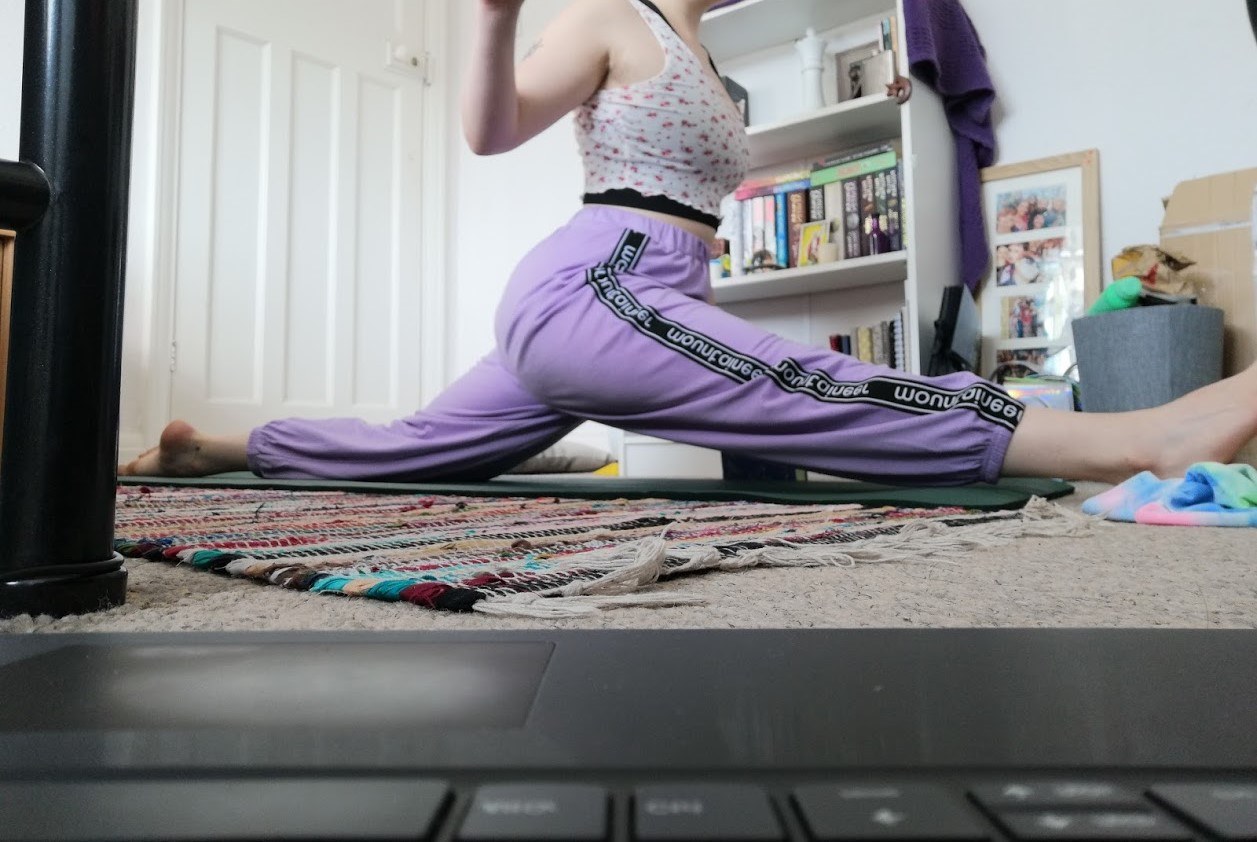 Don't get me wrong, my muscles are still tight enough that I despair each time Gingie turns to the camera and says, 'Let's do some hamstring conditioning,' but there's something about the support of a class full of other people who are all just working towards the same goal that keeps you going.
Supporting small businesses and individuals during lockdown is so important. It's easy to forget that small businesses extend beyond independent coffee shops on the high street; and that individuals in industries like sport and fitness suffer just as much in these non-contact times. Not to mention, exercise is vital for good mental health, and having goal-oriented fitness is a fantastic motivator.
If you want to sign up for any of Gingie Snap's stretch classes, visit her page:
https://bookwhen.com/gingiesnap#focus=ev-s3g3-20201122150000