We are the Mighty Vegans, the All-Powerful Soya Consumers!
468 total views
Before I begin can I just say, veganism is not the be-all or end-all; you don't need to go vegan to save the planet from global warming, veganism isn't a cult and vegans can still live very happily with a high protein diet – I mean if Scott Jurek can run ultramarathons on a vegan diet, I think it's safe to say protein isn't really the issue. Now that's over let's begin shall we because, honestly, I'd much rather share with y'all all the awesome vegan alternatives I've been trying this Veganuary than discuss how vegans are destroying the world, I mean come on that's such a cliché.
For many of us, veganism can seem quite daunting, especially the athletes among us, there's always the worry that a vegan diet may not have everything a meat or veggie diet provides. But if we step back and give it a little think, there isn't much that you can't get from a vegan diet that you can from eating meat. Protein, check, loads of protein found in soya meat alternatives, chickpeas, lentils, nutritional yeast, the list goes on. Calcium, check, soya milk actually has the same amount of calcium as cow's milk due to soya being naturally high in calcium as well as vitamin B. Carbs, don't worry, you can still binge eat your pasta and midnight choco pillows – just check they're the vegan ones aha. Snacks, check, ok so you will need to give up some of the good stuff like those katsu curry pringles – sad face I know – but there are plenty of awesome vegan alternatives and so many accidentally vegan treats. I mean for all you essay biscuit eaters; you can get a pack of vegan bourbons from Aldi for 22p, doesn't get much better than that does it? And party rings are accidentally vegan, just sayin'.
So in reality, going vegan isn't as bad as you might think, but it's definitely an idea to go on a trial run first because it's all great and good at the start when you go on a £60 shopping haul for all those cool vegan alternatives that you keep seeing but especially for us students, it needs to be cost-effective. Veganuary is the perfect opportunity to give veganism a little go; it definitely takes a while to settle and stop craving Papa John's stuffed crust but eventually, you start to get into a rhythm, well I have anyways aha. Let's take a look, shall we…
Vegan BLT Sandwich – Tofu Bacon
Image courtesy of Tabitha Lambie via @tabisaurus.bakes
(makes 10)
Ingredients:
200g block firm tofu- recommend the Tofoo Company
2 tbsp soy sauce
1 tbsp maple syrup – you can also use golden syrup
1 tsp black pepper
1 tsp salt
1 tsp smoky paprika
Method:
Mix together the soy sauce, maple syrup, black pepper, salt and paprika in a bowl then add thinly sliced tofu and leave to marinate for 15 minutes.
Once marinated, whack the tofu in a frying pan with a little oil and cook for 3-5 minutes on each side.
Now assemble your sandwich; lettuce, tomato, tofu bacon, vegan cauliflower cheese – optional – and ketchup.
Lentil, Chickpea and Potato Soup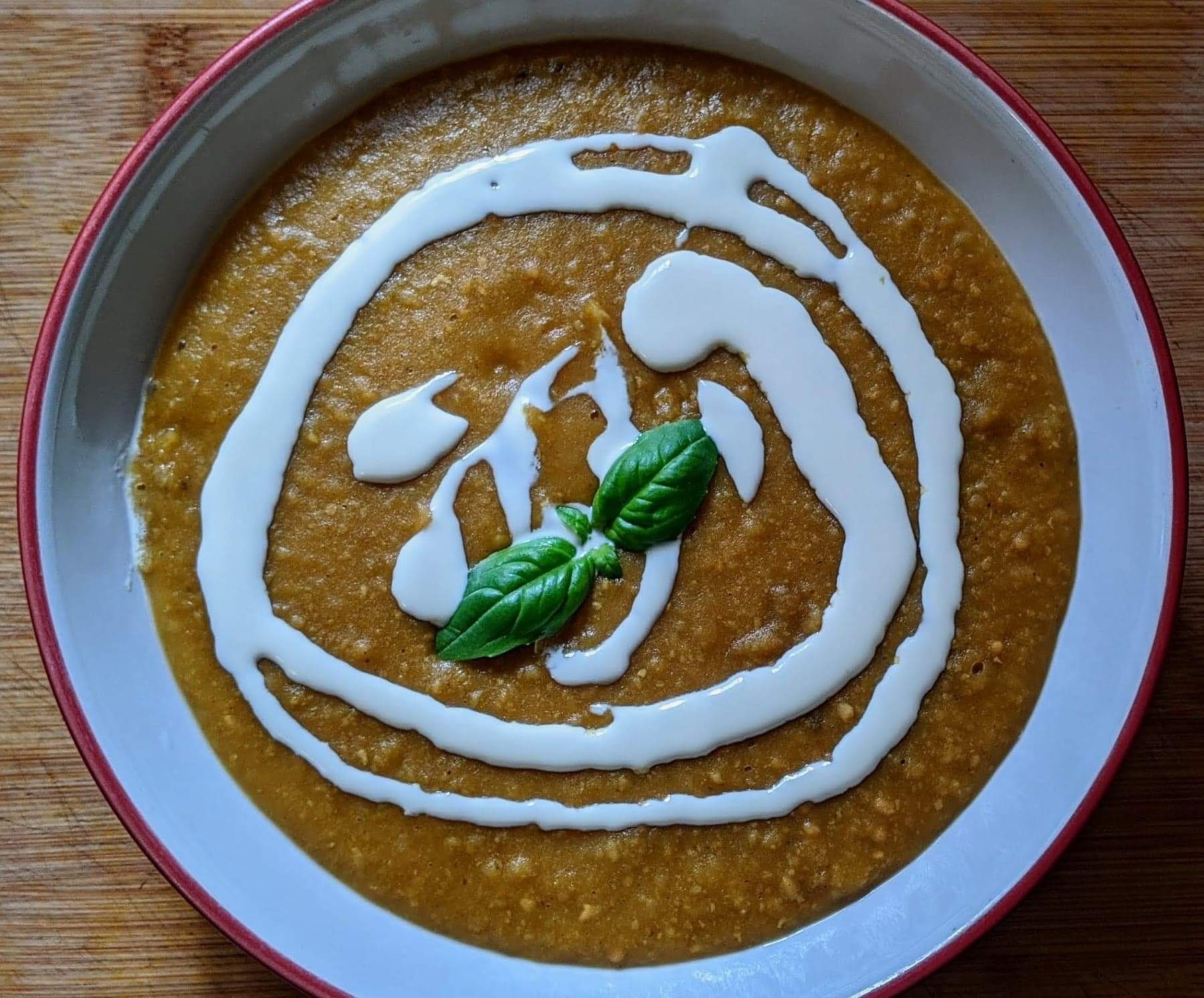 (serves two)
Ingredients:
1 can of chickpeas
60g red lentils
60g potatoes
3 tbsp paprika
1 tsp onion salt
2 tbsp black pepper
2 tbsp turmeric
1 tbsp mustard seeds (optional)
2 knorr vegetable stock cubes
300ml + 200ml boiling water
Fresh basil leaves
1 tbsp Oatly single cream – found in Tesco, Sainsbury's etc…
Method:
Add 200ml boiling water to a saucepan along with the lentils and chopped potatoes, then cook for 15-20 minutes until soft.
Add the chickpeas and continue to cook for 5 minutes then drain.
Add the paprika, onion salt, black pepper, turmeric and mustard seeds to the pan and combine.
Pour the mixture into a food processor and blend until smooth whilst adding 300ml vegetable stock as you go.
Now heat the soup in a saucepan and you're ready to go.
Pour into a bowl, drizzle with oat cream and add the basil leaf on top.
Vegan Raspberry Gingerbread Slices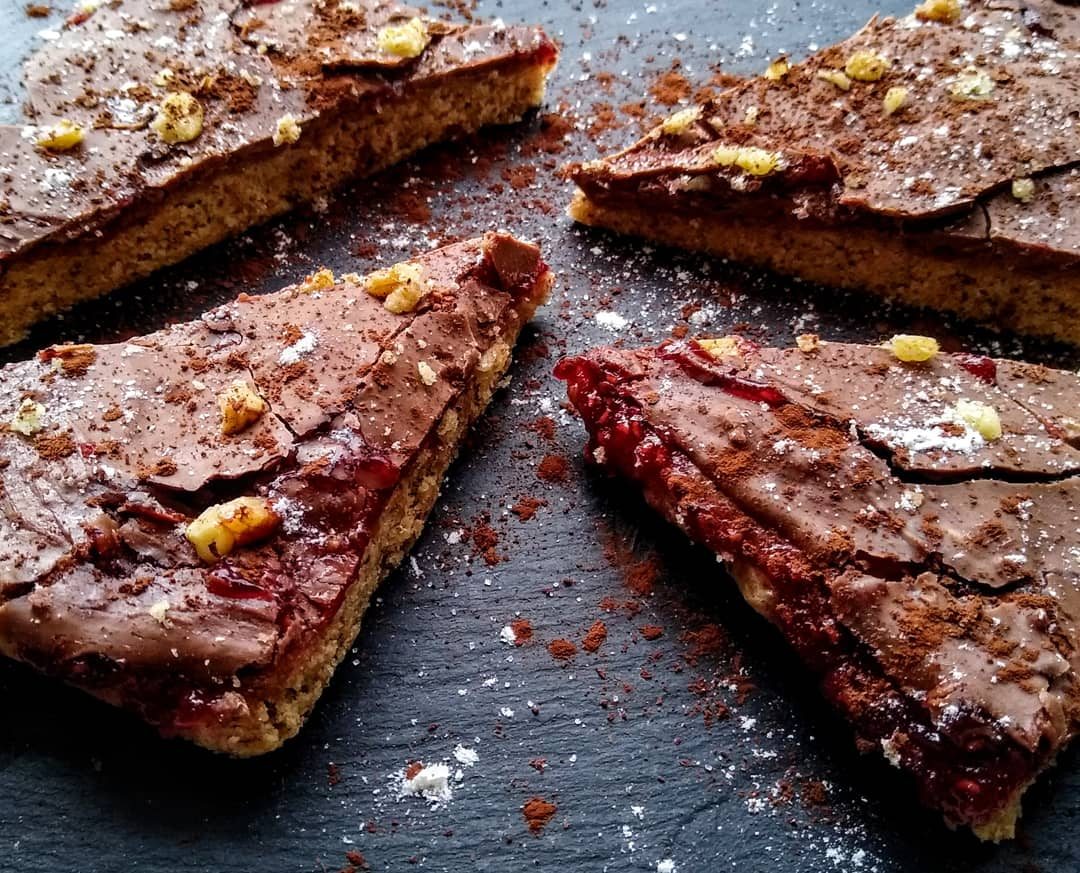 Image courtesy of Tabitha Lambie via @tabisaurus.bakes
(makes 20)
Ingredients:
100g Yum and Yay milled mixed seeds & raspberries – found in Sainsbury's
250g plain flour – or gluten-free flour
1 tsp baking powder
0.5 tsp xanthan gum – for gluten-free
2 tsp ground ginger
1 tsp cinnamon
120g dairy-free butter or margarine
175g sugar
1 tbsp flaxseeds + 3 tbsp water
200g raspberry jam
200g dairy-free chocolate – recommend The Free From Kitchen Dark Chocolate
10g walnuts
Method:
Sift together the flour, sugar, baking powder, xanthan gum, ginger and cinnamon into a bowl.
Add the dairy-free butter to the bowl, using your fingertips make breadcrumbs.
In a separate bowl, mix the flaxseed and water together then let set in the fridge for 15 minutes.
Once set add to the dry ingredients and combined to make a dough.
Once combined, wrap in cling film and leave in the fridge for 15 minutes.
After chilling roll out the dough to approximately three centimetres thick and place in a 30cm by 20 cm baking tray lined with baking paper.
Place in the oven for 15-20 minutes at 180°C.
Once baked, leave to cool for 10 minutes before spreading raspberry jam evenly.
Melt the chocolate then pour evenly on top of the jam, this can be messy but it's all fun.
Final touches, sprinkle some crushed walnuts on top then leave in the fridge for a couple of hours to set.
Vegan and Gluten-Free Double Chocolate Muffins
(Makes 6)
Ingredients:
Creative Nature Carrot Cake Mix – can be found in Tesco or Aldi
150ml vegetable oil
130ml cold water
30g dairy-free white chocolate, cut into chunks
30g dairy-free dark chocolate, cut into chunks
Method:
Preheat the oven to 180˚C and line a cupcake tray with cupcake cases.
Add the Creative Nature Mix into a mixing bowl with the water and oil then mix for 5 minutes until combined.
Now add the dairy-free dark and white chocolate chunks and mix.
Using two spoons, evenly distribute the mix into 6 cupcake cases then place in the oven for 30-35 minutes.