Students in a reasonably priced car
485 total views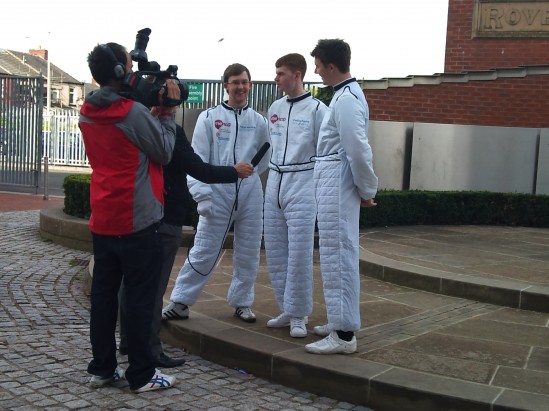 Lancaster University students James Watson, Tom Montgomery, and Jamie Davidson will travel 791 miles in 24 hours in order to visit all 20 Premier League grounds starting off at Wembley stadium and finishing up at Ewood Park, the home of Blackburn Rovers. Not only will this set a new record, but the trio are also hoping to raise approximately £7000 for charity, with all proceeds being equally divided between Mencap and the Blackburn Rovers Community Trust, who are set to launch disability multi-sports sessions on Sunday mornings.
The nationwide tour is being supported by James' parents, John and Sallie Watson, the co-owners of Prestige Nursing East Lancashire, who are celebrating their first year in business at the Blackburn Rovers Enterprise Centre. The adventure starts at 00:01am on October 27 at Wembley Stadium and it is hoped will be completed around 20 hours later. The trio will make a pit stop at each stadium consisting of quickly jumping out of the car and getting a photograph in front of a clock and something memorable from each stadium in order to prove that they were present at such a time.
The whole challenge will be completed in Top Gear's The Stig costumes and in a reasonably priced car provided and sponsored by Prestige Nursing East Lancashire. The whole idea blossomed as the trio are football fanatics and suggested doing it one night for a joke after a few drinks. Watson said: "When it was originally suggested we thought it would never even come close to happening." But unlike many drunken plans, this one is going to come to fruition and in fantastic style. He added: "When we have done it, it will be a fantastic achievement not just for us, but for the charities we are supporting." He also took the time to thank his parents, Prestige Nursing and Blackburn rovers for the support they have received so far.
Lancaster University Students' Union Vice President (Sports), Marc Handley, told SCAN: "It's fantastic that James and the lads are doing this marathon drive and for such a good cause too. Whilst living in Lonsdale for three years I was witness to James's driving 'skills' so I have strong faith in them completing the adventure in less than 24 hours." Handley also went on to urge everyone to give something towards this really worthwhile event as every little bit will help the trio achieve their target.
Although the three man team has already received a lot of backing from Prestige Nursing, Blackburn Rovers and even Sky Sports News, any contributions will be very welcome. The lads can be sponsored via online contributions.
The route
Wembley
Craven Cottage (Fulham)
Stamford Bridge (Chelsea)
Upton Park (West Ham)
The Emirates (Arsenal)
White Hart Lane (Tottenham Hotspur)
St Andrews (Birmingham City)
Villa Park (Aston Villa)
Molineux (Wolverhampton Wanderers)
The Hawthorns (West Bromwich Albion)
The Britannia (Stoke City)
Goodison Park (Everton)
Anfield (Liverpool)
Old Trafford (Manchester United)
City of Manchester Stadium (Manchester City)
The Reebok (Bolton Wanderers)
DW Stadium (Wigan)
Bloomfield Road (Blackpool)
Stadium of Light (Sunderland)
St James' Park (Newcastle)
Ewood Park (Blackburn Rovers)