Look Ma, no paper!
401 total views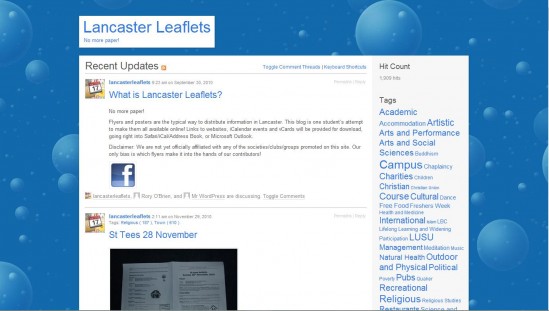 So you're late for your lecture, walking (make that jogging) up the spine, checking your watch every 30 seconds to determine how embarrassing it's going to be walking into your lecture late looking like you've been dragged through a bush backwards. The last thing you want is any distractions, any annoying things to get in your way and hold you up even more.
The last thing, the very last thing you want is a piece of garishly coloured paper shoved into your face advertising the next bar/student night/theatre event going on around campus.
We've all done it, you see a promoter (most likely dressed in something big, bright and furry) and the avoid like the plague reflex kicks in. You will pretty much do anything not to have to take the leaflet they so desperately want to get rid of. All of a sudden you realise you need to look for something in your bag, check your watch, or, the classic, pretend to be on the phone.
Now, imagine a world where you could still get all the information that these people are advertising, which to be fair, is usually worth reading, without having the endless bits of paper that end up as a mulch in the bottom of your bag about a week later. Well now, you can.
I introduce to you Lancaster Leaflets, a blog designed by Lancaster student Peter Burkimsher to make it easy to find out exactly what's going on around Lancaster, minus all the paper. In the words of Peter himself: "Rather than being harassed by people with flyers for events, discounts, and much more, you can now find it all in one place."
Lancaster Leaflets (found at lancasterleaflets.wordpress.com) has photos of every flyer and poster around campus, sorted into tags and uploaded all into one place. Peter got the idea whilst at church. "I was listening to notices in church, and was told to pick up various leaflets from the table at the back. During prayer I imagined a virtual notice table online, freely accessible. Suddenly Lancaster Leaflets was born." Divine inspiration? Maybe, maybe not, but the blog is now highly successful and new posters and flyers are uploaded daily.
Peter is keen to get more contributers to get as much information on possible on the site. If you see any posters or information send him some info to the Lancaster Leaflets' facebook page (tinyurl.com/36f58bj) or add Lancaster Leaflets as a friend and invite him to as many events as possible.
This site is a great way for students to keep up date with what's going on, as Peter says: "It's the voice of Lancaster students, in all their diversity."