Dominant display sees Lancaster go top of the league
452 total views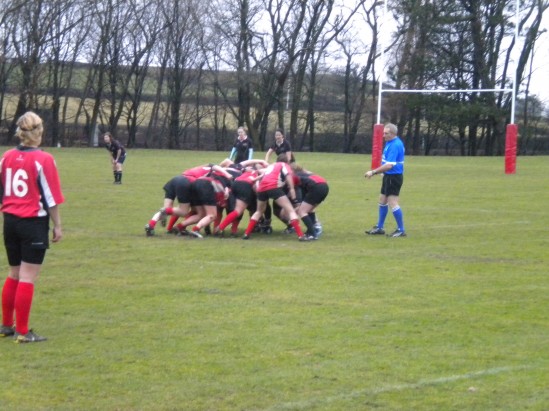 Lancaster women's rugby union team recorded a long overdue victory over local rivals UCLan to boost their chances of claiming the Northern Conference title. Lancaster controlled the game and were able to move the ball quickly over several phases of play to wear down a disciplined UCLan defence.
The game started in conditions far from conducive for flowing rugby. Both sides struggled to keep ball in hand as the swirling wind and rain made handling difficult. However, Lancaster settled first and made an early breakthrough as Claire Chiu crashed over for a third minute try after some fancy footwork out wide. In what was to become a familiar theme, the fierce crosswinds prevented Simpson from adding the conversion.
The elements were having a profound effect on the game and had a hand in UCLan's equalizing try. A kick from deep carried 50 yards in the wind and forced Lancaster into conceding a lineout which resulted in a touchdown under the posts.
Although the scores were level, it was Lancaster that looked more likely to add to their points tally. They were throwing the ball around well and possessed individual players who made decisive contributions. This was illustrated by Robyn Smith, who gained 30 yards on a lung-bursting run from a scrum, only to be felled by a determined UCLan defence.
However, Lancaster were not to be denied and retook the lead on 12 minutes after Amanda Spencer finished off a fine ten pass move in the left corner and make the score 10-5.  Just minutes later, Spencer made a 60 yard dash and another try looked a near certainty until UCLan's fullback intervened with a fine tackle.
With the game closely poised, Alex Simpson swung the game in favour of the home side with two tries in 8 minutes just before half time. The first was a clinical finish to a team move and the second an extraordinary display of footballing skill, which saw Simpson dribble from halfway with a plethora of UCLan players in hot pursuit. This gave Lancaster a commanding 20-5 half-time lead.
Lancaster opened the second half in confident form and looked sharper and more composed in possession than their rivals. Every player looked comfortable running with the ball and even the props looked liked scoring; Catriona Hay made a pacey 40 yard break only to be hauled back with the try line in sight.
For all their pressure, Lancaster were unable to put the game to bed and UCLan defended stoutly. However, Lancaster never looked in danger of conceding a try and the vast majority of the half was played out with the ball in UCLan territory.
With 20 minutes left, Lancaster upped the tempo again; Catherine Jones picked the ball up on the right-wing and jinked past a tired looking UCLan pack to score her side's fifth try.  Robyn Smith introduced several substitutes as the home side gave playing time to some promising freshers. With time running out UCLan grabbed a consolation try that their persistence merited to give a final score of 25-10.
In what was a polished display from a well organized and committed Lancaster side, Kathryn Forsyth and Robyn Smith led by example and ensured that Lancaster triumphed over UCLan for the first time in several seasons. They were ably assisted by a vocal subs bench and fanbase whose cries of 'who wants this ball?' with met with the intimidating chorus 'I want this ball!' when their side were under pressure. If the team can continue to function as a cohesive unit and play open and expansive rugby, then they will head into the title decider versus Chester (the last fixture of the season) with an exceptional chance of winning the league.
Lancaster's inspirational captain Robyn Smith spoke to SCAN after the game. Smith cited the most pleasing aspect of victory as "the time it has taken to beat UCLan, it hasn't happened in 3 years, and was even sweeter after the large scoreline they had over us last year." She was also delighted that all the hard work put in over the last three years will be rewarded by their highest league finish to date.