Sorry girls, we can't do it better
534 total views
FHM Magazine has recently released their notorious list of the 100 sexiest women in the world. Who got that coveted title of the most gorgeous girl on the planet I hear you ask? Rosie Huntington-Whitley. A 5ft 9, size eight blonde and a Victoria's Secret model. Yes she is absolutely gorgeous, and yes, I am absolutely jealous. However, up in the heights of number 82, if you look hard enough, is Christina Hendricks. Made famous by the TV show Mad Men, Christina Hendricks is a red head, and a size 14.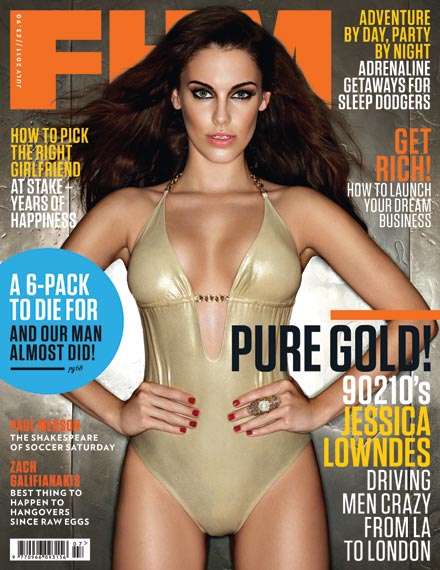 I have never seen her on TV but I already like Christina. Apart from her obviously brilliant name, I like the fact that she looks how real women look. Unfortunately for the majority of the female population, we may be flipping fabulous, but we aren't models. We have bad hair days, and fat days and oh-my-god-my-bum-looks-huge-days, because that's what happens to real life women who don't have stylists and make up artists ready at their every beck and call.
So, I think we've established that I quite like Christina Hendricks. Now for someone I do not like: introducing number 98, Andrej Pejic. This 6ft 2, gorgeous blonde model from Australia has been gracing the runways of Jean Paul Gautier in stunning wedding dresses and doing campaigns for Marc Jacobs. Why don't I like Andrej I hear you ask? Because this model who looks like a she, is in fact a he.
Seriously, Google him. He doesn't look like a woman in a Lily Savage kind of way, this guy is hot stuff. Now, I don't dislike him because he's a man wearing a woman's clothes – if that's what floats your boat then that's fine by me, but that's not what I'm getting at. Andrej lives his life as a man, and walks male fashion shows. The reason why I'm so annoyed about Aussie Andrej is because he's being paraded around on world famous fashion stages in clothes that cost thousands of pounds as a female model. Models are presented as the ideal. Women, whether we like it or not, aspire to look like them. Except the thing is, we can never ever look like Andrej, because Andrej is not a women.
We've always known that the fashion industry likes tall, starving girls who really don't need to be wearing a bra. It's no secret that models battle bulimia and anorexia everyday just to maintain the industry's perception of beautiful. But now, surely women everywhere are experiencing the ultimate slap in the face – you girls are just not skinny enough, or tall enough, or flat chested enough for us. Basically you don't look enough like a boy, so we're gonna have to use a real one. Biggest. Insult. Ever.
Without meaning to sound too melodramatic, how dare they? These designers design for women, they get their millions from women buying the clothes, and yet they can't bring themselves to let women advertise their clothes just because they might have one tiny ounce of fat on their already impossibly tiny hips. I don't think it's too over the top to say that I'm rather disgusted. Surely the fact that the only 'woman' who can pull of this women's wear is in fact a man, should tell them something? Start designing clothes that real women can look gorgeous in too.
If I had it my way more women like Christina Hendricks would be walking in Couture fashion shows, but somehow, I highly doubt that. It's not all bad news though – finally women seem to be embracing their shapes, even stick insect Victoria Beckham has designed an entire collection around womanly curves. So let's see how Andrej looks in cleavage boosting, curve hugging designs. I'm no expert, but I bet he'd look a right idiot.