LUTG Presents: Woyzeck
480 total views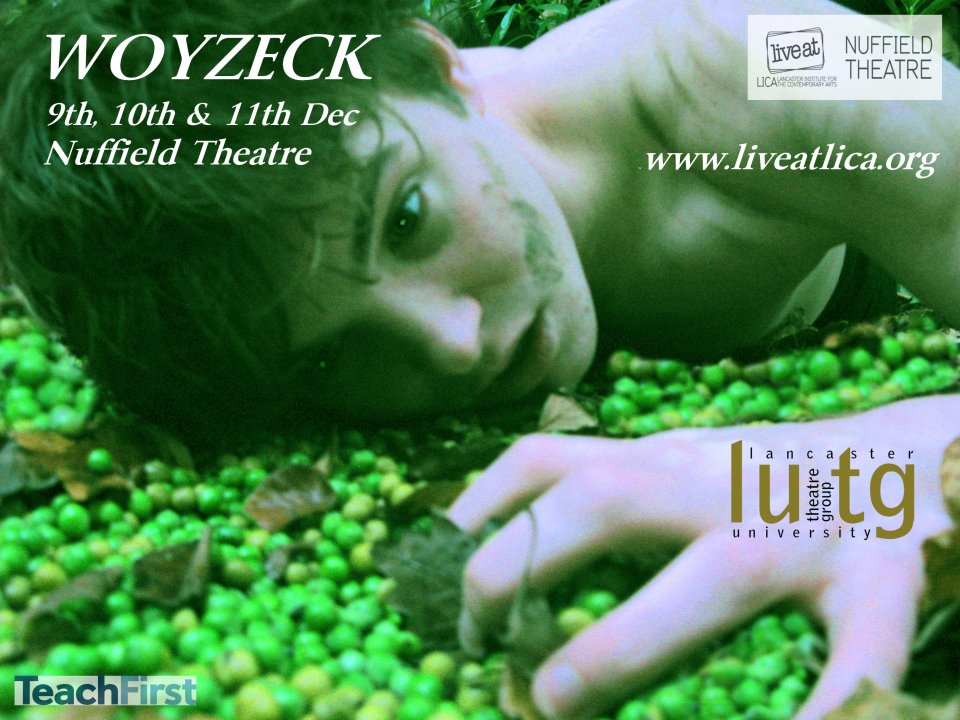 Oppression, depression and peas are the primary antagonists in 'Woyzeck', Georg Buchner's long lost and much adapted influence on modern theatre. In an exciting new adaptation undertaken and directed by Matthew Bosley, this version introduces a conglomerate of depraved and deformed 'boggles', a raggedy herd of mental demons who enact the eponymous character's every emotional reaction to being lectured on the immorality of poverty by an oafish military captain, treated as a medical guinea pig by a severely bi-polar Doctor and beaten senseless by a womanizing drum-major.
Lancaster University Theatre Group (LUTG) is to perform at the Nuffield Theatre for the first time this term, to facilitate the vast technical and physical ambition behind the production; discordant carnival tones, echoing thrums of machinery, artistically precise lighting (overseen by the ever-dedicated and well practiced George Bach), bombastic show scenes, vast scenery, physical theatre and a cast of 19 gives the production team a lot to perfect, the audience a lot to be entertained by, and the cast a lot to live up to. After all, 'Woyzeck' has been entered into the 2012 National Student Drama Festival, and has every chance of competing against productions offered by other universities.
With class issues continuing to rear their ugly heads in society, 'Woyzeck's relevance continues to strike the right notes, punch in the right direction and offer a sound, entertaining and heartbreaking lesson in the failures of elitism and superficiality. To miss 'Woyzeck' is to miss a professional standard production (which LUTG delivers more often than not), so don't miss it.
Lancaster University Theatre Group presents: 'Woyzeck' will be performed on Friday, Saturday and Sunday the 9th, 10th and 11th of December (19.30) at the Nuffield Theatre, Lancaster University. Tickets can be purchased online at www.liveatlica.org/whats-on/lutg-present-woyzeck or at the box office. There will be a post-show discussion immediately after the Friday performance.
Cast
Luke Weeks as Woyzeck
Steven Szoltysek as Andres
Pippa McGuire as Marie
Ronnie Rowlands as The Doctor
Laurence Beagley as The Captain
Alexander Varey as The Drum Major
William Cross as The Sergeant
Tamsin Brown as Margaret / Student
Sydney Keough as The Showmaster
Emily Dixon as Grandmother / Student
Josh Cannon as The Salesman / The Bartender / Student
Boggles – Emmy McIntyre, James Balfour, Matt Hardman, Alex Marlow, Jack Heaton, Crystal Dishman, Emily Stephens & Bea Burgess.
Crew
Director: Matthew Bosley
Movement Director: Georgia Bold
Producer (Finance): Robbie Love
Producer (Publicity): Lisa Coleman
Stage Managers: George Bach & Emma Geraghty
Asst. Stage Manager: Chrissy Horsepool
Costume & Makeup: Jenn Pawley, Camille Hargaden & Birta Arradotir
Props & Set: Libby Borton
Audio recording kindly facilitated by Christopher Kalcov of Bailrigg FM.