Success for Cancer Care's Santa Dash
722 total views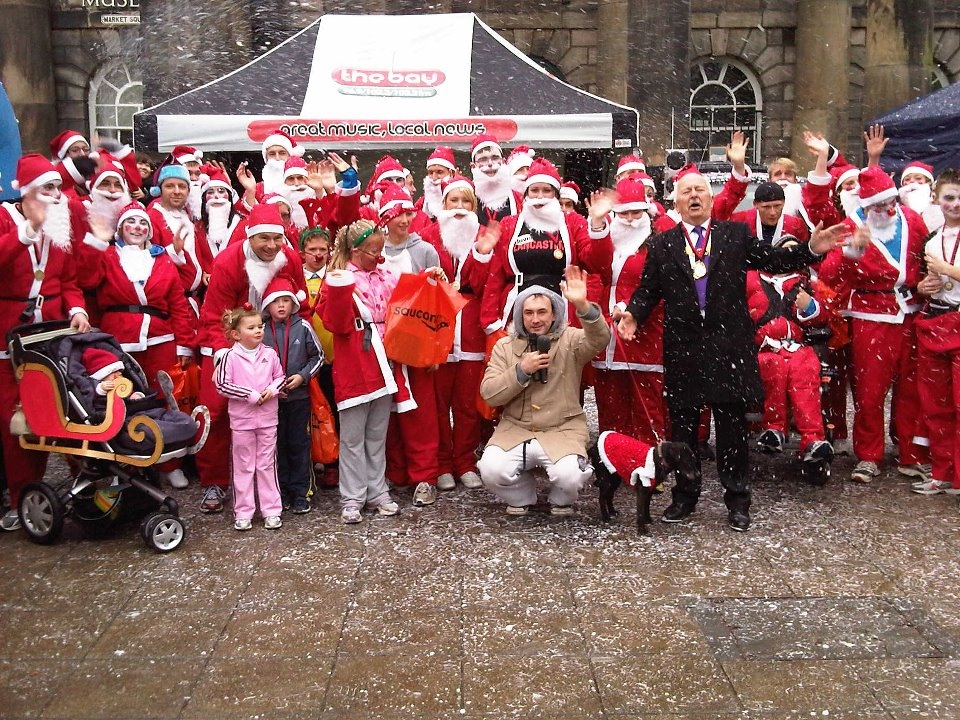 More than eighty Santas jingled through the streets of Lancaster for Cancer Care's annual Santa Dash last weekend, raising well-needed funds for the charity.
Competitors, kitted out in Santa suits and Reindeer antlers, ran and danced along the 1.5k route, starting at the Salt Ayre Sports Centre and ending in Market Square.
The participants were also joined by Ludus Dance Company and the Bay Beat Carnival Band to keep them in the Christmas spirit, along with Danny Matthews, presenter of the Bay Breakfast at Bay Radio and the Mayor and Mayoress of Lancaster, Cllr. Paul and Mrs Woodruff.
Cllr. Woodruff praised the hard work of all those involved in the event and emphasized the importance of Cancer Care's efforts: "The Mayoress and I selected Cancer Care as one of the chosen Mayoral charities for the year because of its outstanding contributions to the local community. We are both delighted to support such an excellent organisation."
Every penny raised at the Santa Dash will go to help those living with Cancer in the North Lancashire and South Lakes regions, whether it is as a sufferer, family member or carer.
Jen Horsburgh, fundraising coordinator at Cancer Care commented that "the event was a great success. The charity raised over £500 on the day via merchandise sales alone and donations are still arriving from both individual supporters and sponsors. Thank you to all those who supported us, you've been so generous.
"In total, we're hoping to raise £2000 from the event – funds that will help to improve the lives of many local people, but we always need donations, so if you can, please do your bit and help spread some Christmas cheer."
Plans for next year's event are already in the pipeline, along with calls to extend the route, making the dash more challenging.
Horsburgh told SCAN: "We want to make the Santa Dash accessible for everyone, so the 1.5k route will always be a part of this fundraising event; however the 5k race will be something for those who want to test themselves and will hopefully encourage more people to get involved."
To find out more about the event and see photos from this year's dash visit: www.thesantadash.org.uk