Let the kiddie in all of us shine
472 total views
In this modern age we have become far too conservative in our approach to Christmas abnormalities. It is a time of extremities and excess and most importantly excitement that we are not crippled with in quite the same way at any other time of the year. Of course, a particularly prominent aspect of the unique 25thDecember necessities is the traditionally uncomfortable squash on the sofa (most likely floor), with all your turkey filled relatives, to appreciate a movie of seasonal madness than can only be appreciated in this particular spirit. I am talking of the true great childhood classics, such as the horrifyingly brilliant Grinch or my personal family favourite Elf.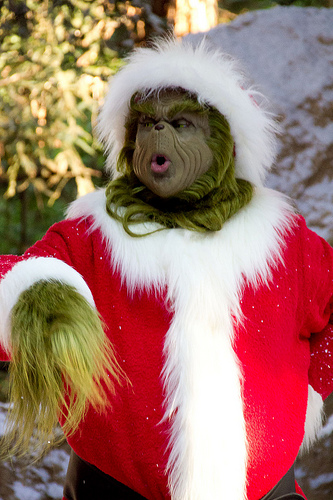 It's movies such as these which enhance that little moment in the early evening, Christmas day (heck it can stretch over to Boxing Day), when you are curled up with a giant tin of Celebrations. But, these days a catastrophic trend is beginning to seep in a time of such youthful brilliance, it is the concept that what are deemed Christmas films are effectively just children's films, something little kids get hyper over whilst the adults of the household are required to locate some other occupation for a few hours.
Why must rationality of any sort be brought into such an individual time of year? The date when all of us effectively indulge the four year old within us who knows the Grinch could most definitely fit Christmas trees up minute chimneys, and Buddy the elf could live off syrup and candy corns alone. That is what Christmas is; the tradition of defying the size of the sofa and making sure every member of the household subjects themselves to the glorious nonsense and fabulous sentimentality woven throughout these movies. This is what makes them applicable to everyone. These films centre on noise and colour and family and timeless stories. Such things make them able to draw in each generation to immerse themselves in this specific Christmas occasion. The time of 'vegging out' in the living room and for everyone to be able to love and just enjoy without a care for the normal variations of opinions that often arise when we watch films at any other point in the year.
So we must not feel there needs to be superiority about Christmas flicks. They can and shall continue to apply to all points on the age spectrum. A Christmas Carol is able to inspire humility whilst incorporating the Muppets into the plot; The Snowman enhances the historic musical excitement of this time of year. Elf is able to entwine the magic of the modern era into the sugary spectacle of Christmas whilst The Grinch will forever be a tidings classic with the darkly bittersweet mischief echoed throughout.