Hard work acknowledged at LUSU awards
689 total views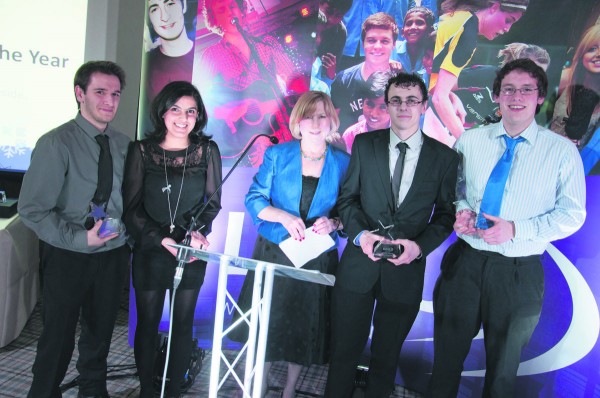 Lancaster students and staff were rewarded for their dedication to the University at this year's Lancaster University Students' Union's (LUSU) Winter Conference Awards.
The event, held on January 12th at Lancaster House Hotel alongside the annual Winter Officer Conference (WOC), was a huge success with many talented individuals being recognised for their hard work.
Olly Trumble, Vice President (Events and Democracy), explained that "the awards celebrate the achievements of various staff and students who are involved in LUSU. Members of the University can nominate friends and colleagues who have gone the extra mile and have really made an impact on student lifestyles."
This year's awards panel consisted of LUSU President George Gardiner, Vice President (Media and Communications) Matthew Power, the Pro-Vice Chancellor for Colleges and Student Experience Amanda Chetwynd, Chief Executive of the Students' Union Peter Elliott, and External Trustee Jacqueline Whiteside.
Will McDonagh, LA1: TV's Station Manager, gained the Officer Initiative of the Year award. "I never thought about any type of recognition for what I do," he said "The fact that LUSU take the time to award people like this is a great way of inspiring people to do more as hard work does not go unnoticed."
Chris Osborn, a fourth year student, was presented with the most prestigious award of the evening, the Sir Chris Bonnington Outstanding Achievement Award. Chris told SCAN: "I'm honoured to win this award and have thoroughly enjoyed working with LUSU on events like the Campus Festival, the Christmas Markets and getting involved with LA1: TV and Lancaster's Music Society.
"I think it's so important that the efforts of both staff and students are recognised because it's vital that everyone understands how these individuals make a difference to their university life." He continued, "With less than half of the student population involved in societies or JCRs, students only see the result of LUSU's hard work in the form of college balls and socials. Without LUSU's members, Lancaster University couldn't deliver the brilliant student experience that it does."
Other award winners included Matthew Linnell as LUSU Student Staff Member of the Year, and Sugarhouse's Venue Manager, Lou Davies, as LUSU Staff Member of the Year. Volunteering endeavours were also recognised, with Vincent Davies being awarded LUSU Volunteer of the Year, and Cassie Seeley as LUSU Volunteer of the Year, Highly Commended.
The Campaign of the Year Award was won by Sam Norman, Priya Jadeja, Nathan Connell and Jon Robertson who led a team of JCR members and Cross Campus Officers to create and implement the "Still Human" Mental Health Campaign last term. The team helped to raise awareness and promote the normalization of mental health issues, helping to remove the stigma surrounding mental ill health.