Meet the Hiking Club!
574 total views
SCAN speaks to Hiking club Exec member Sam Harrison about Lancaster's biggest society on campus.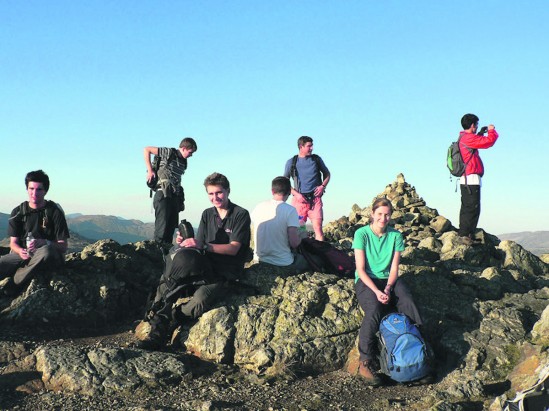 Can you tell me a little bit about the club?
Formed in 1967, Lancaster University Hiking Club is one of the largest student outdoor societies in the UK. Membership is open to all, including those who aren't a member of the university. It is this diverse membership that gives the club such a varied social mixture and wide-ranging appeal. There are walkers and climbers, beginners and the experienced, and all abilities and extremes are catered for. Membership costs £9 for the remaining two terms of the year and for this you get to lend club gear. It also goes towards subsidising our larger events.
How often do you go on trips and where do you usually go to?
We go on roughly six Sunday trips and three weekend trips each term – so every weekend during term time! Sunday trips tend to be to the Lake District or the Yorkshire Dales, whilst we venture further afield to Scotland and Wales for our weekend trips.
How do the trips usually work?
For Sunday trips, we usually leave campus at 8:45am and travel by minibus to our destination. We're lucky to have a dedicated team of leaders that will plan and lead walks for us, and so when we arrive the leaders announce what walks they'll be doing and people can then choose what they want to do. We try our best to cater for all abilities. After the walks we head to pub and then to the chippy before the drive back to Lancaster.
For weekend trips, we leave sometime on Friday afternoon and return late on Sunday evening. We usually camp but also sometimes stay in bunkhouses. Generally speaking, there will be a few bigger walk options on the Saturday and then we might just go for a short bimble on the Sunday before packing up the tents and driving home.
What is the biggest trip of the year?
Our biggest trip of the year is our annual Glencoe trip. It's a legendary occasion and is so good (and has been going on so long) that alumni know to show up and enjoy the good times once more. Saturday night is spent in the world-famous Clachaig Inn and it is, without fail, always a fantastic night with a great atmosphere. Afterwards, we head back to the campsite for a big campfire and at some point in the evening there will most likely be a rendition of the club's song; The Wild Rover.
What gear would you usually take for a trip?
What gear you take hiking depends greatly on the time of year, but we have a few essentials that you must have to come on trips. These include full waterproofs, plenty of layers to keep warm, walking boots with ankle support, food and drink for the day, hat and gloves and a head torch (especially during the winter as we quite often walk into the dark). We'll provide specialist items like crampons and ice axe for winter walking as well as tents, stoves, maps and compasses.
What is the best story you have from a trip?
There are too many to choose from! I've been in the club just over a year and I've lost count of the amazing and often hilarious things that have gone on. Some of the highlights have to include: carrying a suitcase over a wire bridge in the pitch black for a member that hadn't received the email stating we'd be crossing a wire bridge and not to bring a suitcase. That was rather funny, as was – in retrospect at least – one of the minibuses driving off from Glencoe this year with the keys for the gear van that was back at the campsite, only to realise an hour down the road and having to turn back!
How can potential members contact the club?
The best way is in person – we're at the Faraday Foyer (outside Faraday Lecture Theatre) every weekday from 1-2pm. We can be contacted by email at hiking@lancaster.ac.uk, on Facebook at www.luhc.org.uk/facebook or via our website at www.luhc.org.uk.