Cartmel emerge as winners of 'Battle of the Colleges'
571 total views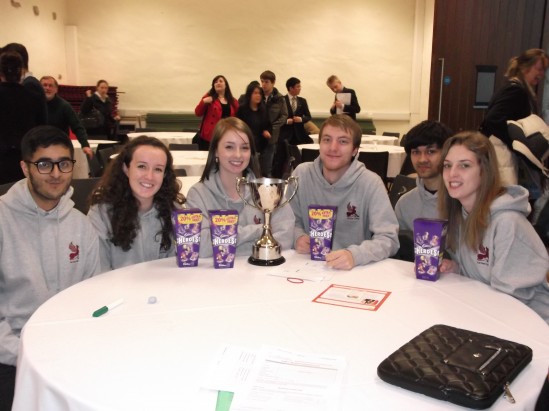 Jointly organized by CEEC (Centre for Enterprise, Employability and Careers), the Enterprise Team in Research and Enterprise Services and Lancaster University's colleges, the 2012 'Enterprise:  Battle of the Colleges' competition was successfully held on March 4th, with Cartmel College being crowned the winners.
More than 60 students from the nine colleges participated in the competition. The teams were provided with a 'real business world' scenario and asked to develop an investment winning pitch to business professionals and University alumni and staff after two hours of preparation.
Following the presentation from the groups representing each college, the contest gradually became more intense and was narrowed down to three college finalists: Cartmel, Grizedale and Fylde, with Cartmel emerging victorious.
The team of six consisted of Salman Ruhhsur, Rebecca Milsted, Siana French, Joel Pullan, Abhijit Chokshi and Helen Saul.
Professor Chris May, the Associate Dean for Enterprise in the Faculty of Arts and Social Sciences (FASS), who was on the judging panel, admitted that despite the tough competition,  "the team that demonstrated the best teamwork and robustness under the Dragon's fire won."
Cartmel College Administrator, Cath Gorton, also commented that the team was "a great group that worked very hard together and totally excelled in the inter-competition."
"The team managed to show brilliant entrepreneurial skills and great teamwork" Gorton added, "It was indeed the credit to Cartmel and the whole University and I was extremely proud of them.''
Rebecca Milsted, a member of the winning team, thought that the competition was "intense and exciting" and she "loved every minute" of it.
Her fellow team mate, Siana French, added that the team was "really onto something" when the work started and she was "extremely proud" of their success.
The team will represent Lancaster University on a national level at FLUX 500 on March 27-28th, held in London. FLUX is organised by the Working Knowledge Group and the National Association of College and University Entrepreneurs (NACUE) and is in its seventh year of running. It aims to give students invaluable skills that will serve to benefit them once they are in the working world.
Jon Powell, Enterprise Champion in Research and Enterprise Services, wished the Cartmel students "the very best of luck" and hopes "they can bring the title back to Lancaster."
Gorton also expressed her support and hopes to "travel down to London'" to watch her college perform.