Analysis: Grad Ball costs
865 total views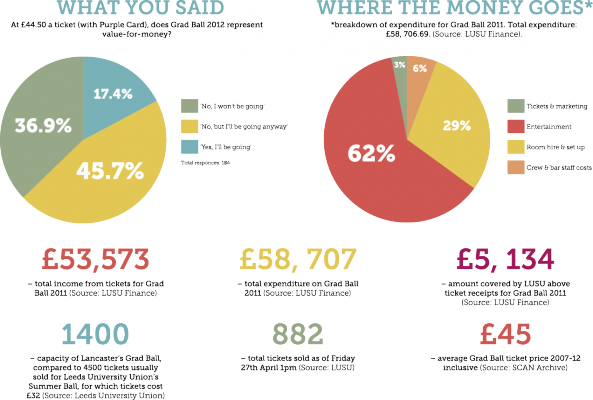 In a survey conducted by SCAN , 81% of respondents have suggested that they do not see Graduation Ball 2012 as value for money.
Of the 184 students who responded 45.7% said that the ticket, priced at £44.50, does not represent good value but they would still be attending. A further 36.9% said that the ticket does not represent good value and they would not be attending. 17.4% responded that the event was appropriately priced and that they would be attending.
Due to an oversight the survey, conducted in the days following the announcement of the line-up including headliners Maximo Park, did not allow responses from those who feel the event to be good value-for-money but who were unable to attend for other reasons.
Grad Ball lineup announced
Grad Ball – what do you think? 
Responding to the findings, Lancaster University Students' Union Vice President (Events and Democracy)  Olly Trumble, the lead officer on Grad Ball said that although the feedback was interesting and valuable, he did not see it as representative.
"I do think that the package that we've provided is value for money," Trumble said. "I would disagree fundamentally with the poll in that sense […] particularly because of the calibre of line-up that we've got, we've got a number of big names compared to previous years when we've perhaps one or two."
Trumble said he understands the initial reaction of some students to the ticket price, but encouraged people "to reserve judgement [until] you actually go to it."
"At the same time", he added, "it's a ticket price, and if the perceived value of it isn't at that level, then maybe there's an issue with the way we're selling it or the way we're explaining it to people."
This corresponds with the lack of transparency implied by the results of SCAN's survey. LUSU have not publicised extensive details beyond a music lineup, although Trumble agreed that this is something which could be considered in future.
By comparison, York University Students' Union's website lists details of exactly what students could expect from their Graduation and Summer Party.
Trumble told SCAN that LUSU perhaps "we could have better communicated the finer details", but argued that "it's taken a very long time to secure acts" and that "there's a lot of us waiting around, waiting [for confirmation]."
Also in relation to marketing, some students have criticised the focus on Grad Ball's music lineup. One individual, speaking to SCAN whilst buying her ticket, said that "some people don't like live music so I think they could have made more things for other people."
Trumble admitted that he "can see why that's the case." However, he contended that feedback on graduation events in the last few years that "actually it's the music that's important and people's perception of the event often comes from the headliner."
One particular criticism aired on the Grad Ball 2012 Facebook event has been that the ticket price does not include food; "I can't believe there's not even a sit down meal," commented one student.
Questioned on this, Trumble said that "that's not what the majority of people want, the majority of people want music, and that's the reason that over the last few years this is how this event has developed in the format that it is."
Trumble also reiterated statements made in response to criticism online that to cater for everyone at Grad Ball would be logistically impossible.
SCAN's research shows that a formal dinner as some people have requested tends to add between £30 and £40 to the cost of a ticket. For instance, a ticket to York's event – including a meal – costs £65, whereas an 'Early Bird' ticket, not including catering and a champagne reception, costs £30.
Trumble added that "if there's a shift and more and more people move toward [wanting a meal], then it's maybe something to be explored."
Some responses to the cost of Grad Ball have been founded upon comparisons to other universities. However, direct comparisons are difficult to make due to variations in the resources available to students' unions.
"I think making comparison is easy to do in a base way," said Trumble, "but the reality of the situation which is something that people don't immediately think of is why is it that those packages are different?
"For example, other universities might have much larger venues, which enables them to reduce their ticket price and give them a very similar package to ours but maybe at a slightly lower price."
This is vindicated by the example of Leeds University Union (LUU), which is charging £32 for its Summer Ball. 'Early Bird' tickets are priced at £27.
This relatively low price can be attributed by the fact that Leeds's costs appear to be covered by the 4500 tickets customarily sold for the event by LUU, a capacity three times that of Lancaster's Great Hall complex.
Leeds's event is to be headlined by dubstep singer-songwriter Katy B, alongside recent Sugarhouse performer Labrinth and Radio One's Greg James, who performed at Lancaster's Grad Ball 2011.
Trumble also emphasised that his team's priority has been to provide the best possible package for the lowest possible price.
"It's so important for us to do everything we can, which we have, to drive down costs," he stressed. "It would be wholly wrong to turn around and say 'people are going to go anyway so it doesn't really matter what we charge. That would be the end of Grad Ball to be quite honest, and that's not what we've done."