Grad Ball: What do you think?
632 total views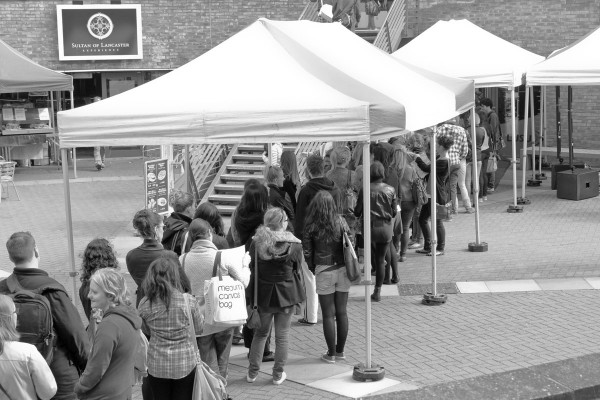 An online poll in Week One suggested dissatisfaction with the £44.50 cost of Grad Ball tickets, so SCAN put the question to students queuing to get theirs shortly after the Monday 10am release. Students were also asked for their thoughts on the line-up.
The first interviewee was enthusiastic about headliners Maximo Park, but concerned about the cost. "It is a bit pricey," she said, questioning "the fact that you don't get at least a drink.
"Apparently there are burger vans and things, you don't even get a voucher just for like one [burger], so you are basically paying that much money for a just a gig, but you go in really posh dresses and suits."
However, she added that "When they announced Maximo Park as the headliners, that made me want to go more. I'm going regardless of the price because all of your friends go."
Grad Ball line-up announced
Grad Ball cost analysis 
The music line-up, announced gradually during Week One, justifies the cost for many people.
"I think the price is fine considering that you would pay that much to go to a concert," said one student. "I went last year and the line-up wasn't great but it was still the same price [as this year] so I think it's fine."
Grad Ball tickets are £5 dearer this year than in 2012, but £12.50 cheaper than 2009.
One student expressed concern over the variety of the event. "I think they've gone for quite a niche," she said.
"Some people don't like live music so I think they could have made more things for other people."
Other students were less than enthusiastic, however. One student who attended last year commented online that "as an event it's not worth the money at all," before adding "however it's worth going as for most people it may be the last chance they get to see some of the people they go to uni with."
Another student said: "Kudus to them for finally getting some half decent names, but how is this a ball?"
Such sentiment has been common. "I'm only paying £6 more than this to go to the closing ceremony of the Olympics," one student commented the day after tickets were released.
"[I] would rather have paid less for a meal and just have a local band and DJ on – more like a ball."
The implausibility of providing full catering for 1500 attendees has been stressed by LUSU.