Men's 2nds serve up an ace at Roses
497 total views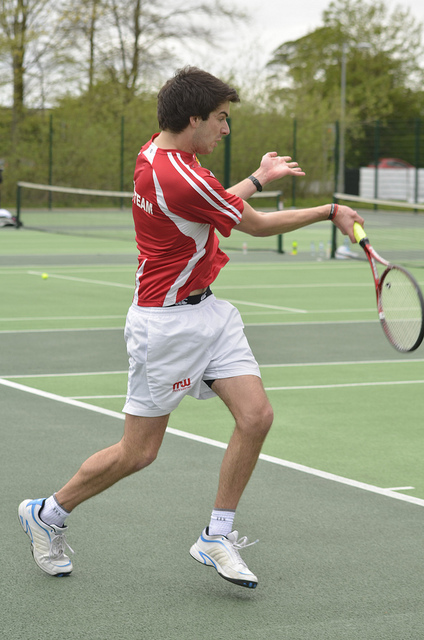 Lancaster Men's 2nds tennis team produced a dominant display at the Roses with a comfortable 7-2 victory over York.
Despite the gloomy conditions, the boys triumphed with plenty of effort and a cheerful spirit.
The first three matches were doubles, where both teams, full of energy, played with confidence and intent.
On court one, the Lancaster pair made quick work of York, winning 6-3 6-3, while on centre court, York had the upper hand, taking a 6-2 6-4 victory.
The action on court three, however, was a much closer affair, and went to a tie-break in the third set.  Spurred on by a small but dedicated group of supporters, the tie-break eventually finished 10-4 to the Red Rose.
Lancaster captain Douglas Miekle was quietly confident during the break. He said, 'It wasn't our best, but we came through in the end.  The support really helped.'
The remaining six games were singles, and both teams were beginning to tire as the games wore on.  An increase in wind and a decrease in temperature also contributed, with wayward shots going beyond the baseline a common occurrence.
The odd moment of frustration aside however, all the players remained in good spirits.  Decisions were settled quickly and amicably, adding to the friendly yet competitive atmosphere on the court.
Keen to capitalise on their 2-1 advantage from the doubles, Lancaster continued their fine form, with a 6-1 6-4 victory.
York refused to give up, though, a 6-3 6-2 win putting the scores at 3-2 overall.
The Lancaster lads' skill and determination finally paid off in the last four games, with three more straight-set wins to seal the points.
The match between the two Captains, Miekle for the Reds and Alistair Hunt for the Whites, proved to be for pride only, as Lancaster had already taken an unassailable 6-2 lead.
In the end, Miekle put the icing on the cake as he overcame his counterpart in a long and testing match, which ended 6-3 4-6 6-3 to the Lancaster captain, earning his side two points in the Roses after their 7-2 victory.
After the match, Miekle said: 'We did pretty well today after a slow start.  We've put in a lot of work this year, so I'm really happy with the result.  Last year we didn't win a single match, so the effort today was fantastic.'
York Captain Hunt was positive, despite the loss.  'It was hard work, and some of [the matches] were really tight even though we lost.  Really well done by everyone, it was another marathon effort!'