White Rose shades it in close clash
716 total views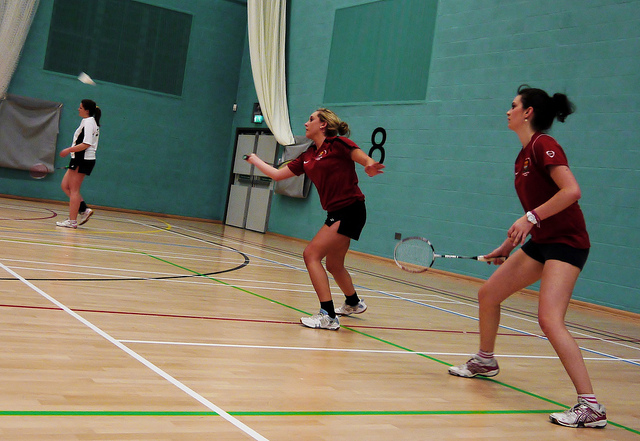 Lancaster 4 – 5 York
The Women's 1sts came up against a resilient York side in the opening day of the badminton at Roses 2012.  Lancaster led by the ever present Steph Hall (C) were looking for revenge after last years 5-4 close defeat at York.
The format was simple; three doubles teams from Lancaster, ranked 1-3 battled it out in three matches each, against York. Best of three games in a match and the first University to reach five points would be hailed victorious. Crucially adding four points to their Universities overall score in their bid to lift the Carter James Trophy.
Proceedings began extremely well for a Lancaster side whose 1st and 2nd seeds took their first sets 21-12 and 21-15 respectively as Lancaster hit the ground running putting York under some added pressure. The Women's 3rds fared less well losing their first game 21-10.
Lancaster's 2nds continued to dominate with Hall and Danielle Croucher putting Lancaster's first points on the board, taking the second game 22-20, in a comprehensive victory.
However, York's firsts pulled a game back against Lancasters Nan Wang and Yinai Sun, taking the game into a deciding end.Wang and Sun bowed out in a tightly fought exchange losing the match 21-13 18-21 16-21, as York began to show character. Things took a turn for the worse as York took the overall lead 2-1 as Hannah Hopes and Eleanor Dawson lost in straight games, 21-10 21-7.
The second round of matches soon were underway. Lancaster's 1sts began slow against York's 3rds surprisingly losing the first game easily 10-21. The 2nds continued their great run of form this time against York's 1sts, taking the first game 21-11.  The 3rds began to put up more of a fight against York's seconds narrowly losing the first game 19-21. The Lancaster 3rds' luck did not change in the second game either, unluckily losing by a two point margin again, 20-22. York were now 3-1 up.
Lancaster's 1sts failed in taking the match to a decider, uncharacteristically losing 10-21 12-21, a great result for York, seemingly taking them one point away from victory in the Women's Badminton. Despite this turn of form from Lancaster, Hall and Croucher calmly and efficiently took another York scalp winning the second game 21-16.  Hall's powerful yet accurate smash, in particular, proving difficult for York to cope with.
With the score at 2-4 going into the final games of the competition, Lancaster needed to come from behind and win all three games to win in the badminton. Wang and Sun made the comeback a distinct possibility bouncing back from their first two losses to defeat York's seconds 21-19 21-6 showing great communication and an assertive attack. Unfortunately, a possible comeback was short lived as Lancaster's 3rds lost in straight sets 21-15 21-15 in a closer game than the scoreline suggests.
Unbeknownst to Hall and Croucher they were now playing only to reduce the deficit but still as a pair could remain undefeated. Their brilliant form continued winning 21-18 21-18, but it was too little too late. York remained victorious for another year.
A tremendous effort by Lancaster nearly saw a terrific comeback against a strong York side.  Captain fantastic Hall told SCAN after the matches how she was obviously: 'disappointed with the result especially after how well the team had played' but spirits were still high as she went on to say, 'I'm now looking forward to the mixed doubles' .
The efforts of both teams was exceptional both Universities playing strong teams, in a high class affair of Badminton. The enthusiastic support from within the Sports Centre seemed to buoy on an spirited comeback from Lancaster, which in the end regrettably,  just fell short.