Dominant Lancaster triumph over York
541 total views
Lancaster 3-0 York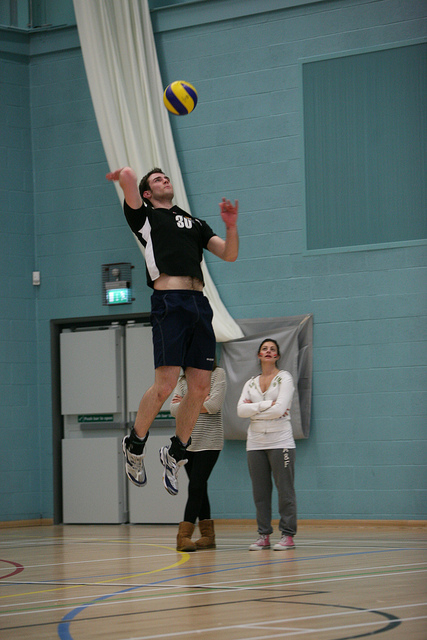 Lancaster Men's volleyball team eased to a 3-0 win over York.
The first set of this match saw York start the brighter of the two teams as they raced to a 4-0 lead. However, this was not enough to faze Lancaster as they started to match what York had already brought to the game. Accurate smashes from Anthony Pakowski, Michael Johner and Robert Cannings and a delicately placed shot from Captain Luke Blackwell saw Lancaster draw level of points at 13-13.
From that point on, the two teams were matched in their scoring until the end of the set, when at 17-17, Lancaster stepped up a gear to see out the first set 25-19 and take the lead 1-0, much to the disbelief of York.
From then on, things looked uphill for York, with Lancaster getting more and more confident on the ball and playing shots that caused their opponents to make mistakes. At 6-2 in the second set, it looked as if Lancaster would run away with the set and make great strides to wrapping up the match.
However, noticing that they were in danger of being left behind, York scored six consecutive points to take an 8-6 lead in the set thanks to smashes from Captain Jonas Polex and an ace from Panos Ne. This was followed by a clever shot from York's Harry Pampiglione which caught Lancaster off-guard, giving York a 10-8 lead.
Following this, the set took a similar pattern to that of the first set, with not much to tell the teams apart. Lancaster then demonstrated their skill and determination to win this match and saw the set out 25-21 to take a 2-0 lead in the match.
The third and final set of this match was dominated by Lancaster from start to finish. A combination of York's negativity after losing another set and Lancaster's drive to see the match out victorious lead to a very one-sided set. Lancaster raced into an 8-2 lead, which left York resigned to defeat, and unlike in the previous set, they were powerless in leading another comeback. Winning shots from Johner and Cannings from some lengthy rallies in which each member of the two teams battled to win, saw Lancaster take a 16-7 lead and close in on victory. York dug in for one final effort by winning six more points and saving three match points but were unable to delay the inevitable any longer with Lancaster winning the set 25-13 which clinched the match 3-0.