York take the win in croquet nail biter
400 total views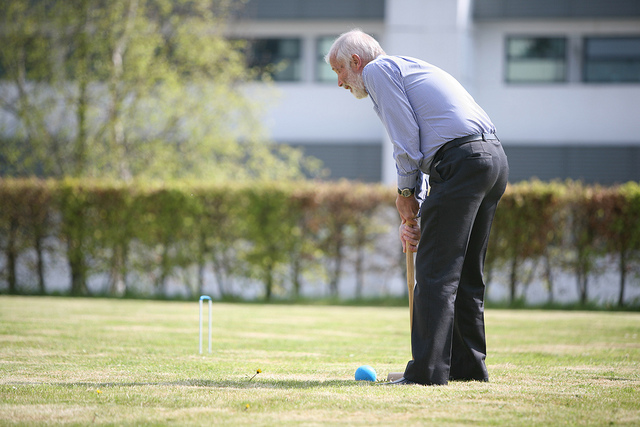 It was a jovial but competitive atmosphere as Lancaster's Students' Union President, George Gardiner and Chancellor Sir Chris Bonnington went up against York's Students' Union President, Tim Ellis, and Deputy Vice Chancellor Jane Grenville, on the Ruskin Lawn for an exhibition game of croquet.
Grenville led the game early on, passing the ball through two hoops while the other players were still attempting their first. The pace then began to pick up, with Sir Bonnington and Grenville head-to-head, swiftly followed by Gardiner and Ellis.
As the game progressed, the competitors became more ruthless, roqueting each other's balls as far away from the hoops as possible, adding to the intensity of the game.
Both Presidents clashed in a battle to be the first to the final peg, but Gardiner's shot was a little too long allowing Ellis to take the win. He was swiftly followed by Grenville, securing the triumph for York.
Discussing the croquet, Sir Bonnington expressed how it is "always immense fun" but concluded that he "really must get a bit of practice in before next year." As for Roses, he described it as "an absolutely brilliant competition."
On her croqueting triumph, Grenville described it as "blind astonishment" as she is "not a sportswoman at all."
"Roses has been absolutely fantastic," she added, and despite hopes that York may have overtaken Lancaster when the score stood at 77-71 to Lancaster, it was "a very creditable win for Lancaster, a very good show from York" and overall, "a brilliant sporting weekend."
Ellis also commended Lancaster for their win. "Obviously I'm absolutely gutted that York lost it, but I think we've done ourselves really proud; we got right through to near the end of Sunday before Lancaster managed to snatch it, so it's been amazing, a really good weekend," he said.
Despite losing the game, Gardiner deemed the croquet match as "really good fun, it obviously doesn't count for anything." He continued, "but it's really good, and it's nice to have a good relationship between our two universities, because although we do want to beat each other at Roses, we're good friends."
"Roses in general has been phenomenal," he added, acknowledging LUSU Vice President (Activities) Marc Handley, and his team, for the amount of effort they put in throughout the weekend. "The whole weekends gone very smoothly" he said, "and ultimately we've won!"