League-winning Lancaster round off perfect season
439 total views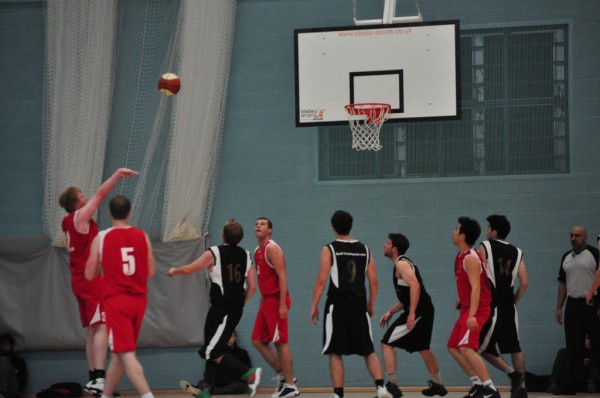 Lancaster 64-59 York
The men's basketball began approximately 35 minutes late following an outstanding encounter in the women's volleyball and a narrow loss for the women's basketball team. With Lancaster having won their league and sealed promotion to the top division and York having been relegated from theirs, you would have been forgiven for thinking the match was a foregone conclusion. However, at Roses there is rarely such a thing.
York flew out of the blocks, winning the tip off and scoring two points almost straight away. Mike Guille of Lancaster was unfortunate to not respond immediately for Lancaster as the ball looked to have gone in before bouncing away off the rim.
It was a nervy start from both teams, with many a missed free-throw. James Banks had sunk his first two to pick up Lancaster's first points in the match, but missed his next two and the resulting lay-up with York in a 9-3 lead.
Jason Au forced his way through a tight gap to pick up two points whilst drawing a foul. The free-throw was missed, but the score had been pulled back to an 11-10 York lead.
A great piece of link-up play between Nana Yaw Asiamah and Ignas Vycas saw Lancaster pick up a further two and a free-throw. The free-throw was missed by Vycas. In spite of this York looked to be taking a two-point lead into the second quarter before Guille popped up to level the scores at 14-14 before the buzzer sounded.
Vycas started the second quarter strongly, making two great drives and finishes to reverse the situation from a 16-14 York lead to an 18-16 Lancaster lead within a matter of seconds.
Lawge of York pulled of a superb reverse lay-up to tie the score once more. However, Vycas was a man possessed and struck back once more.
The match had developed into a transition game, and at 20-20 a time-out was called. Dimitris Karakasis and Nnamdi Ekeh had entered for Lancaster and made an immediate impact on the game. Karakasis drew a foul and made one of two free-throws. Ekeh picked up two for himself, before Karakasis followed suit whilst drawing a further foul and making his free-throw.
Lancaster had soon developed a six-point lead at 26-20. Banks made both of his free-throw attempts before the quarter had finished as Lancaster took a 31-26 lead. Boedt of York narrowly missed at the end of the second quarter and that scoreline remained.
The third quarter began as a battle between the two no. 14s. Lawge pulled two points back for York, before Leonardo Hu broke away for two of his own. Within twenty second of Hu scoring, he was fouled by Lawge and made one of his free-throws as Lancaster extended their lead.
Au and Karakasis began to impose themselves on the game for Lancaster. Karakasis was a calming presence whilst Au controlled the pace of the game when he was on court.
With the scores at 39-35, there was a five second period in which five of ten players on court were on the floor scrambling for the ball. York emerged victorious with the ball but didn't make it pay. Karakasis was next to score and re-establish the six-point gap. Baark of York sank a long three-pointer before the buzzer sounded to half that deficit at the end of the third.
Karakasis made it known that he was a big game player when at the start of the fourth and final quarter, he nonchalantly floated the ball in for three more.
Baark of York began to dominate the game in the early exchanges of the fourth quarter, as York pulled the gap back to just two at 44-42.
Keshinro of Lancaster, who was tireless throughout, forced a foul and made one of his free-throws to allow the slightest of breathing space for Lancaster.
The fourth quarter ultimately was to belong to James Ormond. His calm finishing was exactly what Lancaster needed. York had levelled at 45-45 thanks largely to Boedt and Baark, before Ormond picked up eight points and numerous rebounds.
Baark made four free-throws from four as York battled back and Lancaster picked up a couple of technical fouls.
It was Ormond who made the score 61-56 to Lancaster with just over a minute on the clock remaining. Baark who had looked nerveless from the line missed both free-throws within the last minute with the score at 61-58.
Au broke away, as he did time and again throughout the match to score two more points and create a five-point lead with just 17 seconds remaining.
Each side picked up just one free-throw a piece within those remaining seconds and Lancaster's 64-59  win was met with a massive cheer, not just for the basketball win, but for the news of the overall Roses win which had been filtered through to the fans.
Lancaster Coach Craig Cefferty had this to say after the game, "It was a heart stopper… it shows the heart and character of the team and has capped off an amazing season."