Lonsdale end seven-year drought with victory at Founders
793 total views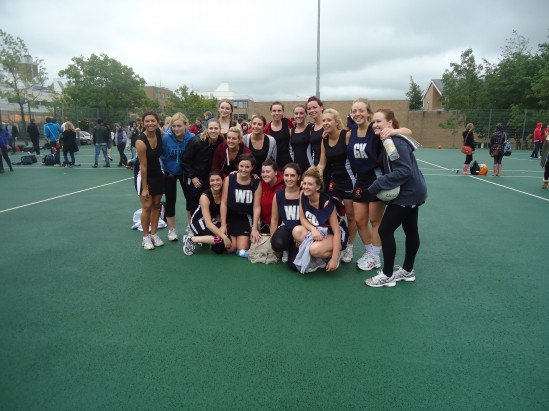 After a seven year wait Lonsdale College regained the Founders' Shield from Bowland after a mammoth weekend of sporting action. The event concerning the two founding colleges of Lancaster University has existed since 2004. It was created when Lonsdale College was relocated to South-West campus, and Bowland's Jacob Samuels and Lonsdale's Tom Shepherd attempted to maintain the age old rivalry. Now that rivalry is as strong as ever. Lonsdale won the inaugural competition, however Bowland had won the following seven competitions going into the 2012 event.
Lonsdale must have feared that it would be déjà vu all over again at the end of the opening evening with Bowland securing a 9-3 overnight lead on the Friday. Bowland had earlier cruised to a seven wicket victory in the opening event cricket, under the captaincy of Carl Purvis. Unfortunately for the two fans in attendance for the SCR bowls the event was cancelled due to the inclement weather conditions.
Lonsdale were better prepared than ever for the boat race with a strong team of sub-six-seconders (referring to the time taken to down a pint) and finished all 8 pints before Bowland had got to their 8th man. Unfortunately for Lonsdale this point was reversed in the women's reef (VK) race and Bowland restored their one-point lead.
The next event was dominoes and it was always going to be an uphill task for Lonsdale who finished 8th in the league against league winners Bowland. The caped crusaders from Bowland won the first three games 2-0, abruptly ending the best of five affair and Lonsdale's hopes of attaining the two points on offer.
Lonsdale quiz team secured two points for their college with a 51-47 scoreline, under the captaincy of Matt Haslam who had carefully selected a very strong all round team. This left Lonsdale trailing 4-3, but this was a close as it was to get for Lonsdale that evening.
Bowland eased to victory in the women's darts picking up a further three points. The men's Bs pool looked all but over at 4-1 to Bowland before Lonsdale fought back bravely to 4-4. However Bowland were to win the next two frames to take the 6-4 win, with Bowland legend James Bowry calmly sinking the decisive black.
The majority of those remaining at Bowland bar at the end of the pool were to then head out to Toast to celebrate/rue the traditionally slow start. It was at Toast where Lonsdale Sports Rep, Jake Aspinall, was to make his outrageously audacious prediction that Lonsdale would win all seven of Saturday's events.
The women's football kicked off at 10am on the Saturday morning with roughly 70 fans in attendance. Lonsdale out-played Bowland throughout the match, largely thanks to the strong university contingent within the squad, and the scoreline could have been much higher than 3-1 had Bowland's Goalkeeper Alice Lamb had not had such a magnificent game. Lonsdale reduced Bowland's lead by half, to 9-6.
Lonsdale won the C team football 3-2, with last year's Captain Lee Osborne scoring for the second year in a row. Aspinall's prediction looked to be picking up some steam. Lonsdale edged a 1-0 win in the B's football under the captaincy of Paul Russell. At this point supporters were soaked through from the monsoon-like weather and the pitch had begun to look worse for wear. Fortunately the supporters' spirits were not dampened with songs such as 'I Just Can't Get Enough' and 'Singing In The Rain' being bellowed out.
Having gone to penalties in two of the last three years the A team football was set to be an exciting one yet again, with an influx of university players for the Lonsdale team coming up against cup winners Bowland. Bowland old-boy Billy Tosh, had a fantastic game on the right-wing, and bagged the goal that his performance deserved, drilling low across Matt Wood in net for Lonsdale into the bottom-left corner. Shortly after half-time Lonsdale had equalised and looked to have the belief to go on a win the game.
Referee Ross McWilliams, then made the decision to call the game off, due to the weather, in particular the condition of the pitch. It would not be an understatement to say that this was one of the biggest decisions of the young referee's life. From a neutral point of view it looked to be the correct decision. It was dangerous to continue playing with approximately half an hour left on the clock. Equally with over 100 angry fans per college it could have been a dangerous decision for the referee to call it off.
Fortunately the game was able to move pitch, with only slightly better conditions in order to finish the game-off. It finished 1-1 and was to go to penalties. Lonsdale always lose to Bowland at penalties, but not this time. Arron Martindale, Leon Vaughan, Alex Lanigan and Nico Nicolaides all scored for Lonsdale and Matt Wood was the hero in net saving from Carl Purvis and Ronan Szelesi.
Lonsdale were to take a 15-9 lead to the netball courts. In the Bs both teams looked like strong outfits and were very evenly matched, however it was Lonsdale who edged to victory to extend the lead to 18-9. The A team Netball was much more comfortable for Lonsdale, who were by far the better team during the league season before acquiring some university players in time for Founders to spread across the two squads.
The score read Lonsdale 22-9 Bowland; with the men's darts the final event of the day to take place at Bowland Bar at 8pm. Lonsdale had a much stronger set of current players where as Bowland looked to have the stronger old boys for the best of 11 affair.
Andy Shaw set Lonsdale on their way before Oli Charlton added to this with a convincing win. Dean Crabb and James Stone were to be the only two to win for Bowland, both as old boys. Lonsdale's other wins were three old boys, Carl Lever, Tom Headon, and Tommy Haworth, as well as the magnificent Matt Gilford who checked out on bulls-eye to win the match 6-2, with three strong players left in reserve for Lonsdale.
Lonsdale were to lead 25-9 overnight and even Lonsdale couldn't throw away such a lead, in a race to 30 points, or could they?
Bowland are renowned for their ability to fight back from particularly desperate situations such as last year's 28-20 deficit. Lonsdale must have been worried when in the women's hockey, Bowland had a 4-0 lead by half-time. Kate Ridley of Bowland had a fantastic game and picked up two goals in their comprehensive win. However, this was as good as it got for Bowland.
Men's hockey saw Lonsdale turn their fortunes immediately around in a very tight game. Lonsdale's university players dictated the pace of the play, however it was Josh Cleary who was to be the hero, securing a 3-2 win for Lonsdale with the final touch of the game.
Ferdinand Doepel captained Lonsdale to glory in the handball 6-4. Andrew Thomas, dodgeball captain for Lonsdale oversaw an exciting 3-2 win, before securing the win for Lonsdale with a number of catches. This left Lonsdale requiring just one more point for the rest of the day in order to secure the overall win.
The next event was volleyball. With old boy Rick Clarkson, who had been waiting for seven years to see Lonsdale win Founders, Sports Rep Jake Aspinall, and one of Lonsdale's players of the series, Lavi Becker, on court for Lonsdale there wouldn't be a more fitting time. However Bowland had other plans and secured the first set, before taking a 17-13 lead in the second.
However, Lonsdale fought back and secured the second set 21-18. In the third set the scores were tied at 15-15, before Lonsdale pulled away and looked to have won it. Lonsdale had won it, but the crowd didn't know. With the expletive removed, Lonsdale's volleyball captain shouted "We've won" and the whistle was blown, before the Lonsdale crowd went wild to celebrate the win.
Men's basketball saw a comfortable win for Lonsdale under the captaincy of Oli Charlton and coaching of James Banks. Rounders was cancelled due to the day's delays. Bowland secured their traditional win in the women's rugby, before an exciting tie in the men's rugby at 17-17, thanks to a very late unconverted try for Lonsdale.
Bowland picked up another of their traditional wins at Lonsdale bar in the women's pool with a 7-2 win. Lonsdale believed they had a guaranteed win in the men's A team pool. At Founders there is obviously not such a thing. However a 6-1 win provided a huge weight of evidence for this early suggestion.
President's chess saw Dan Huisman easily defeat Tom Woodburn. However the win became less easy, considering it was shots chess, and both Presidents decided to shoot all sixteen regardless of result.
The final event of the weekend was the chess which Bowland won convincingly. Ferdinand Doepel of Lonsdale put up an outstanding effort against the blind-folded James Hanley of Bowland. However it wasn't to be. Fortunately for Lonsdale, Hanley's final move did not mark an overall win as with the previous year's Founders.
Lonsdale picked up their long awaited win in some style with a 38-21 overall win and the bar erupted into songs, cheers and clapping when the Founders' Shield finally came home. The Shield was lifted aloft by Jake Aspinall, on behalf of himself, his fellow Sports Rep Xantha Leatham and the whole of Lonsdale College.