South West Fest gets campus festive
619 total views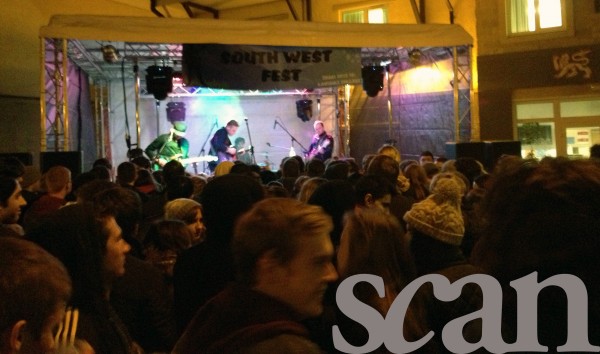 On Thursday Week 10 Lancaster University saw its very first South West Fest, hosted by Lonsdale College. The night was packed with live music from bands and DJs inside and outside the bar. Headline acts included Bolton band Our Day Remains and Coldplay tribute band Coldplayer who had already proven to be a huge success at Lonsdale's Extrav in the summer. Despite the cold weather students from across campus gathered together to enjoy the music, a few drinks and an ever-popular hog roast.
The event started and 7pm with live bands outside till 11pm and went on till the early hours in the bar until 3am, with music from DJ's including Lonsdale DJ and President elect, Charlie Edwards and his collection of 80s classics, which are steadily becoming a staple at Lonsdale events.
Tom Woodburn, Lonsdale President 2011-2012 and event organizer, said: "The aim of South West Fest was to fill in a bit of a lull in the cross campus social calendar and give students, particularly in the south west of campus, something a little bit different at this time of year in the shape of a free outdoor festival similar to an extrav."
The event was popular with students both on Main Campus and South West. A Bowland student, despite the bitter rivalry between the two colleges, said: "It was a great event and a really good idea. I hope it gets bigger in the future".
The atmosphere was kept alive by students dancing to keep warm and Woodburn added: "Despite the cold we had a great turn out for this huge event seeing seven great acts on our outdoor stage and Matt Blacker doing a top DJ set the bar. The outdoor stage reached it's climax with a dazzling performance from the incredible Coldplayer, everyone was having an amazing time, the atmosphere was electric! The Hog Roast was also very popular, and with £2 pints in Lonsdale's bar it was a cheap night for everyone! South West Fest's first ever year in operation has been held a great success and this event is something that is set to become an annual event!"
A fantastic night all around and this writer hopes to see it back on the social calendar next year and the year after that.