Answers from Alex Square
702 total views
Questions;
–          Do you think Lad Culture is a problem on Campus?
–          Should societies be allowed to pose for naked calendars?
–          What do you think of the strike action taken by the UCU?
–          Are accommodation talks done too early?
Emma Spencer 2nd year Environmental Science
Lad culture
It's not something I've experienced myself but I've heard of people who have. To be honest I've never had any problems myself. I know there are people who go round like that, who act like that. That is a problem.
Naked Calendars
I guess if they all agree with it. You can imagine that some people might get pressured into it though and it's a bit of an awkward situation. Probably not to be honest, I don't think they should.
Strike action
I don't know about it. I don't know enough to form an opinion really.
Accommodation
Yes definitely. It feels like I've only just moved into my house this year and already I'm having to think about next year and it happened last year. You've only just met those people!
Avnesh Modhvadia MA History
Lad Culture
There's not as much as there used to be. I think two years ago you'd get a lot of that sort of thing but it seems like people have just grown up really.
Naked Calendars
Yeah of course. Who am I to object to it? Especially if it's for a good cause.
Strike action
I think it's definitely justified. Lecturers do great work at this university and the rest of the staff are very underrated.
Accommodation
The talks are far too early, first years deciding who to live with and where after 4 weeks of being here is a bit crazy.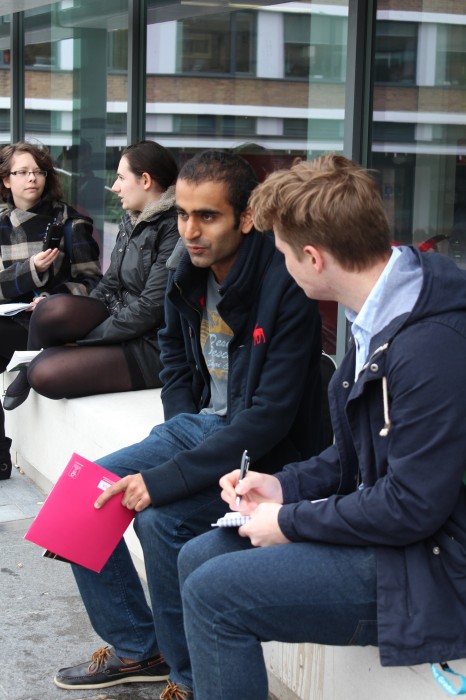 Perseus, MA Project Management
Lad Culture
No, I can't say I've really have seen any evidence of it.
Naked Calendars
I think it depends on the theme of the photos and the calendar but most of the time I think it's acceptable.
Strike Action
It gives me a day off!
Accommodation Talks
I think it might need to be early otherwise people might miss out on all the applications available.
Amelia Federico, 2nd year, English Literature
Lad culture
I think it's been made into a bigger deal than it actually is. I think it's there as an undercurrent. The way it's reported on can be exaggerated. There's a lot of campaigns that are unnecessary, like banning Robin Thicke's Blurred Lines.
Naked calendars
If people are comfortable with doing it then that's what they want to do. If you look at Gok Wan's How to Look Good Naked then that was all about empowerment. You can argue it's sexualising a charity, but I don't have a problem with. Men do it as much as women.
Strike action
I don't actually know much about it. My lectures have been rescheduled, I'm not sure how much of an impact it's actually having. If the whole point of the strike is trying to prove that they are not meant to be teaching then why have they rescheduled their lectures? I mean I'm glad they have, I support them if that's what they want to do but I also support the fact that I'm paying £9000 for tuition and I'd like them to be here.
Accommodation
Yes, it's ridiculously too early; I've got friends at York University who didn't start looking for accommodation until February. I found mine way before anyone else. My landlord is telling me I need to decide by the end of the week if I want to continue living there, but students are shoe-horned into contracts they shouldn't be. The rush was exaggerated by the university. There were still rooms available in September for this year.
Lauren Noon, 2nd year, Economics and Finance
Lad culture
Slightly maybe. I don't think it's as much of a problem on this campus as it is on other campuses, like in big cities.
Naked calendars
If it's for charity yes.
Strike action
I only know a little bit about it. I approve of it. It's the same for any job; if your pay gets cut you want to do something about it. It hasn't really affected me.
Accommodation
Yes, I thought it was very early last year because you don't really know people. It forces people to live with people you don't really know.
Annabel Atger, 2nd year, European BBA & Karolina Ladyn, 2nd year, International Law
Lad culture
Annabel: I don't think it's a problem on campus, but maybe in nightclubs, like The Sugarhouse.
Karolina: I think British girls tend to wear less than other cultures which might be an example of it.
Naked calendars
Karolina: If it's for charity then yes. It's fun.
Strike action
Karolina: I really disagree. My lectures have been moved to a time when I can't attend.
Annabel: There must be another way that doesn't affect the students who are paying so much money to have lectures.
Accommodation talks
Annabel: I think it's too early because you haven't even made any friends yet and then all of a sudden you have to move in with them. Students should be given time to get to know their flatmates, maybe wait until second term.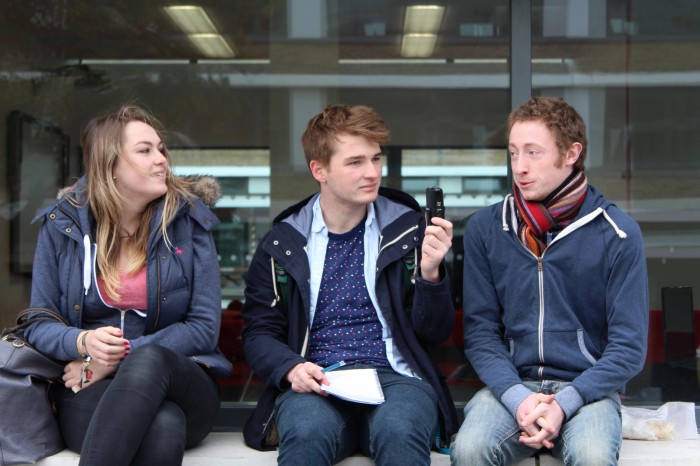 Chris Walker, 2nd Year Computers & Abby Salter 2nd year French and Spanish
Lad Culture
Chris: Maybe it's just certain groups as opposed to every single boy on campus. I think they tend to keep it within their group.
Abbey: I think people have been fine on campus I haven't noticed any problems myself.
Naked Calendars
Abbey: If participants are willing. I don't think everyone should be subjected to it though.
Chris: Yeah, same really.
Strike Action
Chris: I get a day off, that's all I know.
Abbey: Neither of my teachers are striking, so I don't.
Accommodation
Chris: Yep definitely, a lot can happen over a year; people drift apart, which would make it awkward for people moving in next year.
Abbey: Exactly the same, it's very stressful having to think about that before Christmas especially.
Simonetta Scheeidt and Alice Sauer, 2nd Year Marketing and Psychology
Lad Culture
Alice: I think it's a part of English culture really, so I don't really mind I think it's quite funny. Can create quite a good atmosphere.
Simonetta: Sometimes it can go too far though especially when you see people having sex anywhere and puking on the floor. I think it could be toned down a bit.
Naked Calendars
Alice: As long as they cover it up in a funny way and it doesn't look like porn then I don't see why not, it can be amusing.
Simonetta: If it's a society and they all agree to do it then I don't see a problem.
Strike Action
Simonetta: Yea I understand their cause. In two years university fees have trebled so I don't see why their salaries haven't gone up as well?
Alice: I think it depends on how much they earned before, everyone will always complain when they earn less and I'm sure I'd do the same thing in their shoes.
Accommodation
Alice: Yes. I'm happy with my house but I know lots of people who would rather live with friends they met with through the year and not just in Freshers week.
Simonetta: It's too early. Especially for Freshers you only really know people who live in your block and often they're not your real friends.
Busim Basheer (Big Bird), 2nd year Business Studies
Lad Culture
I wouldn't think so because I've not experienced it first hand and I don't think any of my friends have.
Naked Calendars
Yeah I think so because most of them are for a good cause. My cricket team did a naked calendar last year and we raised a good sum of money. And it's also really fun!
Strike Action
I really don't know enough to comment on it.
Accommodation talks
I don't know about from personal experience but I think my friends found them very helpful.
Matt Stokes, 2nd year Advertising and Marketing
Lad Culture
I can't say I've really noticed it to be honest.
Naked Calendars
I think it's peoples own choice, if they want to then they can go for it.
Strike Action
I don't really know anything about it really.
Accommodation talks
Yeah I think the whole accommodation organizing is too early, living with people you've only known for a few weeks isn't always going to end well.
Facebook Comment on Naked Calendars;
Alex Maxwell " Surely things like lads mags of naked calendars are a symptom of the wider culture we live in?"
Richard Molyneux "I think that this is to do with personal choice; I could understand if people weren't allowed to Sell them on campus, but if I wanted to buy the Warwick Uni Rowing club calendar from elsewhere I feel that I should be able to do so."
Sam Mace "  I don't think these calenders are a problem, they are meant as a bit of fun and of course they should be allowed on campus."
Thank You
We just want to say a big thank you to everyone who kindly let us disturb their lunch/fag break/personal reflection time. We are very grateful for your openness and articulacy.