Campus Strikes could be "only the start"
934 total views
Members of the University and College Union (UCU), Unite and Unison mounted a strike on Thursday, Week 4 (October 31st) in the light of the UCEA's (University and Colleges Employers Association) offer of a 1% pay rise after a 13% decline in real time wages since 2008. UCU, Unison and Unite organisers and their representatives on campus took to the picket lines along the university entrances to demonstrate against the lack of satisfactory pay rises and to the educate students about their cause.
Haydn Morris, Branch Chair of Unite on Campus and Chair of trade unions in the national region, spoke to SCAN, saying it was "the first time in many years that we have had full support from all staff on campus, lecturers and support staff". Though SCAN was unable to acquire the exact figures for total union participation amongst Lancaster University staff, of the 2,500 staff on campus 120 are members of Unison, which together with Unite represents the lowest paid University workers. The organisation voted on Thursday, Week 2 (October 14th) to take strike action where the motion was passed by 28% of its electorate with a 64% majority.
Morris went on to justify the strike by claiming that "we've reluctantly had to take industrial action" because "they've very complacently offered a low offer because they think they can get away with it".  For the University to keep 'the best staff they need to keep the salaries paid at a competitive level' because "the students have a right to expect a delivery of service."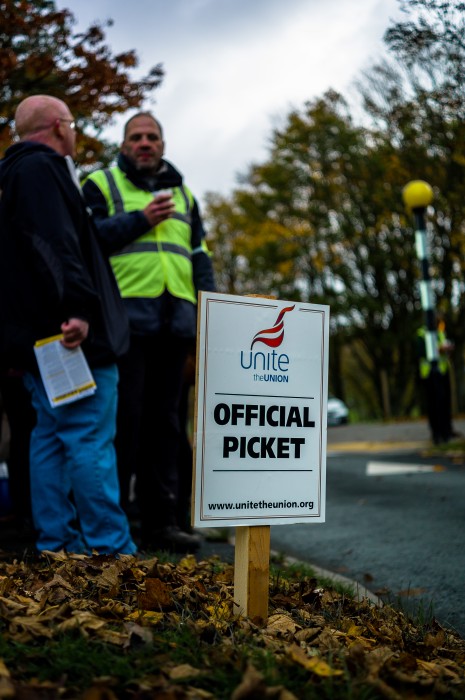 This "right to expect a delivery of service" was the most prevalent reason for many non-union staff to abstain from the strike. Professor Greg Myers, a lecturer in the English Language department stated that "if I'd come and the students say they are supporting it and don't want to come then that's fine, but if they turned up then I think I should be there." It was this same feeling of duty that appealed to Professor Jonathan Culpeper, who concurred that "when I think of people who pay £9000 to come here, I don't want to let them down" and when asked if it was choice between the strike or his students he answered that "it was, and not an easy one. I chose my students."
Due to the proximity of the strike to the start of term there were valid worries that material rescheduled or cancelled may have a damaging effect on student's fundamental understanding of certain topics. Culpeper's justification came from the fact that if he had decided to strike he would have had to reschedule or cancel entirely an important lecture for his students, one which "many other lectures across the English Language course and the Linguistic course build up on."
The disruption caused by the strike to the student population was something that played a part in LUSU Council's discussions over whether or not to back the strikes. Lonsdale College President, Charlie Edwards, enquired about the level of disruption that the strike would incur upon the university, paying specific attention to whether the library would be open and staffed throughout the day.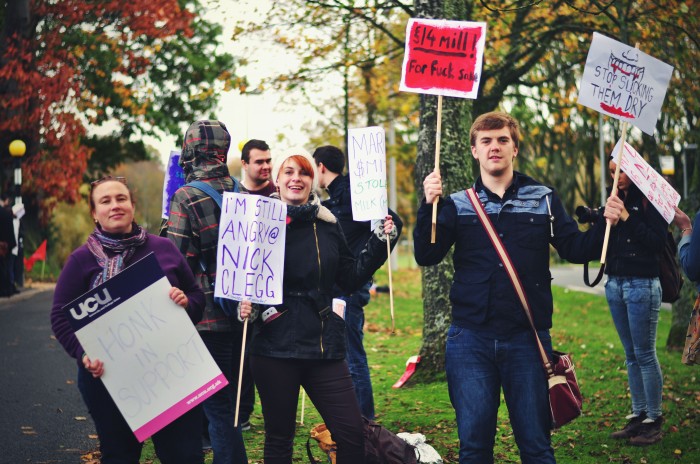 Though LUSU ended up voting through the motion by an overwhelming majority, LUSU VP (Campaigns and Communications), Rachel Harvey spoke to SCAN and said that "If [industrial action] continues and students' studies are seriously affected then LUSU is obviously going to have to reconsider where it stands".
As well as agreeing to the strike on Thursday, Week 4, Union members will also be exercising their right to 'work to contract' from November 1st. According to James Groves, a lecturer in Math's and Statistics, this means "lack of cover" and "free time" volunteered to students. He went on to state that that if these problems aren't resolved by Christmas their strikes may extend to "marking and exam boycotts." When asked about his personal motivations for striking, Groves answered, "the main reason is pay…but there are a lot of other related issues." Amongst other things, Groves believed that the pension schemes offered by the university were unfair and that their rights "were extremely low". He also called attention to the fact that the university had "suspended me from membership to my pension scheme for today along with everyone else that's striking. So if I drop dead I lose my pension rights." Groves qualified this right exercised by the university as "vicious" and "vindictive".
Nevertheless, Groves was optimistic that the strikes would achieve their purpose and that they had been effective in broadcasting their message to students. "There's only been about 12 or 13 of us today, but we are one of the smaller picketing locations (Alexandra Park)…and probably the majority, but not all, have found the students being at least sympathetic. There have been a few that have been snotty but the majority have at least respected us."
Whilst the strikers and union supporters are keen to gain the support of their student body, there have been reports that some relationships between staff members have been compromised by the strike. One anonymous source told SCAN that he felt "discriminated against" for not joining in the strike because he did not want to "disadvantage one of [his] seminar groups."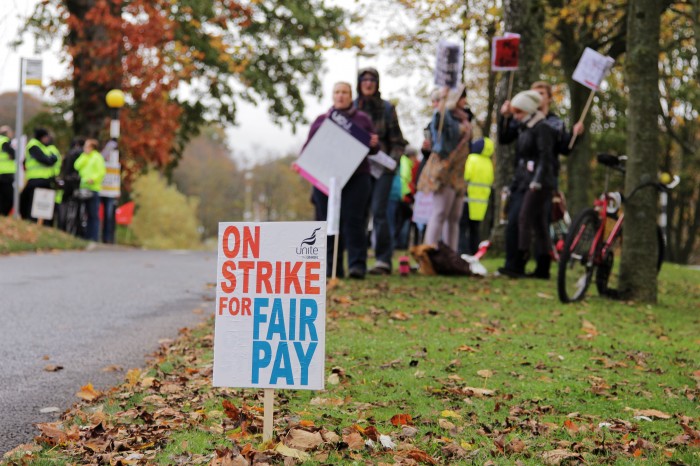 The decline of 13% in real time pay is a damaging statistic, however it is something not altogether foreign from the situation encountered throughout the public and private sector since 2008. According to research done by The Times, pay for academic salaries between 2006 and 2008 rose by 12.6%, but froze upon entering the financial recession.
Sam Clark, a lecturer of Philosophy, who whilst not personally present along the picket lines with the other demonstrators, offered a compelling argument to SCAN, writing: "Although I certainly feel the effect of my declining pay – the main issue is that the UK is increasingly moving away from the idea of university education as a public good run by and for democratic communities, towards something much more like the US's disastrous system of poorly-funded public education." Clarke described these systems as "low-quality for-profit 'universities' with commercially-focused managers, crushing student debt, and the majority of teaching delivered by poorly-paid, benefit-less, precariously-employed 'adjuncts'. This is bad for people who work in universities, bad for students, and bad for British culture and economy."
This proliferation of what Clark calls "low-quality for-profit 'universities'" and teaching "adjuncts" was also highlighted by second year Politics student, Toby Atkinson, who called the use of PhD students as a teaching resource "rank exploitation" and the lack of pay rise the "complete destruction and devastation of people's living standards", finally concluding that the whole practice was "barbaric". Atkinson went on to state the importance of student/lecturer solidarity and that as students, "supporting strikes is one of the key things we have to do. Universities put fees up and they introduce pay cuts… students should be fighting on all fronts."
The Unions were aware that the strike might come up against student opposition. Rory Daly, a member of UCU and an employee of the management school, was keen to put forward that "it's not because we don't want to teach students and it's not because we want the day off" but rather that "We've had the longest cut back in real terms in our salaries in the last ten years of any sector… eroding pay is not that way to encourage the next generation to come through."
SCAN News editor, Jack Perry, interviewed Staff Development Officer and UCU member Joe Thornberry to get his perspective on the strikes. Thornberry began by affirming, "We [the UCU members] are always very reluctant to take strike action because we are very committed to the University and to public education". Yet Thornberry believed that strike action was necessary, as after "four years of declining wages" the unions felt it had been "pushed too far."
When asked about the 'work to contract' measure that will be taken by the union members, Thornberry believed that it would make "the University realise just how much it depends on the goodwill of staff… and the students certainly aren't going to benefit from a workforce which is totally demoralised and where the attitude is "I'll do what I'm paid for and no more".
Thornberry expressed hopes that the University would appeal to the UCEA to sit down and reach a reasonable and fair settlement with the unions, as according to him this first strike is "only the start" and if fresh discussions are not opened it "will escalate."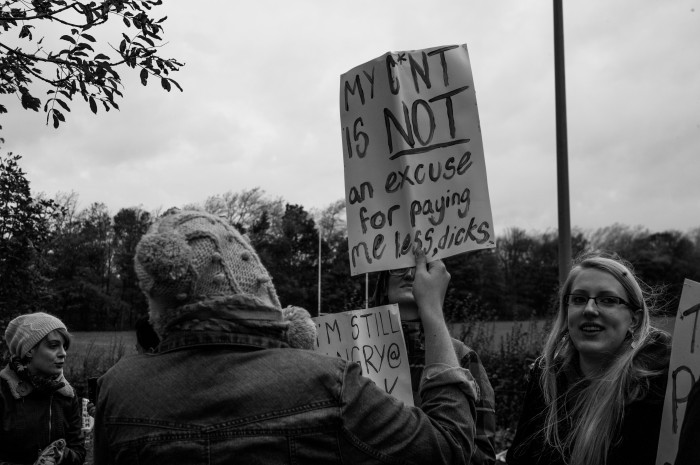 Students at the picket lines raised similar concerns about the pay cuts to academic staff. However not everybody was campaigning for an increase in wages across the board. Second year student Abbie Grant raised concerns about "the gender pay gap" which she went on to call "ridiculous".
The reasons for the pay gap are complex and often high court fees and fears over job security wrongly deter women from pursuing equal pay cases. Harvey said, "Until the unions accept the 1% pay increase, employers won't even discuss gender equal pay". She hoped that the demonstration would "educate people – especially students" about these issues faced in the employment sector.
The strikes' immediate impacts on campus life have seemed, for the moment, minimal. However the long-term effects of acute disruption to lectures and eroding cooperation from lecturers and support staff may become more apparent in the coming weeks. Their decisions to take more industrial action may come about if the UCEA refuses to grant further concessions. They may also face growing opposition within the student population if they down tools and strike again.