SCAN recipes: Valentine's Day
454 total views
It's that time of year again – the time for lurvin'! Stuck for ideas on how to romance your lovely gal or guy? Do not fret, for I have solutions that will sate their rumbling bellies and win their hearts.
Lovely Linzers
For those that have a sweet tooth, this delicious jam-filled, heart-shaped biscuit will hit the spot.
(Suitable for vegans)
Ingredients
350 grams plain flour
1 teaspoon bicarbonate of soda
a pinch of salt
140 grams dairy-free margarine
100 grams brown sugar
3 tablespoons golden syrup
1 tablespoon vanilla extract
seedless raspberry or strawberry jam (or any other flavour you like)
Optional
secret ingredient (highly recommended – it makes the biscuits 10x yummier)
Method
Preheat oven to 180 °C and grease 2 sheets of baking paper.
Mix the flour, bicarbonate of soda and salt together in a mixing bowl.
In another bowl, cream the margarine, sugar, golden syrup and vanilla.
Gently add the flour mixture into the margarine mixture, stirring with either hands or a spoon, until it comes together as dough.
Wrap the dough in cling-film and put it in the fridge for a minimum of 30 minutes to chill.
Roll the dough onto a lightly floured surface until it is about 3mm thick.
Use a heart shaped cookie cutter to cut out as many shapes as possible.
For half the biscuits use a smaller cookie cutter or a very sharp knife to cut-out-holes for the jam to peek through the biscuits.
Bake the biscuits for 8 – 12 minutes. They should be cooked through but not brown.
Remove the biscuits from then oven and cool for 10 minutes.
Once the biscuits have cooled, spread the whole biscuits with a generous amount of jam. Place the biscuits with the cut-out-hole on top, allowing some jam to peek through.
Sprinkle the biscuits with the special ingredient. (Psst it's the love from the deep abyss of your heart).
Spaghetti Smooch
This hearty Italian dish is quick and easy to cook, leaving you more free time to spend with your amore *wink wink*.
(Vegetarian alternative available)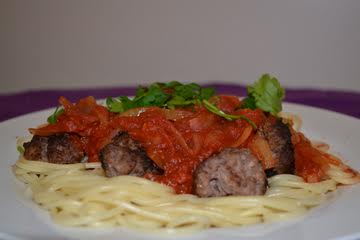 Ingredients
160 grams spaghetti
For the meatballs
2 tablespoons of olive oil
1 onion diced
1 crushed garlic clove
400 grams of minced beef (vegetarian substitute: Quorn meatballs)
1 egg beaten
flat-leaf parsley finely chopped
salt and ground pepper
3 tablespoons of olive oil
For the sauce
2 tablespoons of olive oil
1 onion sliced
1 crushed garlic clove
salt and ground pepper
400 grams canned tomatoes
Optional
grated Parmesan cheese
chopped flat-leaf parsley
Method:
Heat two tablespoons of olive oil in a saucepan over a low heat and add the finely chopped onions and crushed garlic. Cover and sweat for 4 minutes until it is soft and slightly golden. Let it cool.
In a mixing bowl, add the minced beef with the sweated onion and garlic. Add the egg and chopped parsley and season the mixture with a pinch of salt and pepper.
Divide the mixture into equal-sized balls. Cover the meatballs and refrigerate until required.
Heat 2 tablespoons of olive oil in a saucepan.
Add the crushed garlic and sliced onion, toss until coated, cover and sweat on a low heat till it is soft and a light golden colour.
Slice the canned tomatoes and add (with the juice) to the onion mixture.
Season with salt and pepper.
Cook the tomatoes for roughly 30 minutes or till the tomato softens (while this cooks prepare the meatballs).
Heat a frying pan and cook the meatballs for 10 minutes in 3 tablespoons of olive oil.
Meanwhile boil 4 pints of water in a large cooking pot with 1 tablespoon of salt. Add the spaghetti once the water is to a rolling boil.
Drain the spaghetti in a colander.
Spoon the sauce and meatballs over the spaghetti.
Serve with grated Parmesan cheese and some chopped parsley to garnish if desired.
Enjoy your spaghetti and smooch, à la Lady and the Tramp.