Mixed day for Lancaster in the table tennis
605 total views
A strong York outfit edged a tight and tense encounter in the table tennis first team match, winning 10-6 despite a spirited Lancaster team pushing them all the way. Lancaster picked up two points through a 13-3 drubbing of York in the seconds team fixture as well as a dominant victory for the third team, despite no points being up for grabs. Lancaster's first team were a few points from taking York to a decider but were unable to stop York from taking all four points.
Lancaster's top ranked players, Collins and Tyson, each won their opening fixtures but York's top two players were equal to their efforts, bringing the tie to 2-2 early on. Alex Tyson had another comfortable victory against Hoffman of York, putting Lancaster firsts ahead 3-2. Xiao Collins was quick to repeat Tyson's feat, winning his own match to give Lancaster the advantage once more. Yet Dingfan, Chen and Rowan were faced with tough opponents to continue Lancaster's winning record, each losing out to York to bring the teams level at 4-4.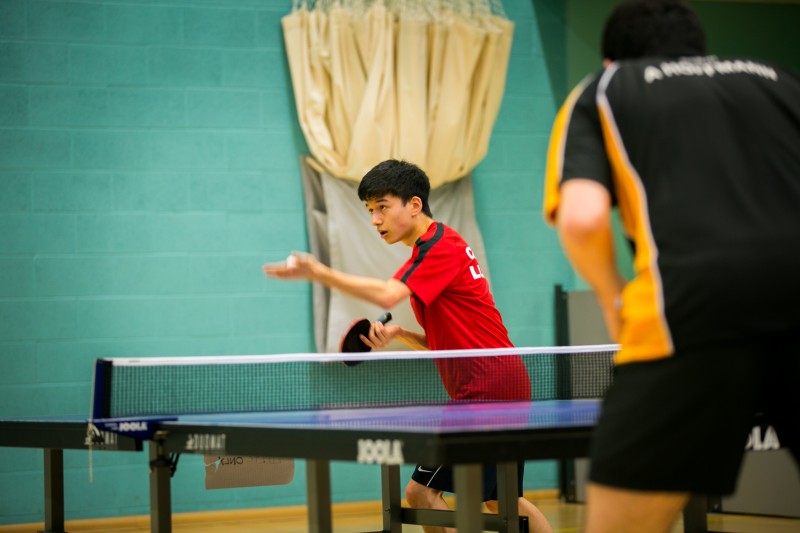 Halfway through the tie the two teams were completely even, going into what were likely to be the deciding fixtures. The top two ranked players for each team faced each other, as did the two lower ranked, meaning it was harder to predict how these fixtures might go. Collins fought hard against Hammarback of York but was unable to prevail, suffering a 3-1 defeat to give York a narrow lead. The first team suffered another defeat as York's star player Isaac Beavor scraped past a spirited Alex Tyson, to give York the advantage 6-4. Chen and Campbell however managed to overturn the York advantage, winning each of their matches in fine fashion and taking the score 6-6.
With four matches left all was still to play for, but York made the first advances, with Beavor putting in another disciplined display to beat Collins 3-1. York kept their winning form going as Hammarback retained his unbeaten record, winning against Tyson 3-1. With the tie at 8-6, Lancaster needed two victories to take the match to 8-8 and a deciding match. Both Chen and Campbell went behind early on, Chen 2-1 and Campbell 2-0, but each came back strongly to take their matches to deciding sets. They could not hang on though, Chen losing 15-13 in his deciding set and Campbell losing 12-10, missing out on a decider by a whisker.
The defeat felt by the first was soothed by the dominant display of Lancaster's second and third teams. The second team gained an early lead, 5-0 in front at one point and didn't let it out of their grasp, taking the tie to 13-3 after some excellent performances from the likes of Summer Guan. Lancaster's Collins commended the performance of the whole Lancaster team: "This year, the second and third team won their matches, but unfortunately we couldn't continue their success in the first team. However I still feel optimistic about the result, going into the match we all knew that York had a very strong team and I think everyone in the team performed to the best of their ability."
Despite the first's loss, team spirit was high and it did little to hinder the electric atmosphere. Collins felt it important to stress the roles played by both the Lancaster players and their support. "I'd like to thank and congratulate all of the players for their great performances on Saturday and throughout the year. Also I'd like to thank everyone that came down to support, having a crowd of people to cheer and support the players really made this Roses so special."