Rugby League semi-final preview
544 total views
Whittled down to just 4 teams the world cup is set to showcase its greatest spectacle, as the giants of Rugby League will battle it out at Wembley to earn the right to fight for the greatest prize in Rugby League at Old Trafford come November 30th.
England, New Zealand, Australia and Fiji now have the chance to make history on what will undoubtedly be two thoroughly entertaining semi-finals at Wembley.
The Australia, Fiji game would seem to be a fore gone conclusion with the Kangaroos dominant display in the group stages, already outclassing Fiji with an impressive 32-4 victory. After speaking with the Lancaster Lynx Rugby League captain, Mike Gibson and the President Gaz Houghton, they both underlined Australia's clear depth of talent with Gibson stating "Australia ooze class in every department, they could enter two teams in to the world cup and the odds are that they would be the two teams competing in the final." Even with the notable absence of full back Billy Slater through an aggravated knee injury, with his most likely replacement being that of the 6ft 5, 106KG "freak of nature," Greg Inglis, so eloquently put by Gibson. Houghton also commended Inglis telling SCAN "he's pound-for-pound the best all round Rugby (League or Union) player on the planet, who can also run the 100 metres in less than 12 seconds." His Greek god like complex intertwined with his stunning ball skills underline why Inglis is such a perfect player.
This Fijian Sims brothers in particular have impressed, Houghton telling SCAN that they"lay the platform for the rest of the team to follow".  Although Fiji have done very well by creating history in reaching back to back semi-finals and with the game against Australia, potentially Petero Civoniceva's (Fijis captain), last game. Even with injuries and Fiji mounting a strong physical challenge; I just can't see Australia losing this one.
Now for the showcase game of the semi-finals, England and New Zealand will lock horns this Saturday in what has been dubbed the game of the tournament, so far – epitomising the brutal yet brilliant game, Rugby League is.
New Zealand, like Australia have a tantalisingly good squad, with a ridiculously impressive try scoring record to boot – touching down 34 times in just four games highlighting a team rich in attacking weaponry.
Their big men can smash opponents all over the place but the 50 offloads Stephen Kearney's team produced during their three group games shows they have a toxic blend of skill and invention.
Pritchard, Kasiano, Jesse Bromwich, Jared Waerea-Hargreaves, Sam Moa, Frank-Paul Nu'uausala, Ben Matulino – provide the Kiwis with monstrously big men who can create big offloads. Not least forgetting the legend that is Sonny Bill Williams, who is also the current New Zealand Professional Boxing Association (NZPBA) Heavyweight Champion, and the current World Boxing Association (WBA) International Heavyweight Champion. SBW has a tournament-high 13 offloads so far, and collectively is having a very memorable World Cup indeed.
This will be England's toughest test to date however; they sure do have their fair share of world class players such as: the Burgess brothers, James Roby, Sam Tomkins, and James Graham. Yet, as McNamara (England coach) admitted and captain Kevin Sinfield likewise suggesting – "England need to improve." If they wish to pose a real threat then the distinctly average display seen against France last week simply will not cut it, eradicating sloppy errors and become more clinical in attack will be crucial to see the home side reach the prestigious final at Wembley.
Despite the disappointing per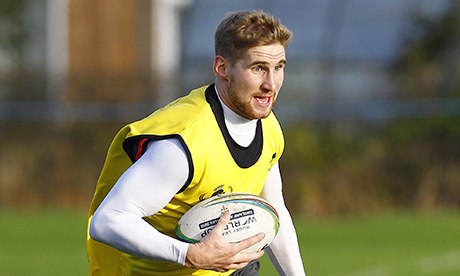 formance against France, I believe England can rise to the challenge of playing New Zealand. Furthermore with the Wembley stage set and around 70,000-80,000 tickets already sold the atmosphere and England's strong record against New Zealand, could upset the odds, allowing the Lions to rampage through into the finals.
Fastly becoming the best attended World Cup to date the viewing figures have also shown that interest in the world cup is high, 2.2m people watched the England vs. Fiji game on the 16th, compared to the 450k that watched England Rugby Union against Australia. Nothing shows this better than the capacity crowd at the Memorial Stadium, Bristol to watch the USA vs. Cook Islands. It was never going to be the best rugby match, but people still showed up. This says to me that the game is massively on the rise, I think it no longer plays second fiddle to Union, I think that this competition has shown that Rugby League is certainly increasing its popularity.
Like every England fan, I would love nothing more than to see England dominate New Zealand and Australia on their way to lifting the cup, however realistically, I just see it as something maybe a touch too optimistic. The two sides that lay before England would just seem too much of a challenge in my opinion. With the added ferocity of Bill-Williams I can see the Kiwis going all the way to secure back to back World Cups, as in the words of Adam Lacey "New Zealand team look unstoppable".
This weekends semi-finals will be a great advert for Rugby League and not only will prove exciting and thoroughly entertaining but will also show you how well Rugby League is doing at the minute. To quote Paul Fletcher, "Brace yourself for a ballet of beauty and brutality."