Winter Skincare 101
449 total views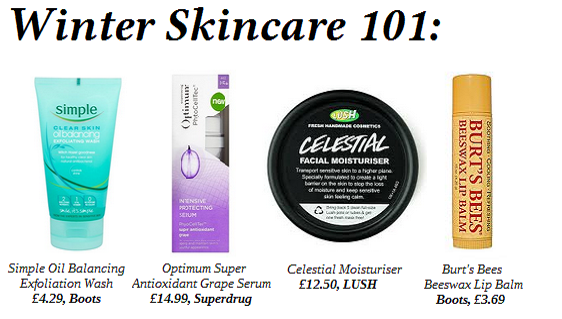 There are many things to love about winter. Winter means comfy knitwear, cosy nights, and of course, it means Christmas is coming! However, it can unfortunately mean a whole lot of trouble for your skin, too. Cold weather and Lancastrian rain, combined with exposure to central heating, is the perfect recipe for dry, sore, blemish prone skin. Not great. So, at this time of year, the best defence is to approach your winter skincare like you approach your winter clothing: use layers! T-shirt, jumper, coat = cleanser, serum, moisturiser, if you catch my drift. As always with skincare, it's important to experiment to see what works for your skin type, but here's a rough guide for inspiration.
Step 1 – Cleanser
The most important step. In the morning, it preps your skin for the day ahead. In the evening, it gets all the make-up or general grime of the day off your face. For those with dry or sensitive skin types, use a gentle cream cleanser to remove make-up. For combination or oily skin, try a light foaming cleanser or an oil free gel cleanser. Don't pick anything too astringent, even if you do have oily skin, because stripping out all our skin's natural oils can do more harm than good. For an even deeper clean, gently exfoliate your face with a scrub or polish a few times a week. This helps clear away dead skin cells to reveal brighter skin beneath, and it boosts blood circulation to your face to increase cell turnover.
Step 2 – Serum
Skin serums are currently having a huge surge in popularity, which is great news. Finding a good serum is like finding a good book: once you've got it, you won't be able to put it down. However, because of their former obscurity, people often don't know what serums actually do. Serums are gels or creams containing high levels of acids, often glycolic or hyaluronic, which penetrate the top layers of the skin and essentially allow subsequent products to sink in deeper and work more effectively. There are many kinds of serums: day, night, oil-free, anti-aging, moisturising, so try to tailor your serum to your own skin needs.
Step 3 – Moisturiser
I do love a good moisturiser. They hydrate your skin and slow down the loss of moisture from your face during the day, which is essential, no matter what your skin type. For very dry or sensitive skin, choose a thick, nourishing cream that will soothe your any sore patches. For combination or oily types, look for lighter creams or gels to mattify and hydrate.
Step 4 – Extra bits!
Other steps to consider in your skincare routine are things like eye creams for added protection for the delicate skin beneath your eyes, hand creams to soften dry and chapped fingers, and a good lip balm.