Battle of the Bands 2015: Heat 4
592 total views
After nights in Pendle, Cartmel and Lonsdale (review coming soon), the final Battle of the Bands heat took place in County bar on Wednesday, week 7. The turnout was just as good as the last three, with the addition of most of the FTO candidates – a reminder in the week before elections of how involved they all are with campus life. Enough said.
Jacob Lawton opened the night with an acoustic set. I remember when he used to perform two years ago, and now back from a year studying in Canada I can confirm that he has come on a lot. Did his year abroad have anything to do with that? I'm not sure, but it definitely influenced his set – a selection of North American folk song covers. Some of these had particularly idiosyncratic lyrics (I remember one which seemed to be an ode to a kebab), and made for an interesting listen. I do think he should have planned his setlist beforehand though instead of just deciding what he was going to play when he was up there – it would have been good to put a couple of songs in that people knew as well, to indicate how he might go down in the final in Sugarhouse. Regardless, Jacob had a solid reception and was voted as one of the two 'wildcards' of the evening, which means he's in the online poll where people vote can vote which other act makes it into the final.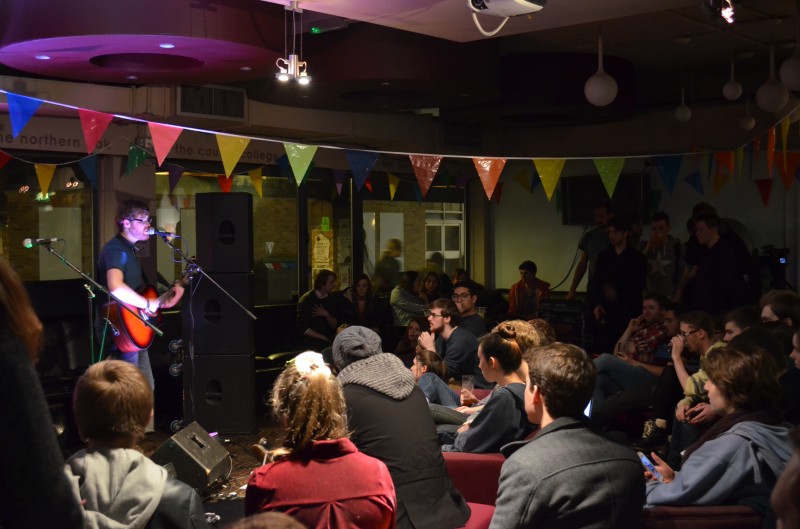 The Marties were the second act of the evening. The blues/pop threesome told me earlier in the term that County was actually their worst bar to play in on campus, due to there being a door between the performance space and the bar. That didn't stop them putting on a good show however – their cover of 'All About that Bass' went down particularly well – they hadn't just copied it, but included (of course) lashings of sax and some interesting vocal harmonies. I wish they'd also have put harmonies in their own tune, 'I Don't Mind' – the chorus on their new EP features Jack Schofield singing over himself, but it would have been nice to see Dan Parry get involved in the live performance. Jack actually ended up singing more than Dan which isn't usually the case – his songs are slower/more mellow in general. This made for a nice change of pace and an enjoyable set, but I know that people felt they have more to give – it was clear they saved their more upbeat material (covers too) for if they made the final. A tactical move, and we'll see whether it pays off: The Marties were voted the winners of the evening for their very tight and distinctive performance – let's see if they can up the ante in the Sugarhouse to take the crown.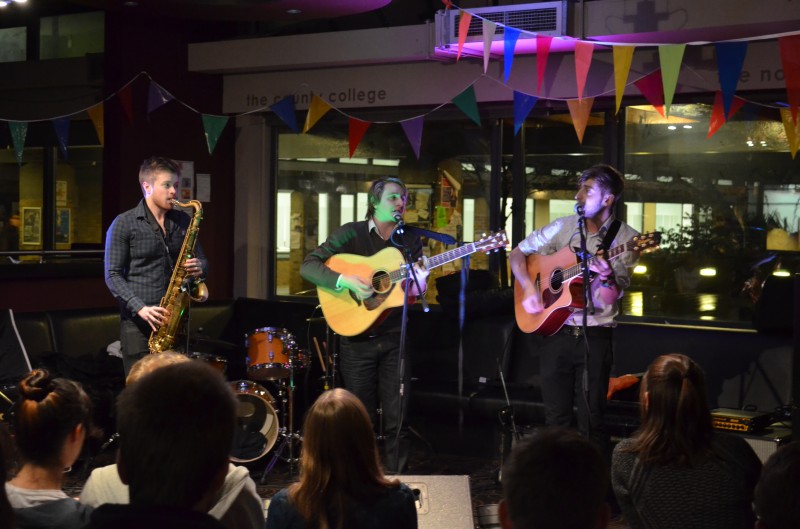 Next up were rock and roll band the Calls. They made a really good sound, so much so that I was surprised to find out afterwards that this was their first ever gig. It didn't matter that people didn't know their opening songs – the vibes they gave off was quite evident just from looking at the reaction of the audience. While I don't think Tom Fuller's vocals were as distinct as those from the Marties, it really suited this type of live rock and roll band. There's definitely stuff they can work on as they keep at it (some of the backing vocals could have made more of harmonies for example), but their confidence just grew throughout the set – you definitely wouldn't have thought this was their first live performance. They ended their set with two covers – 'Feel Good Inc.' by Gorlliaz and 'L.S.F.' by Kasabian. I don't think the former suited their style particularly well (it's a hard song to cover anyway), but L.S.F. really did and was a very satisfying conclusion. The Calls scooped the other 'wildcard' slot in the voting poll – this might not be the last we hear from them in the competition.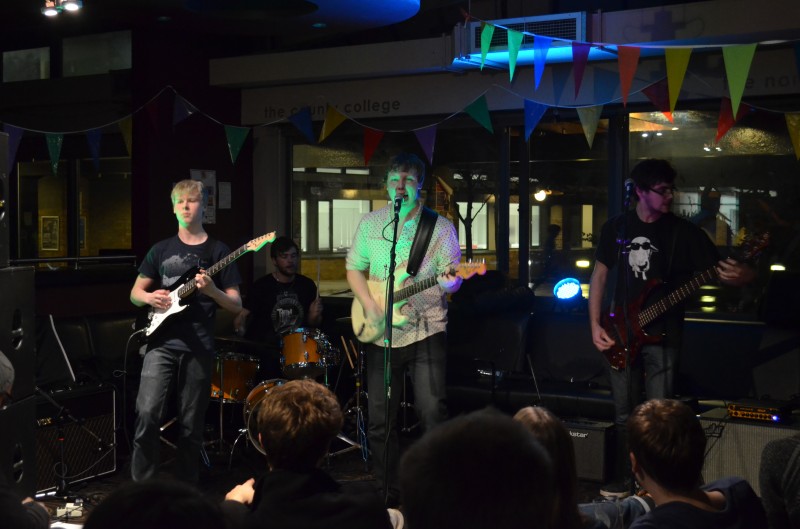 To follow were the acoustic duo of Anna Wang and Ellie Saunders, under the name What Is Us. They'd clearly put some thought into their set, particular highlights being Tiesto's 'Wasted' and KT Tunstall's 'Black Horse & The Cherry Tree'. They also worked hard at doing something different with a cover of Imagine Dragons' 'Radioactive', but I'm afraid to say they were lacking in the confidence to pull it off: Their performance didn't fill the room like the others acts had, including Jacob's acoustic set, and along with some tuning issues, this may have had a negative effect on how they were received. They might have fared better if they'd been put on earlier in the night when there were less people in the bar.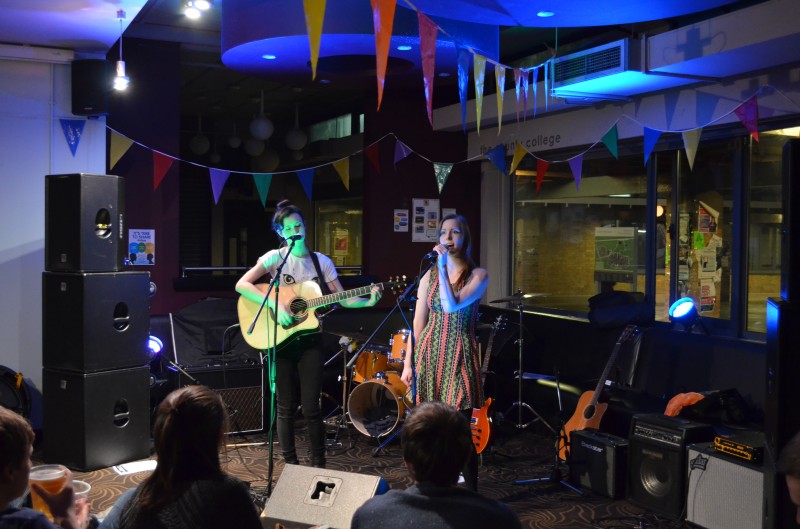 The final band of the night were called Matador. Instrumentally, the band were excellent – well rehearsed, very tight and with impressive guitar riffs/bass line/drum rhythms. Their original song 'Nothing Fits' was very very good, and Stevie Wonder's 'Higher Ground' was surprisingly suited to their style. The main issue, I'm afraid to say, was their singer, Jacob, brought in last minute apparently. He just seemed incredibly bored for the entirety of the set. If a frontman is a valve to channel the energy of the band into the audience and vice versa, there was a serious blockage – it seemed as though the members of the band weren't quite comfortable without a confident singer. You could tell this was having an effect on the audience too – Mathew Gillings said "if you close your eyes, they're a lot better." True, but unfortunately this is a live music competition. While their instrumental song really did show off just how much potential Matador has musically, we felt that ultimately they would not be able to create enough of an atmosphere in Sugar without an engaging frontman.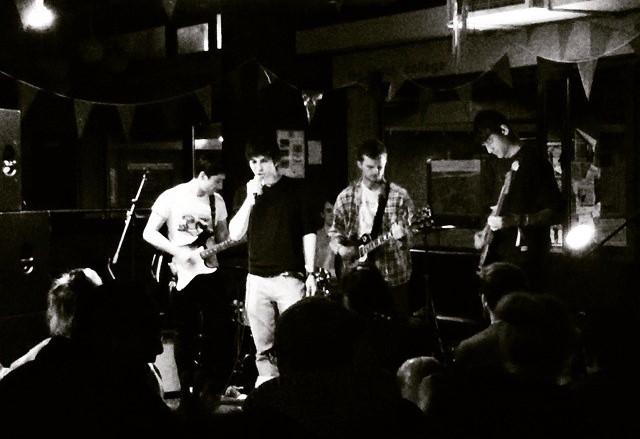 And so the heats are over. Less than a week to go until six artists will compete in the Sugarhouse for the headline slot at Campus Fest. Five are definitely through, and you can help decide which other act will join them by voting on this poll by Thursday. Some of the talent we've seen has been unbelievable – this is not going to be easy to judge. See you Saturday.