Students successfully complete Machu Picchu Trek
687 total views
A group of Lancaster University student fundraisers successfully reached Machu Picchu last month after a challenging 6 day trek in the Andes via the Salkantay route. They spent the last academic year fundraising for the charity Action Against Hunger, a global humanitarian organisation committed to ending child deaths from malnutrition. The charity works in 40 countries worldwide and responds to three main emergency situations: war and conflict, famine and natural disasters. Donations to the charity also provide families with access to safe water, good nutrition, sanitation and hygiene, sustainable solutions to hunger, healthcare and advocacy.
Southampton University and Glasgow University fundraisers also joined them on the trek, organised by Choose a Challenge, and together, they raised approximately £100,000 for the charity. In order to raise their individual targets, fundraisers hosted social events, did street collections and took on fitness challenges.
The Senior Community Fundraising Officer, Jenny Clarke, said that after working for the charity for two years she "continues to be inspired and amazed every day by the lengths students go to to help support those in need. Taking on a trek with Action Against Hunger is a great way for students to see breath-taking parts of the world through once-in-a-lifetime challenges whilst also raising vital funds to support our lifesaving work''.
There is also an opportunity to become the leader of this student charity work. Law graduate, Adam Jennings who was the Student Team Leader for last year's Machu Picchu Trek spoke about his experience: "I was in final year with lots going on when I decided to take part in the amazing Machu Picchu fundraising challenge. The whole fundraising and organising university-wide events was challenging but my word is that the reward was worth it. Not only do you go away with the knowledge that your team has raised over £25,000 for charity, but you also get to travel to Peru country with some of the best people you will meet''.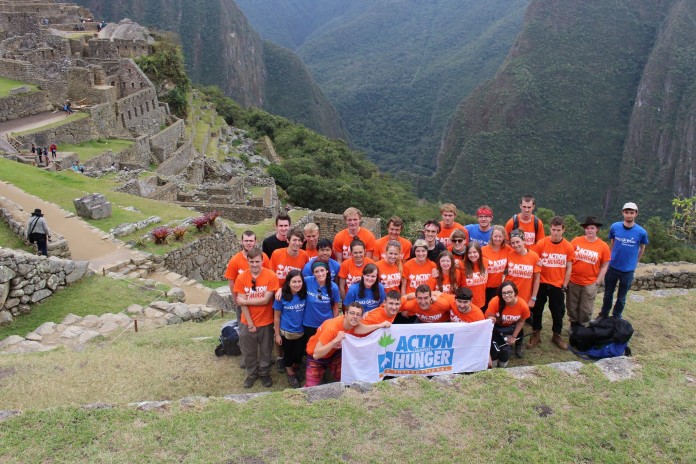 Tom Baker, a second year Marketing with Psychology student and fellow fundraiser also described his experience: "the whole nine month cycle of the Peru trek was by far the hardest thing I have ever done, but when I tell people that I raised £3000 in eight or nine months and proceeded to go on a six day hike through the Peruvian mountains culminating with a final climb to Machu Picchu and I remember the incredible times that I had with some truly incredible people… that is when I remember that it is not only the hardest thing, but by far one of the best things I have ever done'.'
This year, the chosen challenge is the Morocco Trek. The trek will begin in the South of Marrakech and eventually end at the summit of Mount Toubkal, North Africa's highest peak.
To get involved in this year's challenge with Action Against Hunger, you can contact Jenny Clarke on j.clarke@actionagainsthunger.org.uk or you can contact LUSU Gives on lusugives@gmail.com

You can also visit the charity's website to find out more information: https://www.actionagainsthunger.org.uk/