Christmas Party Dressing
762 total views
Trick or treating is over, everyone has carved their pumpkins and all of the white face paint has been used for skeleton make-up – sooner than you can imagine, you'll have to replace that witch hat with some antlers. It might not be Christmas just yet, but we can all feel it coming. Apparent everywhere in the shops, decorations are slowly taking over the city and your wish list has turned into a guest list. The party season is coming! So many events, so not enough outfits to tick them all. According to the latest Autumn/Winter trends, there are many options for you to rock.
For a maximum wow factor, sequin dresses are all the rage this season. Gold, black or silver sequin, above the knee or head to toe, they all represent a fierce choice for a look to light up the dance floor. Be careful though, you don't want to ruin your sparkle by wearing the wrong shoes. Remember to keep it simple, all that razzle-dazzle requires is basic, simple accessories. Nude, basic black or neutral coloured pumps are always a safe option but also consider those killer metallic sandals you haven't worn in so long, and don't forget your sexy clutch bag.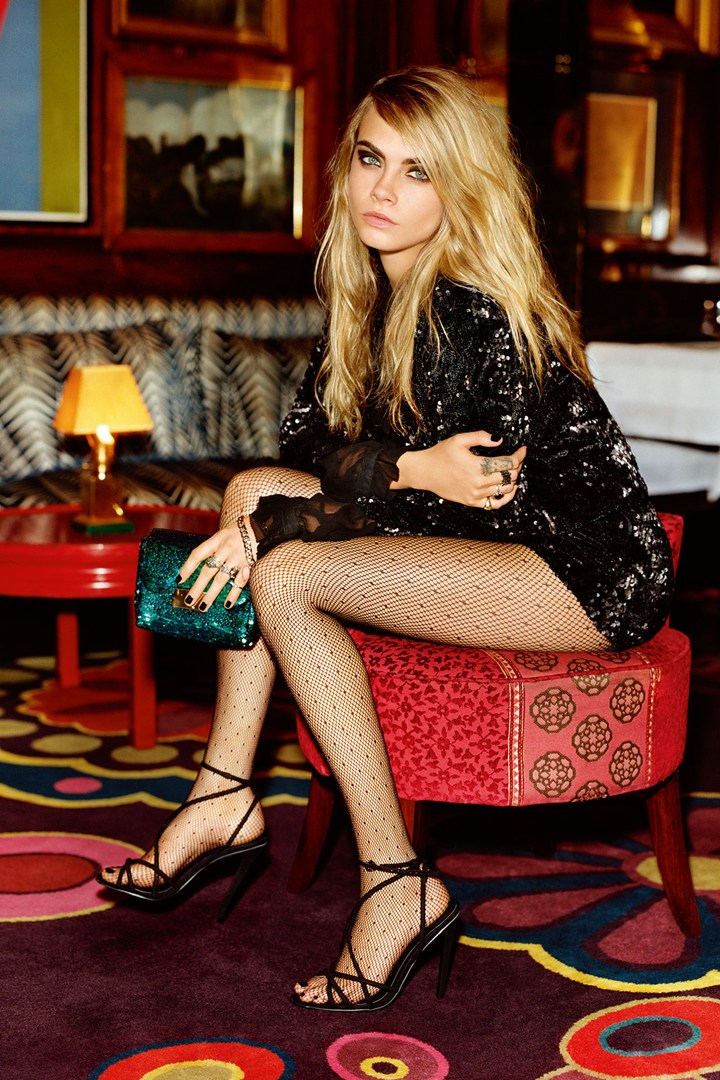 Same rules apply to the metallic trend of the classic 60s. If you are not a huge fan of sequins, metallic mini-dresses scattered with silver threads can always work the party vibe. If you don't already own one just go to your nearest Topshop, you can find this cute simple little chainmail mini dress for only £45. For a more elegant touch, full-length velvet is also one of the big trends this season. It works great for an evening event, formal occasion, party or dinner. A long flowing gown trailing behind you, as seen at Ralph Lauren and Valentino, with the right heeled sandals will give you that red carpet Angelina Jolie look.
If you think the Christmas tree decorations are too much with all the stockings, garlands, bows and bells, you might want to choose a more simple, casual-chic outfit for the Christmas' eve party. You can still have the glam without the glitz! If last winter was all about the knits, this time it's about form-flattering and versatile jersey dresses. This is a new essential in every lady's wardrobe as they can be worn on both casual occasions and nights out, as seen at Stella McCartney and Chloé. Choose the one that highlights your figure and skims the curves, and add an eye-catching statement necklace to it to create that balance between the plain and the exquisite.
Still not chic enough for you? Another option you can never go wrong with is a Paris style classic. One essential piece we all probably have in our wardrobe is the Breton striped dress, shirt or top. Sailor-like, punky, glitter or form-fitting, Breton stripes have evolved since 1858 when they were first introduced as uniforms for the French navy. This soon turned into a fundamental style. Easy to wear, nothing complicated, just have a look at some pictures of Audrey Hepburn, Marilyn Monroe and Kate Middleton to convince you of its striking effect. If you don't fancy the striped pattern, you can always go a little bit crazy and choose zebra print, checks or diamonds instead in order to create an optical style illusion as seen at the Saint Laurent fashion show. All these graphic black and white motifs are very big this season.
Another aspect to be taken into consideration is definitely colour. We all love Santa's red and white costume, but that doesn't mean we all have to wear the same colours. When we think of Christmas we do think of red, white, green, silver and gold, but this season's colour palette allows you a wide range of choices. No candy cane outfits this year, but something flossy and soft… Marshmallows! Candyfloss pink and pistachio green, chick yellow and bleu ciel, famous fashion designers like Prada and Dolce & Gabbana have welcomed this sweet change from the bright, fresh, intense summer colours towards pastels. Let the Christmas decorations and Coke adverts do the whole red thing this year. Stand out from the crowd! Who knows? Maybe even Santa will reconsider his options.