The Difference Between Us and US
802 total views
Okay, put both of your hands up (unless you're reading this in the paper) and be honest; with the exception of Roses, where nearly everybody gets their Olympic hats on, how many of you have trudged down to the pitches on a Wednesday afternoon to watch a sports match that hasn't featured your best mate, significant other, or yourself?
That's okay! For all the effort put in by our student athletes, competitive sports at Lancaster are poorly attended. The culture in the UK, for most sports, is that the finest athletes take a route that is alternative to university – usually by an academy. In the United States, campus sports are a completely different story; celebrity athletes, enormous arenas and huge attendances – all part of a billion-dollar industry to attract new students and to encourage its athletes to remember their university fondly when they become stinking-rich superstars.
I've been spending this academic year at University of Maryland, College Park – just north of Washington, D.C. – as an exchange student, where I have witnessed this culture first-hand. One of the closest friends I've made while over there has been Nick Sobel, a journalism major who has worked for the university's basketball team, and subsequently D.C. United of the MLS, with the respective media teams. I interviewed him to help compare the differences in campus sports between Lancaster and Maryland.
As a forewarning, get your stars and stripes out now, because for this article, football is unapologetically referred to as soccer, and American football is football, spoken by an American.
"College basketball is a huge deal in the U.S. – for as long as I can remember, it's been almost as big as the NBA, if not bigger. On a global scale, obviously, the NBA is much bigger, but I grew up as a huge Georgetown fan – Georgetown University, it's where my dad went. Going to the Verizon Center in D.C. – which is a 20,000-seat venue – it's a fun experience; you have the student sections that just go crazy, and are really passionate about it, you have the coaches really into the games. The players are, too; they're not playing for money, so they're actually playing because they want to play and they want to win, where on the contrary in the NBA, you don't find as much of that."
Star athletes in basketball, football and soccer have their faces plastered everywhere on campus – as soon as I flew over to the U.S., I was whisked to a college spirit event, inside a 50,000-seater football stadium on campus, where the football team was introduced to the thousands of new students. Attendance figures are huge – people are roped in with the promise of free scarves until they learn that the guys they're watching are celebrities. In particular, the big names of basketball – Melo Trimble, Diamond Stone, Jake Layman – are the talk of the campus. Students have a right to be excited – these guys are destined for the NBA.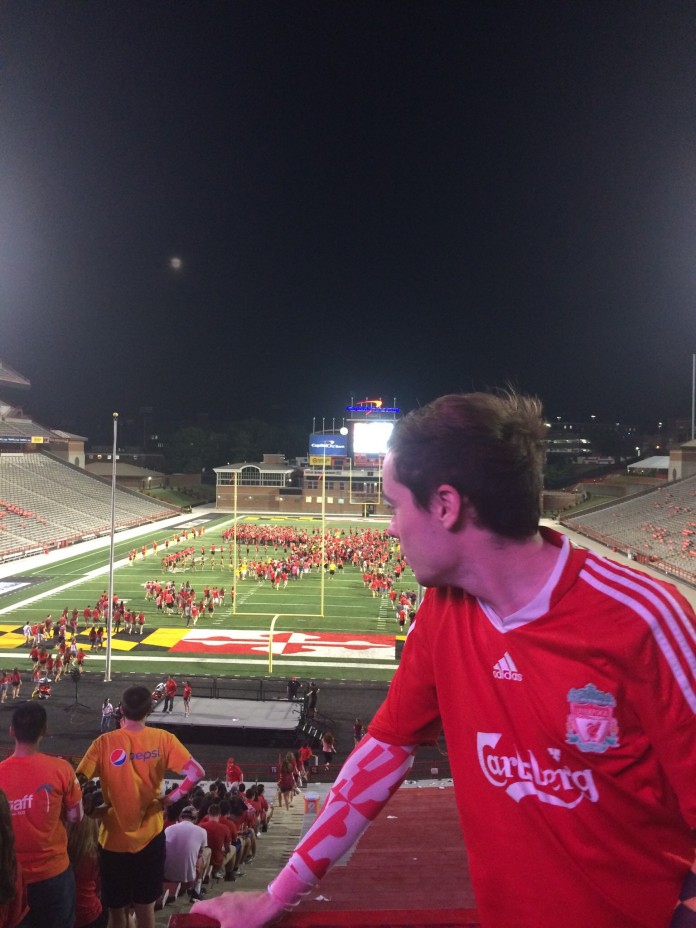 "I worked with the team last year; I did media relations, communications, PR stuff. It was an interesting perspective because I got a good look at all the behind-the-scenes stuff, how the players were off-the-court. They're all just normal college students, that's what's so weird about it. Diamond Stone is younger than us, and he's a huge celebrity, he's going to make millions of dollars in the NBA. But, at the same time, you have to remember that these kids are just like us, and, they have to go to class – not as much as we do necessarily (because of travel), but they still have to do the same stuff we do. They still are kids, so that's what's fascinating about it all to me. Getting to work with all the journalists and be on a first-name basis with the coaches, and these are guys, you know, you turn on ESPN and you see them on TV… it was a rewarding experience."
This year, Nick opted to leave the Maryland basketball work behind, in favour of working for D.C. United – who play in the MLS, the US's top soccer league – and the U.S. Men's National Team for soccer, which he says – has "a lot of differences."
"It was definitely intensive – it's a huge business, college basketball; you have 20,000 people filling seats in an arena, and you have a huge tournament in March, and people will spend thousands of dollars to get tickets for the finals; they'll fly out to Houston. They play the finals in, like, a 100,000 seat arena; you can't even see the court from the top seat, that's how ridiculous it is. It is insane that you're living within a few hundred feet of these guys, and walking past these guys every day. They have to go to class, they go to the dining halls like we do, they have practices every morning at 6am, 7am. It's such a big business that these boosters with the University of Maryland make sure that they're really comfortable at Maryland."
Boosters are wealthy alumni of the university, who donate money to the university to improve their sports programs. It is hoped that the most successful amongst the current crop of athletes will become boosters to the next generation.
The typical image of a student athlete is someone whose sporting talent has brought them to the university, rather than any kind of academic quality. Provisions are often made to assist with getting them over the line with their degree. The performances a priority, the academic side an afterthought. However, this isn't always the case.
"Look at Varun Ram, in our basketball team; he's a 3.99 (GPA) neurobiology major – so, there are guys that kind of go against the jock stereotype. But Melo Trimble could make millions of dollars in the NBA one day, so if he enjoys his time at Maryland, maybe he'll write a cheque to show his appreciation further down the road. A big state university needs money being pumped into it. College athletics generate billions of dollars for universities, and it generates popularity for a university. Think of all the kids in Maryland who wouldn't have gone a year ago, but now are going to say, "Hey mom, they have the number 3 basketball team in the country, sounds like so much fun." It's a big deal; I mean, it sounds stupid in the UK if you told someone, "yeah, you know, I hear Oxford has a good rugby team, I'm not going to play, but, you know, I got into Oxford, but the main reason I'm going is to watch the rugby team play." That doesn't happen, right?"
While the basketball players are the darlings of the Maryland supporters, the football players are not painted in the same light, mainly because of some poor performances on the pitch. Initially my weekends were too busy to attend the games – in which time I learnt that I wasn't missing much anyway.
"Our team's definitely sub-par! Did you hear we just lost our recruit for football, our starting quarterback? We had this five-star recruit coming in, and he was committed to Maryland all along. All Randy Edsall, our coach this past year, had to do was, maybe win five games, lose five games, just to keep him interested. But we were terrible, we won like two games! We were appalling – I didn't go to a single game this year. I boycotted it, basically. He went to Ohio State – they have a 100,000-seater stadium. I don't necessarily blame him. He knows, even if he's sitting on the bench there, he's getting all this free Nike apparel, he gets fame while he's there, and he's playing for the number one team in the country."
The football team's performances cost head coach Randy Edsall a job. Yes, that's right – they make high-profile sackings. And with sackings come – you guessed it – money.
"After he got fired I think the University still owed him something like $2.9M. I know! Isn't it insane that a college coach makes that? An American college football coach is getting paid millions. Not only that, but their houses are paid for, their kids get good benefits from it, it's just insane. So Randy Edsall was not the best head coach – I think he won maybe 20 games out of, like, 60, in his time at Maryland, and he still gets owed $2.9M after making tons of millions before that. So, it's a pretty sweet gig. But if you're a good football coach, like Ohio State's coach, then you're making three times as much as a coach who may not be doing as well; success can be a big factor.
One of the principal benefactors for just where all of this money comes from is Under Armour. Founder and CEO Kevin Smith is an alumnus. While I've been to a handful of basketball games, the one sport I've paid close attention is the only one I know a great deal about – soccer. Me and Nick actually made friends with each other by how often we ended up going to the soccer stadium together to watch the games.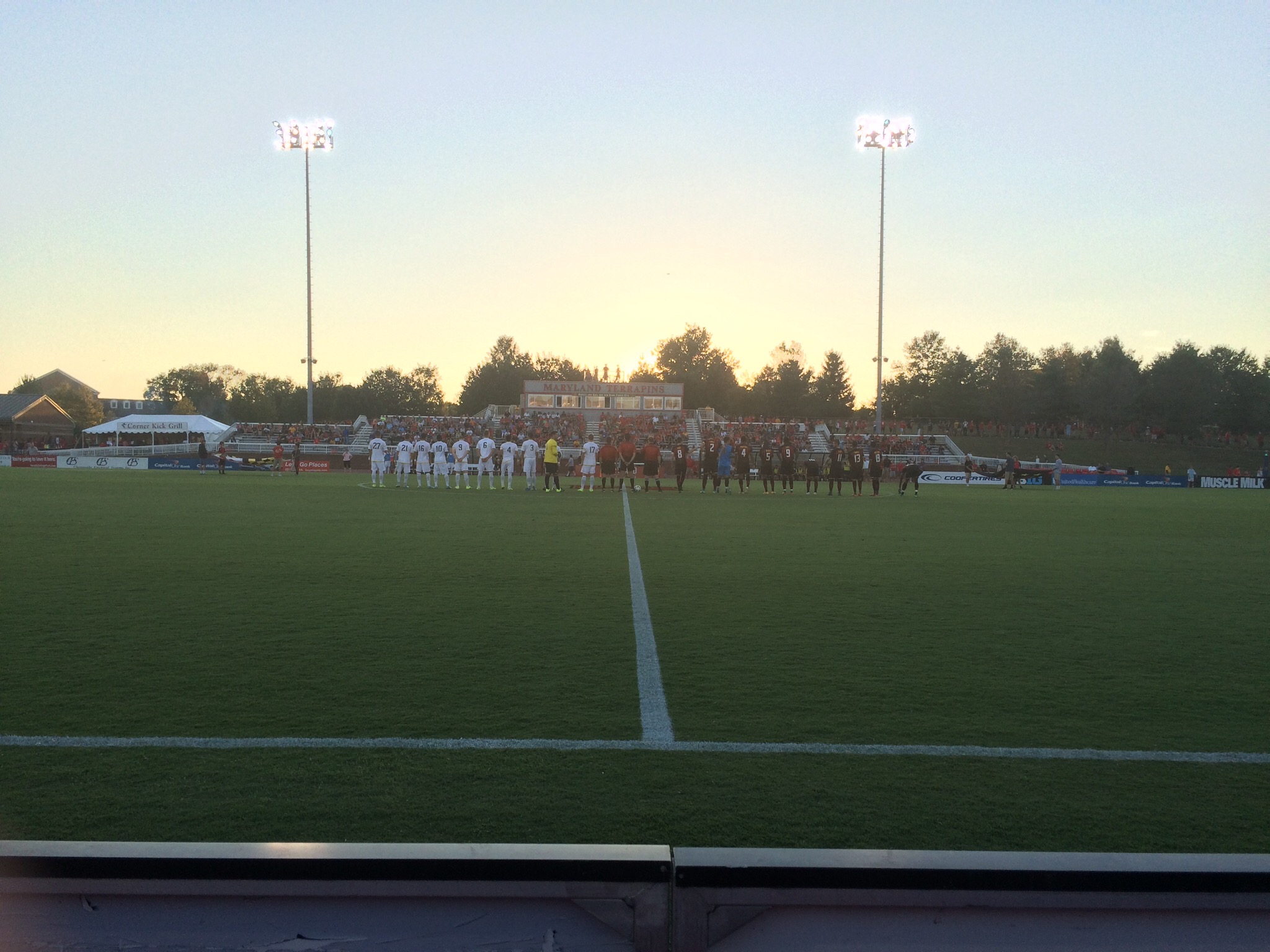 "College soccer is on its way up in the U.S.. The Maryland coach's base salary is like $450,000, and he probably makes even more. A lot of guys that go on to play in the MLS and the U.S. men's national team are from Maryland. It's a shame that college soccer's not more popular. The Maryland games are great – we have a great student section. The UCLA game, I think they drew 10,000 kids."
While soccer's popularity is rising, it still has some way to meet the duopoly of basketball and football. The importance of these two sports pushes all other sports to the side. I asked Nick what other sports I had to look forward to in the coming semester.
"The state of Maryland historically has just been a big lacrosse state. A lot of guys in Major League Baseball are starting to go to college now, even though you can just go straight from high school if you're good enough. So Maryland actually has a decent team. The women's lacrosse team has won the last two National Championships, field hockey is unstoppable, volleyball's becoming really good, they're probably going to win a championship in the next few years. What's always bothered me about American sports is that no one cares about the ones in which we're actually good, and the kids are working equally hard. I have friends at Maryland who are on the field hockey team, the women's lacrosse, the men's lacrosse team, and they – I'm sure – feel a little underappreciated. If you have a guy who just won the National Championship lacrosse, and Diamond Stone, walking towards you – people are going to run over to Diamond Stone every time for a photo, even though this lacrosse kid won a National Championship for the university, plus generated tons of money."
Here in the UK, we are romanticised with the idea that anyone can make it and be famous. Just look how long the X Factor endured. Britain's Got Talent, Big Brother, The Voice. We lap them up. In sports? Jamie Vardy. Less than four years ago, he was playing non-league football – this season we have seen him score in eleven consecutive games, a Premier League record. In the U.S., it's not so easy for just anyone to become MVP.
"There used to be a rule in the NBA that said you could just go straight from high school. Kobe Bryant went from high school, Kevin Garnett went from high school – this is a long time ago, this is the 90s. And then they made a rule saying you have to go to college. It's the same for football actually; you can't go straight from high school. That's why college basketball and college football are such huge businesses, because you know these guys are going to the NBA and they have to play there before going to the NBA or the NFL. Every single NFL player playing went to college. In the U.S. it's a lot more predictable, because you're going to say, "wow, this guy was incredible in college, so he's probably going to be really good in the NFL or the NBA", so it's not as fun."
Although the culture of campus sports is wildly different at Maryland in comparison to Lancaster, it has taught me a lesson in college spirit for sports. So, when I come back for my final year next year, I may head down to watch the mighty Furness. But only if the weather's nice. And only if I have someone to go with. And only if they're handing out free scarves at the game.