Balmain Leaves it to the Pro's
705 total views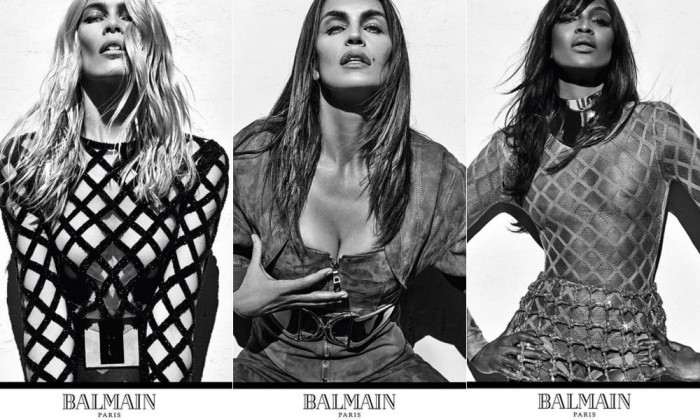 Balmain recently made massive headlines with their instant sell out H&M collaboration, previously covered by SCAN Fashion. Set to maintain the designer brand's high media coverage, Olivier Rousteing, Balmain's creative director, has expanded the Balmain army roster to legendary supermodels Cindy Crawford, Naomi Campbell and Claudia Schiffer.
The brand is no stranger to celebrity names, the Kardashian klan is constantly paparazzi'd in Balmain garments, and the fashion pack went crazy over the velour, pearl embellished H&M collaboration dress Kylie Jenner was seen in a few months ago.
However, the fashion house has gone for a slightly more mature age range to represent it's latest collection. When asked about why Balmain was so adamant to decorate its name with the key names of the century, Rousteing stated, "Sometimes people are confused and think it's all about social media and Instagram. Balmain has a deep soul, and it's not only about followers. It's about dreams and love, and I think with this campaign I'm going to show that and go back to its roots. This campaign is about what makes me love fashion, and these three women are exactly that."
The campaign starring Campbell, Crawford and Schiffer was shot by Steven Klein and features a collection of the three iconic beauties in Balmain's spring collection. The shots, set in an elegant black and white filter, show that the power models of the nineties have 100% still got it.
Of course, Balmain has become synonymous with big names of Generation Y, and when Vogue asked why the brand had decided to feature the trio of supermodels, Rousteing replied ""All the people who love Balmain have this nostalgia of the power of fashion in the '90s when models were iconic—and this is always what I push. You realize working with them, it's another way than working with the models of today."
The shots themselves capture the three women in a collection of black and white mesh and ruffle outfits. Featuring a lot of lace and a lot of layering, the monochrome looks are the type of decadent style expected from Balmain. The three supermodels, shown with their hair flowing free, offer a trio of perfect canvases for the clothes; highlighting Balmain's attention to structure and wearability.
At SCAN the news came as a sweet pill to swallow. The editorial perfectly depicts that there is no sell by date on beauty, sure while people regard youth as a 'supes' main requirement, this collection of shots is living proof that once you got it, you never lose it.