Style Diary: A Long Weekend Away
556 total views
Though the final term of the year brings the gloomy prospect of deadlines and exams, it also provides plenty of time for celebration! If you're lucky enough to finish with plenty of time before the fun starts with Grad Ball and Extravs, it might be worth making the most of it and going for a little mini break.
I'm off to France for a few days with the university on a bit of an immersion-into-the-language field trip. We're doing quite a bit of sightseeing and visiting different parts and places of Normandy, so what I wear is going to be important. The weather isn't going to be much sunnier or much warmer than in Lancaster, so at least I know to pack a raincoat and a warm jumper, yet I refuse not to take my sunnies!
So, if like me, you find yourself on a holiday for three of four days, here's my day by day plan of what I'm going to wear. It's the perfect packing guide!
Day 1: Arrival

As we don't arrive in Paris until something like 3pm, I'll be in comfy clothes to travel in. The plan is to get the train down to Manchester Airport, so I'm going to be opting for trainers for definite. I always feel the chill on aeroplanes so I'll probably don my fur gilet with a long-sleeved top and jeans. Add an accessory, like a long necklace, and I'm done!
Once we've made it to the hotel, we're going to be exploring the town. I don't know if there will be time to get changed or have a shower, but the easiest way to freshen up after a day of travelling is to spray a quick sprits of perfume, brush my hair, and maybe even throw on a pair of boots so I feel a little more dressed up for dinner.
Day 2: Seine Valley
I am super excited for this day. We're off to see Claude Monet's gardens and as an art lover, this is one of the things that sold the trip for me. Once again, I'm feeling trainers or converse as we'll be walking about, but I may wear a pretty dress. It's going to be all about those blooms.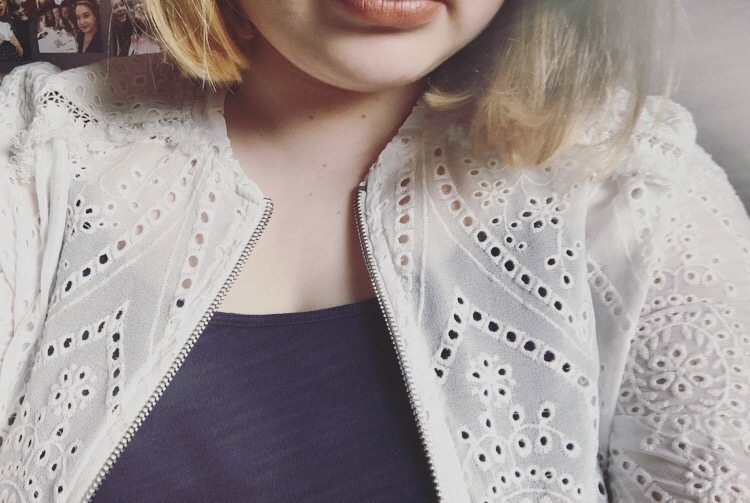 I have a new floral cut out bomber jacket from River Island that's so gorgeous. It'll look perfect over either a smart dress or a day dress.
Later in the evening we're dining in Honfleur. I don't know yet if I'll be able to change, so I may chuck a dress in my bag to wear with this bomber jacket. Day to evening as simple as that!
Day 3: The Coast
Now, I know France well. Not just because I'm a French student, but I've spent nearly every summer there for as long as I can remember. One valuable lesson I've learned: never trust the weather. So, since we're off to the coast, I know to wrap up warm. The weather forecast suggests it'll be a little iffy all weekend, and I don't want to catch a chill from the sea breeze. I'll probably opt for a few layers on this day. Perhaps a blouse with jeans, layered with a shacket (shirt jacket) and a scarf, if necessary.
Day 4: Gisors and home time
Gisors has a 11th century castle that we will be visiting for a couple of hours in the morning, before heading off to the airport for our flight home. I, like on day one, want to be super comfy for the travel in the car and the flight too, so I'll go for my jeans and a loose-fitting jumper and a scarf. Easy peasy!
Knowing me, I'll end up switching these outfits up the morning of each day in the hotel room, but at least I'll have plenty to mix and match. Hopefully, the weather will be kind and those sunnies can come out after all.
So, there you have it, my decisions for what to wear on a four day mini trip! It's easier than you think to pack all the essentials and have a variety of outfits without having to break your back carrying your suitcase. Happy travels and bon voyage!