Summer Trend Report
581 total views
Quite frankly, it doesn't matter how much you try and avoid it, the heat has been turned up! Roses is upon us, Coachella is well under way and gone are the days of relying on your favourite [faux] fur lined coat.
The first piece that everyone from Beyoncé to Kylie Jenner is sporting is the bralet. Whether you opt for the sporty health aesthetic and dress down in a plain viscose model or choose to dress up with an elaborately structured lace option; the possibilities are endless. Match your more vibrant selections under a semi-transparent shirt or embrace your figure with a toned down ribbed bralet and denim jacket combo. Either way, those who are willing to brave the 'less is more look' are set for that festival chic inspired summer vibe we're all craving.
Speaking of less is more, there have definitely been a lot of neutrals and monochromatic outfits spiking up. Gone are the days of abstract jewel toned outerwear and done-to-death sublimation sweaters. Don't get me wrong, colour is good, it's just about knowing how to place it; and how much for that matter. Uniformity is key this season, sometimes you just gotta accept that your Rose's I am Lancaster tee and a simple pair of leggings is the best way forward.
As for accessories, there's been a shift towards the simple, downplayed and elegant. We're seeing the resurgence of chokers, albeit this time, we're going all out. Chanel Iman was spotted at Coachella sporting a wide spandex choker in chic white, while YouTube mogul Michelle Phan has been all about intricate textile chokers embezzled with jewels. When it comes to accessorising, ditch the flower crown in favour for a simple choker. The type we're seeing flood the market in 2016 are by far an evolved version of their stringy black predecessors we saw in 2013. The advantage? Form fitting, understated and a simple touch of class to any outfit this season.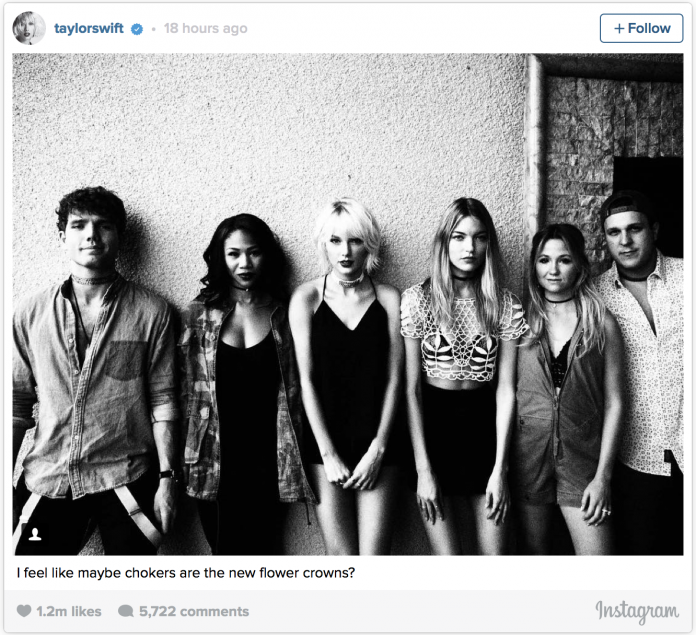 Makeup wise, we're seeing the surge in rose gold tones and cream palettes. Just because our outfits are simple, doesn't mean our face has to be. I'm sure everyone can agree that liquid lipstick has taken over. For those unable to bag themselves the elusive Kylie Lip Kit, my must have substitution is the NYX and Maybelline alternatives. A quick five minutes highlighting, a smudge of gold in the outer corner of your upper lid, and an instant lip change – Sugar beware!
It would almost be criminal to end a trend report without giving an honourable shoutout to the bodysuit. All I want to mention is that the geniuses at ASOS and PrettyLittleThing have incorporated a clip feature in most of their designs that facilitated easy bathroom access, because i'm sure no one fancies undressing themselves at 1am in the Hustle toilets. For inspiration, look to Pamela Anderson and Beyoncé who have been sporting lightweight, formfitting designs that hug the body and suit as a base layer for basically any outfit imaginable.
Summer is well and truly on the way, so make sure your wardrobe is ready to match the weather!