LUFP Showcase Preview
687 total views
LUFP's annual film showcase takes place at 2pm on the 17th of June. Seven short films premiere before the public at the Dukes, before an awards ceremony at the Apothecary Bar afterwards. Tickets are £7 and can be bought from lufilmproduction.com. All proceeds from a raffle and donations will go to Defying Dementia. Ahead of the showcase, here's a taste of what you can expect…
A Pointless Fraud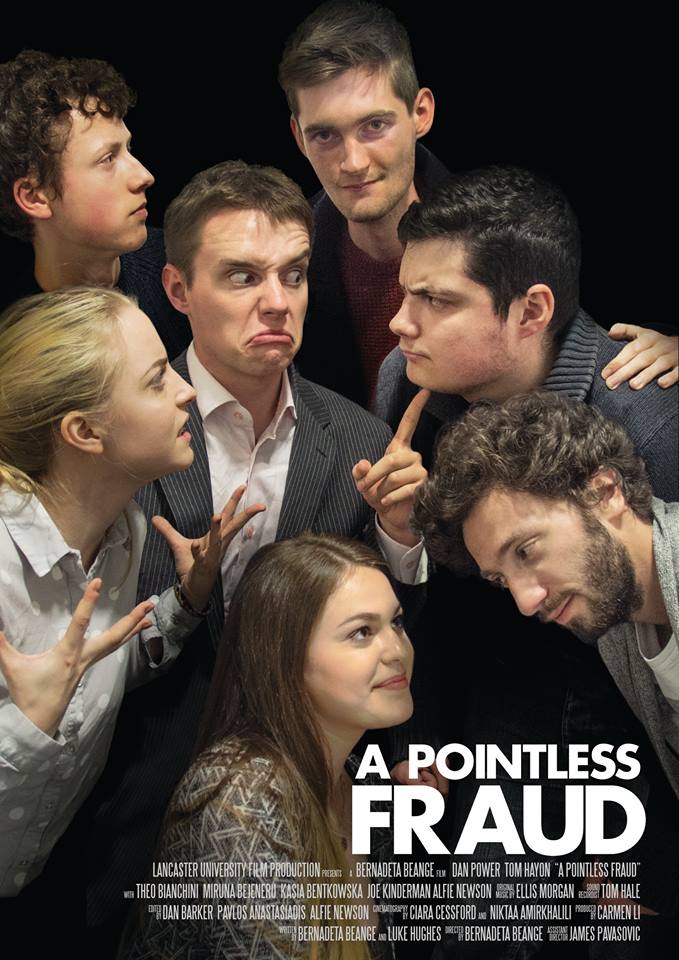 "The idea for 'A Pointless Fraud' came from working with LUFP. I wanted to do a film that gave audiences glimpses of what a film crew is like behind the scenes. All the ups and downs, funny moments and ultimately how situations can get very tricky if things go wrong. It's a comedy which I thought summed up filmmaking pretty well!
The crew in the film are filming a Reality TV show, which is produced and directed by the lead role, Pier (Dan Power). A new Director of Photography, Collin Simmons (Tom Hayon), is hired, and as the story progresses, Collin becomes increasingly more frustrated with Pier. I really loved making this short, and I definitely see it as a huge collaborative effort from all the cast and crew.
There are two things that give the film an edge. The first is the way it is shot because we decided to film it as a mockumentary, which means very fluid camera movements, long takes and occasionally breaking the fourth wall. None of us had ever filmed in this style so it was a great opportunity to learn and try something new.
The second aspect is the large character roles and how they all interact in the film. I would say the film is definitely character-driven as opposed to plot. It has been a really fun year, and I can't wait to see the finished film!" – Bernie Beange
Ha-P
"Ha-P (pronounced "Happy") is a short dystopian science-fiction drama focusing on Katya Burns (Charlie Larner), a genius pharmacologist, who watches helplessly as the Ha-P pill takes hold of those around her. Meanwhile she tries to save the life of Thomas, a victim of new technologies designed to combat an increasingly hostile natural world.
The film raises fundamental questions about our societal values, and the use of technology in the modern world. It features some fantastic performances from Charlie Larner, Lucy Jayne Unsworth, Johnny Johnson, Catherine Barber, and Matthew Jackson. It also features a nod to 2001: A Space Odyssey, and cameos from half the LUFP Exec.
The experience of making Ha-P has been as enjoyable as it has been challenging. We filmed in 12 different locations across Lancaster including a hospital, and some back of the napkin calculations reveal that 25 man-hours went into the production of each minute of the completed film.
During the pre-production process we adopted a collaborative approach, with the whole team contributing to the creative decisions we made. We're currently about three quarters of the way through the editing process, and we're so excited for everyone to see the completed film on the 17th June!"
Jigsaw
"Sean wakes up in his trashed apartment with no memory of the night before. As he continues to descend into a state of turmoil, he sets about trying to find the answers.'
LUFP's Jigsaw is a short psychological thriller written and directed by Amelia Slater and starring Michael Byrne alongside Máire Robinson, Jason Naylor and Sophie Goodman. The plot centres around a man recovering after an unexpected incident in which he wakes bloodied and bruised with no recollection of the events leading to that moment.
Sean's inner conflict and paranoia prevent him from moving forward with his life and he continues to be haunted by disturbing flashbacks. His relationships with those around him start to disintegrate as he continues to isolate himself more and more from the outside world, leading him to question who he can really trust.
Jigsaw has been over a year in the making and has been an incredible experience from start to finish. In spite of a dark and serious nature, the cast and crew have had so many laughs on set and we are very proud and excited to be releasing it at LUFP's 2017 showcase. From writing the characters on paper to the actors bringing them to life in new and exciting ways, Jigsaw is a character-driven film focused on the workings of a troubled mind in a world where things are not all that they seem."
Proxy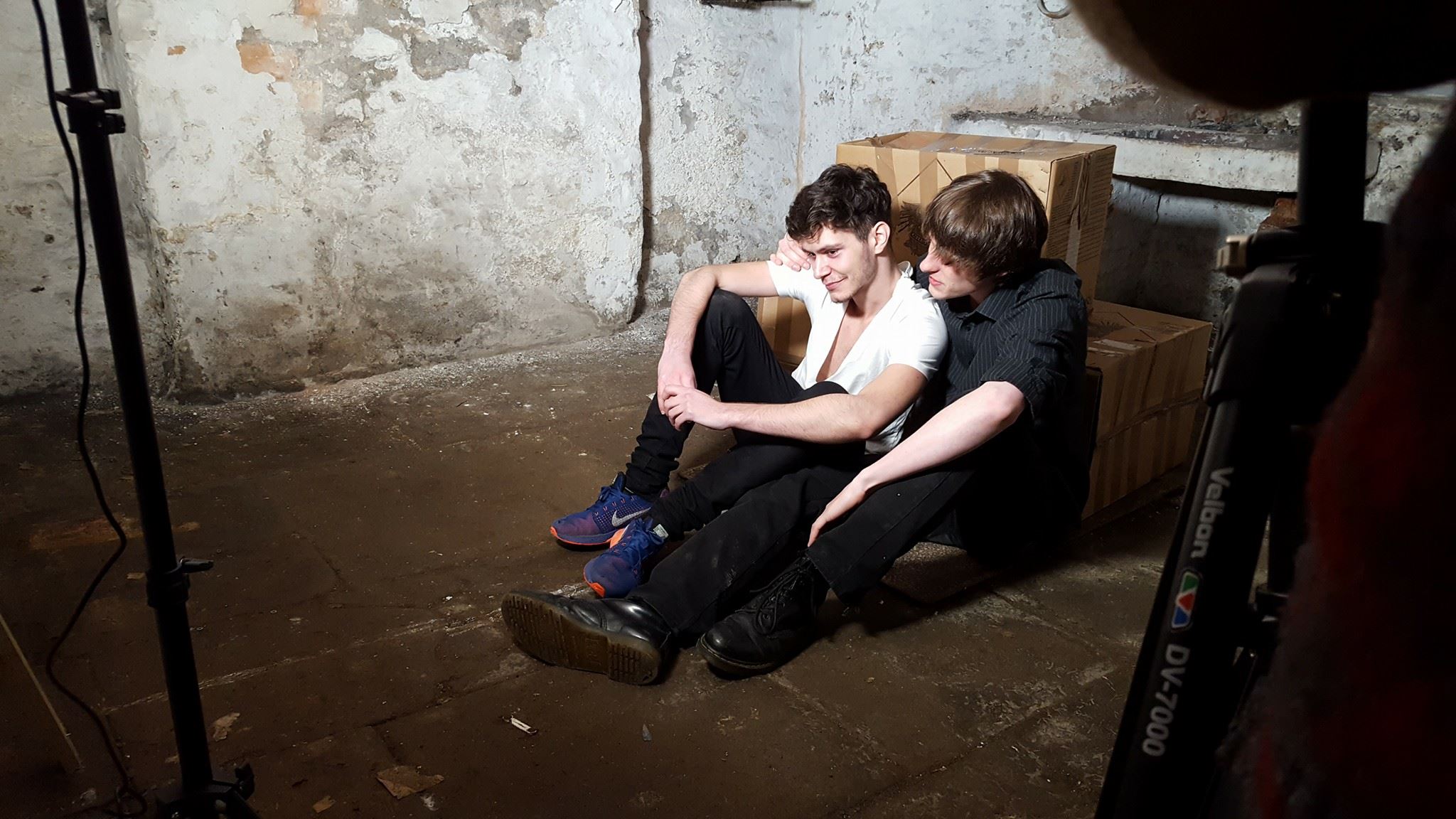 "Proxy is the story of two guys in their early 20s on death row. They have one last night before their hanging, and must come to terms with their lost lives. Neither of them has ever had any real control, and were the children of abusive, controlling parents.
They must become the proxy for each other in these final hours and learn to accept their fate. Neither of them is named, nor is there any hint of why they are there. They are just two misguided and inadequate strangers thrown together in the final moments of their lives."
Proxy stars Alex Tihoan and Jason Naylor. The film is directed by Shashank Sharma, written by Nicola Anne Mainwaring, and produced by Bethan Edwards and Natasha George.
Purgatory
"Racked by the suicide of his wife Penelope (Kasia Bentkowska) and sunken into an alcohol- and opioid-driven depression, former detective Ernest (Theodore Garov) is given a second chance when old-time partner Gavyn (James Adewunmi) enlists his help to solve a series of murders with a grotesque link between them and a possible, damning connection to the death of Penelope.
Everyone got their first peek at Purgatory with its first trailer released on May 15th, which amassed over a thousand views in under a day, but the project has been in development since last October by Theo Bianchini, Ed Moore and Javier Orella from a script written by Theo Bianchini in Summer 2016.
Purgatory is both an ode to French criminal thrillers and an exploration of grief: the simplest denomination is that of a neo-noir film. The production of Purgatory has been an exciting challenge tackled by some very talented cast and crewmembers from LUFP, with moments as memorable as 'crunching' under time pressure to shoot all necessary scenes at the Lancaster Town Hall.
Purgatory marks the on-screen debuts of Theodore Garov and James Adewunmi, enlisting LUFP veterans Jamie Mills and Kasia Bentkowska." – Javier Orella
Shot Down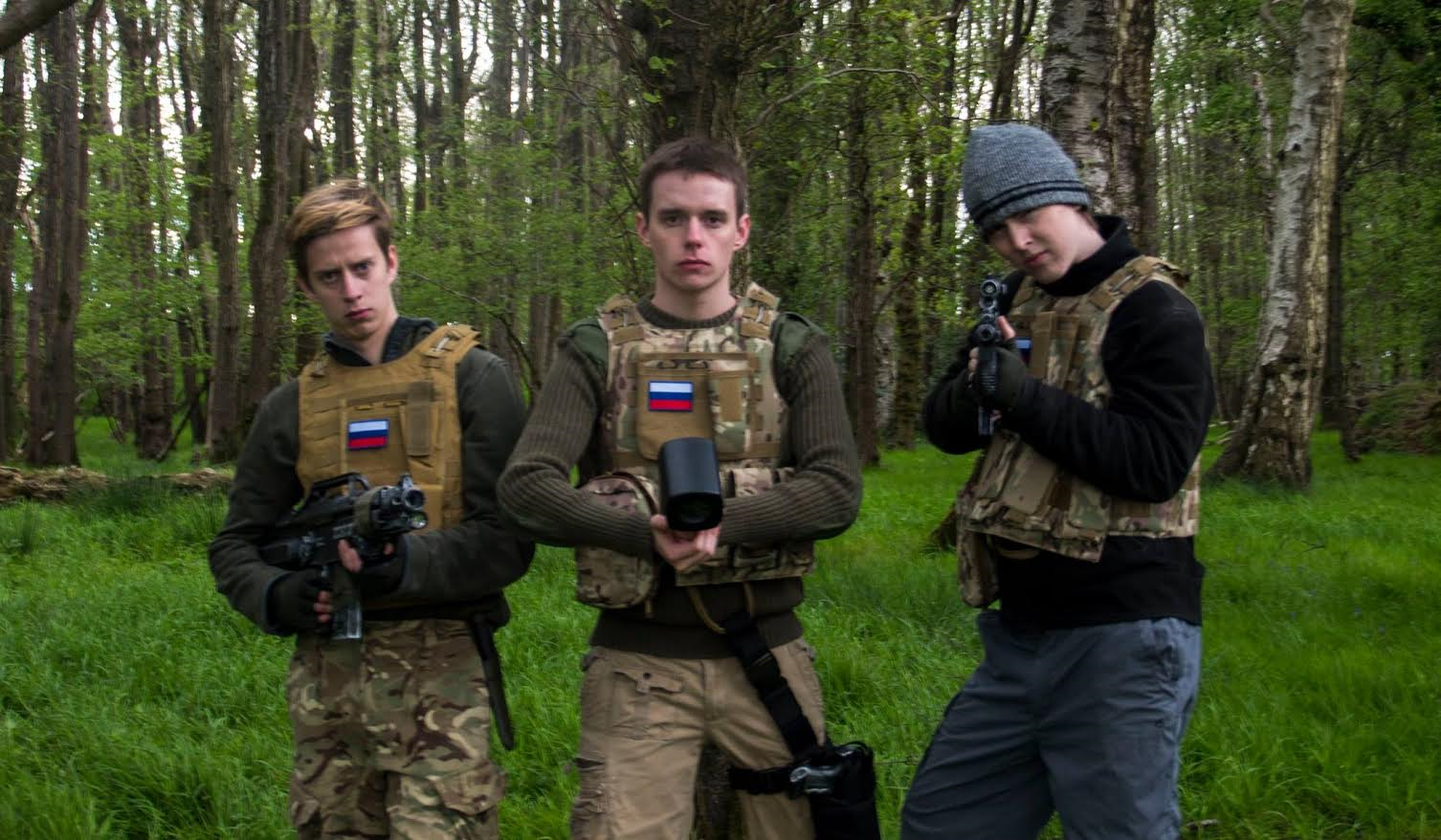 "Set in the near future during a second Cold War, an American pilot crash lands in Russian territory. The pilot is forced to fight for their survival as they are chased by a Russian squad.
Shot Down is LUFP's first ever action film and making it was an exciting but challenging project. Many of our shoot days have been spent running about in forests armed with guns and cameras and rigs, trying to get awe-inspiring shots. Props and costumes have played a big part in our project helping to make our film look more realistic and raising the production value of the film.
All our characters have been armed with military vest and a variety of weapons making them look the part. All our production days have been really fun as we keep getting opportunities to try out new things, and learn more about the genre and filmmaking in general. It's been a joy working on Shot Down and I can't wait till the showcase." – Matthias Djan
The Good, the Bad, and the Awkward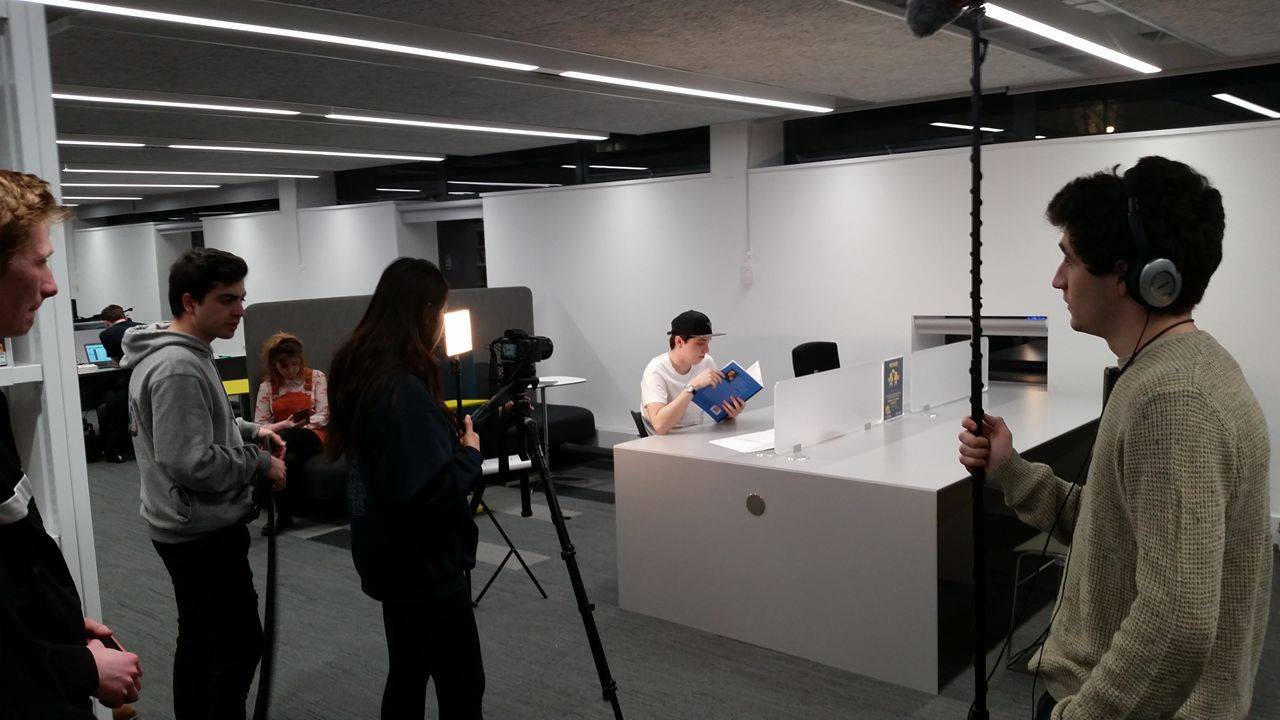 "The Good, the Bad, and the Awkward is a short, sweet, and fearless romantic comedy written by Martim Molina and directed by Will Spicer, following the university lives of Jake, Ben, and Sarah. The main protagonist, Jake (Jason Naylor), is a hopeless romantic who falls in love with Sarah (Máire Robinson) during a visit to the library. From the moment they first meet, their lives change, making way for the good, bad, and awkward moments ahead of them.
Inspired by iconic titles like Annie Hall and Scott Pilgrim vs the World, we aimed to create an unconventional romantic story that wasn't afraid to be risqué in the name of comedy. We were lucky we got to cast great actors that executed the dramatic and comedic scenes beyond our expectations. We couldn't be happier with their work.
In regards to the LUFP showdown, I can confirm we have a secret weapon. Jason Naylor and Máire Robinson, who play the leading couple in our film, are in fact a real-life couple; basically Brangelina, Mr. and Mrs. Smith-style." – Martim Molina