The One to Watch
797 total views
Sourcing garments out of his mum's garage in Yorkshire, Matty Bovan brings us clashing prints and colourful masterpieces, recently demonstrated in his Spring/Summer 2018 collection at London Fashion Week. Graduating from Central Saint Martins arts college in 2015, with an MA in Fashion Knitwear, it is clear to see his clothing revolves around the incorporation of woollen materials and other experimental uses of fabric. Indicative of his personal expertise, his lines are full of technique, using digital and screen printing, in addition to felting, machine knitting and crocheting. This vast array of material composition allows for an exaggerated overload of texture, layers, shapes and colour, which makes Bovan's work so distinctive.
Having worked for iconic brands, such as Marc Jacobs, Louis Vuttion, and Miu Miu, Bovan is a fashion favourite among other famous designers, standing him in good stead for future recognition.  His configuration of avant-garde, experimental costume earned him the L'Oréal Professional Creative Award, prior to the LVMH Graduate Prize in 2015. This eminency is certainly deserved when we consider the complexities of his designs. His attention to external aesthetic, as well as the layering and 3D components of his outfits are second to none, being influenced by other great names like John Galliano, Gareth Pugh, and Alexander McQueen. The contrasting selections between individual garments would at first glance seem precarious and uncomplimentary, yet when collected as an ensemble Bovan manages to create something contemporarily chic, bursting with different hues and saturated with androgyny.
His "woman" is one of modernity, something he expressed to Vogue in relation to his recent line for LFW, September 2017. He went on to claim said woman is a "female version" of himself, even though he undoubtedly explicates his attire is "not just strictly womenswear" and has "never considered it so rigid". Obvious to anyone seeing Bovan solitarily, his gender/style boundaries are non-existent. Being not only a designer, but an illustrator, model, and make-up artist, Bovan has created his very own creative territory, gearing himself in exquisite outfits, accompanied by his pastel shaded hair and 80s style make-up.
With an unapologetic, yet abstract expressionist attitude toward his designs, Bovan creates something incontestably magnificent. Glitter, rainbow yarns, angular silhouettes, and psychedelic combinations make it difficult to ignore his garish and striking compositions. The tactile and handmade panache he demonstrates are said to have been influenced by his earlier years. Bovan tells Vogue "it was a very natural thing" for him to make and craft as a child, due to his mother's inspiration from "fabric painting", "dyeing clothes", and "spraying gold hearts onto the wall". Such demonstrations can be identified in his own craftsmanship, as he alters everyday fabrics with his skilful abilities to transform the appearance and texture of textiles. Bovan cares not for tradition, his insteas preferring performative pieces, perfect for musicians such as Björk or Grimes (artists Bovan has expressed he would love to dress); Bovan is the perfect designer for those with a daring character, knowing how they wish to dress.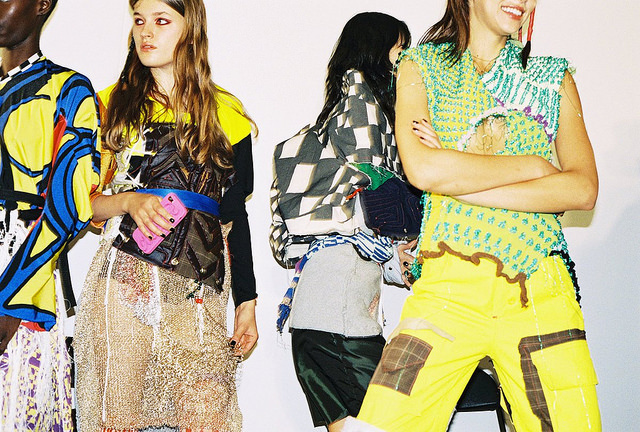 In a time where the world of fashion is full of edgy, innovative young designers like Bovan, it is struggle to make a full-time career out of what they love. However, Bovan acts as a symbol for surviving artists in a time where creativity is shunned as a lesser dimension in terms of occupation. The light-hearted and entertaining features of his clothing are a breath of fresh air in the current-day state of progression and experimental play within the arts. The ethos of the designer is based on the idea that "if you don't have the money, you just make it"; a great source of encouragement for other aspiring designers who feel they don't have the bank balance to pursue their dreams. Bovan explains "it's so much cheaper to make your own things", generating the concept that you don't have to be that rich kid with wealthy parents to make it in an artistic domain. His advertisement of making something from nothing is rather positive and admiring in a poverty-stricken Britain.
Likewise, this motivated, independent way of working has given him opportunities not only to work alongside big designers, but collaboratively working with global trademark, MAC, as well as shooting a film with Barbie and creating looks for Lulu Kennedy's Fashion East pop-up shop, Selfridges. Despite working with such iconic names, Bovan sees it as imperative to focus on his creative flexibility, remaining at home in Yorkshire, keeping a distance from the hubbub of London city. Freelancing in this way allows Bovan to work collaboratively with others, and work under scholarships and other contracts. Consequently, this offers him the chance to use his intelligence and multi-disciplinary skills from the fashion world to teach at his foundation degree institution, Leeds Beckett University.
From getting his Mum to make some of the jewellery pieces for his collections, to designing prints with Marc Jacobs, it is evident that Matty Bovan is one of the hardest working designers of our generation. With his club-kids, hyperbolic statement garments, and individual sensibility in the way he invents, it is only a matter of time until Bovan becomes a household-designer name. View Bovan's collections at www.mattybovan.com