More Music: An Ode to Diligence
472 total views
The knowledge of the unifying and comforting power of music has been well established; and in this difficult period, it's unique and often under-appreciated ability to reassure has been a retreat to many of us. The comprehension of this fact is what underpins the work of More Music, a local musical and education charity based in Morecambe. At the dawn of lockdown, More Music joined the throng of charities who were alarmed by the growing number of challenges they face, struggling to overcome the fact that their work and their mission will have to be completely re-adjust in order to accommodate for the insurmountable odds stacked against them.
Yet, like many of the charities around the world, the need for them was made greater by the unsettling and disquieting nature of the pandemic: for those who looked to More Music for company, independence, learning, and much more, this period was always going to be especially difficult. So, I caught up with the Marketing Director of More Music, Sandra Wood, to discuss the highs and lows of lockdown life as well as to understand better the reason why More Music persevered relentlessly to ensure that they could continue to run. When asked why it was so important to continue More Music's work during Coronavirus, Sandra replied:
'More Music is at the heart of local life, More Music has always been a place of friendship, creativity, and fun. It has helped countless people find a direction and offered mutual support in times of need. This has definitely been a time of need!'
Started in 1993, More Music has now been recognised as a national leader in the field of community music development, winning awards too for how they give people of all ages, backgrounds, and skills the opportunity to play an instrument, make music, and perform, whatever their background, age or circumstance. The people who work there though are what makes the space so special – they are a talented and dedicated team who were really making a difference to people's lives.
The day-to-day lockdown life of the staff at More Music may seem relatable: lots of zoom meetings, a splash of good weather, and a proclivity for occasionally getting distracted. However, add in Zoom run music lessons and masterclasses, a need to keep up to date with the ever-changing government advice, as well as two incredible, virtual events and the picture looks different. The rewards, though, are a testament to their dedication, imagination, and creativity.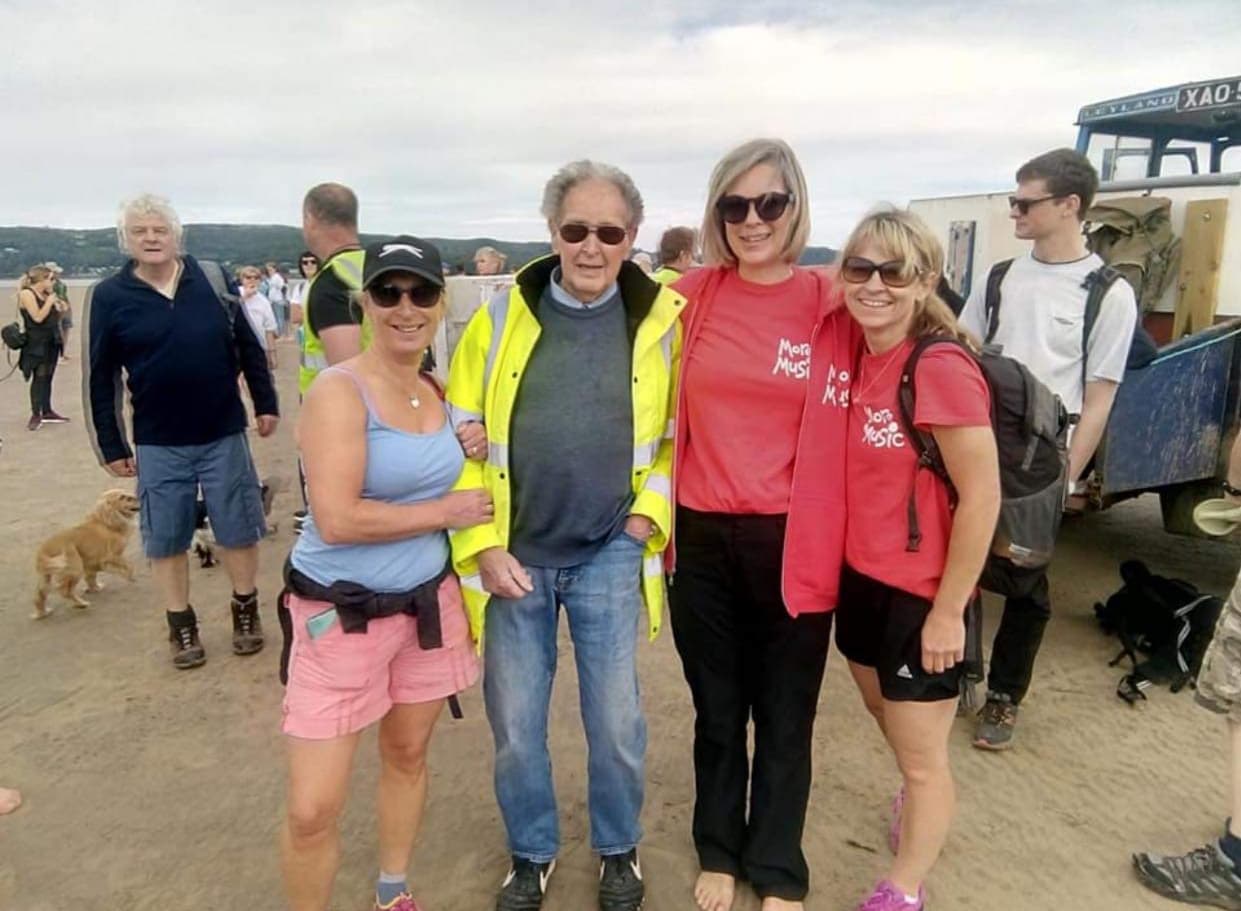 Over the past few months, two major COVID-friendly events were held: 'That Little Spring Thing' and 'Viva La Youth'. Both demonstrated the brilliance of technology, as well as its limitations, and both provided a glimmer of hope and inspiration to the community. Viva La Youth was aimed at young, budding musicians: a week of music, debate, masterclasses, workshops, and industry events. Sandra said, 'despite all the negative aspects of Covid-19 and its impact on making music, this project demonstrated our ability to adapt and take advantage of new opportunities that have arisen through having to do things in a new way.'
'That Little Spring Thing' was a charming way of re-visioning of their regular spring festivals. It culminated in an online premiere of a film which brought together a series of commissioned performances based on 'the power of small things'. Part live music festival, part music video, and part storytelling.
These events mark the change, as the world begins to tentatively poke their head outside their doors and wonder what the next steps are, More Music perhaps acts as an example of how we can all begin to acclimatise to this so-called 'new normal'.
For those who are anxious to play or listen live again, they are also one of the pioneers of finding suitable and safe ways for us all to enjoy gigs; socially distanced sittings are looking like the likely solution. Hopefully, though the sets will be intimate and lack the same loud and noisy thrill that we associate with gigs, audiences' enthusiasm will make up for it.
Yet, there are more than live shows that the charity will have to contend with, an issue which Sandra saw as a balancing act of attempting to establish some sense of normality but also keeping safe: for example, people can still go inside the building for music sessions but the number of people will be monitored, and ideally, if the bracing sea air of Morecambe is not too cold, then outside. Though, as the topic of mental health was brought up, it struck me as something that has somewhat been forgotten now. For those who are dependant in some way on the community that More Music has encouraged, especially for those in our society less fortunate than ourselves, the 'fear' of coming out of lockdown can be intimidating. For everyone, it has been difficult but it is important that we can at least spare a minute to think and ideally help those whose mental health is now at as much risk as their physical.
In our rush to return to normal, I feel this is a problem chronically overlooked, undervalued, and oversimplified. The other day I was in conversation with a neighbour who mentioned that her niece was starting nursery this week. While the conversation itself escapes the point of this article, she did mention something that hit home. Her niece, being only two, has lacked social interaction with not only people her own age but also people she doesn't know, seriously impacted for social abilities and making her withdrawn and nervous around strangers. Places such as More Music, are driven by not only the desire for musical education but equally community and fostering a positive, happy environment for people to learn and build relationships. Although these sessions have been run over Zoom, what about the all-important social interaction? Not only of the young but the elderly, the vulnerable, and the people who just love to play the guitar. It is this that More Music has acknowledged and it is attempting to fix.
Music is an important part of any community and More Music a vital part of the Morecambe community: 'music is accessible to everyone – you don't have to be a musician to take part or learn something new, music is ideal for intergenerational learning, it makes connections between people, marks moments in our memories and helps us to tell our stories.'
So in a world where there is so much sadness; wherein the news we face new tragedies; and as we walk down the street we are confronted with the many ways that Coronavirus has crept into people's lives, I bring some good news. There is a charity, just down the road, that has bumbled along. A place to encourage imagination and creativity, to bring people together, and fundamentally to celebrate life.