Your Ultimate Guide to a Vegan Christmas
472 total views
If you're meatless (or trying to be), Christmas can be a hard time. The allure of pigs in blankets, turkey, gravy, and crispy roast potatoes cooked in goose fat can be hard to resist. But that doesn't mean that vegetarians and vegans are excluded from delicious Christmas foods! Here are some amazing meatless alternatives for every aspect of the much-anticipated Christmas dinner.
The Potatoes
Usually, roasties are cooked in animal fat, which isn't ideal when you don't eat animal products. How can a potato, a classic vegan staple, be so thoroughly ruined for us?! Thankfully though, BOSH! has an amazing recipe for vegan roast potatoes that might even beat out the classics. Simply halve or quarter your potatoes, toss in garlic, rosemary, and thyme-infused olive oil (or if you're lazy like me, go for already infused olive oil and sprinkle dried rosemary and thyme on top), add some salt and pepper, and roast until golden brown.
You can even eschew roasties for another potato recipe –smashed potatoes! These beauties are very underrated in my eyes, although they do take a bit more effort than roasties. Start by boiling baby potatoes until they're soft, but not super soft. Drain them, then arrange them on a flat baking tray. In a small bowl, mix vegan butter, olive oil, garlic, salt, pepper, rosemary, and thyme. Take a fork, and firmly press the potatoes until they break and are flat. Then spread the butter mixture over them, and roast until crispy. They're absolutely divine, and the butter mix is customisable to your taste (I go for an obscene amount of garlic)!
The Roast
Perhaps the most important element of the Christmas meal, the roast can make or break the whole day. While I tend to opt for a frozen nut roast or vegan wellington to save my mum the hassle of making a whole separate dish from scratch, this year I've been researching the best recipes to make for myself. Jack Monroe has an amazing vegan nut roast on her website, and clocking in at 42p per serving, it's one of the most cost-effective recipes out there.
If you don't fancy making one from scratch, all the major supermarkets have great meat-free options. Aldi has amazing vegan nut roasts that are filled with cranberry sauce, along with a new Plant Menu no-turkey roast that's filled with stuffing! Sainsbury's has a massive array of veggie and vegan-friendly Christmas food, with meat-free wellingtons and a Linda McCartney veggie beef roast with a red wine and shallot glaze that looks divine.
The Gravy
If you don't serve your roast absolutely drowned in gravy, then I'm sorry to say that you're doing it wrong. While I usually go for Bisto gravy granules (yes, they're vegan!), Christmas is a special occasion and calls for thick, beautiful, homemade gravy. Jamie Oliver has a good recipe on his website for a lovely vegan gravy, although it does call for approximately 89 ingredients. I skipped the blackcurrant jam and the port, because it's pointless to buy something just to use it for one recipe, and it still made some amazing gravy.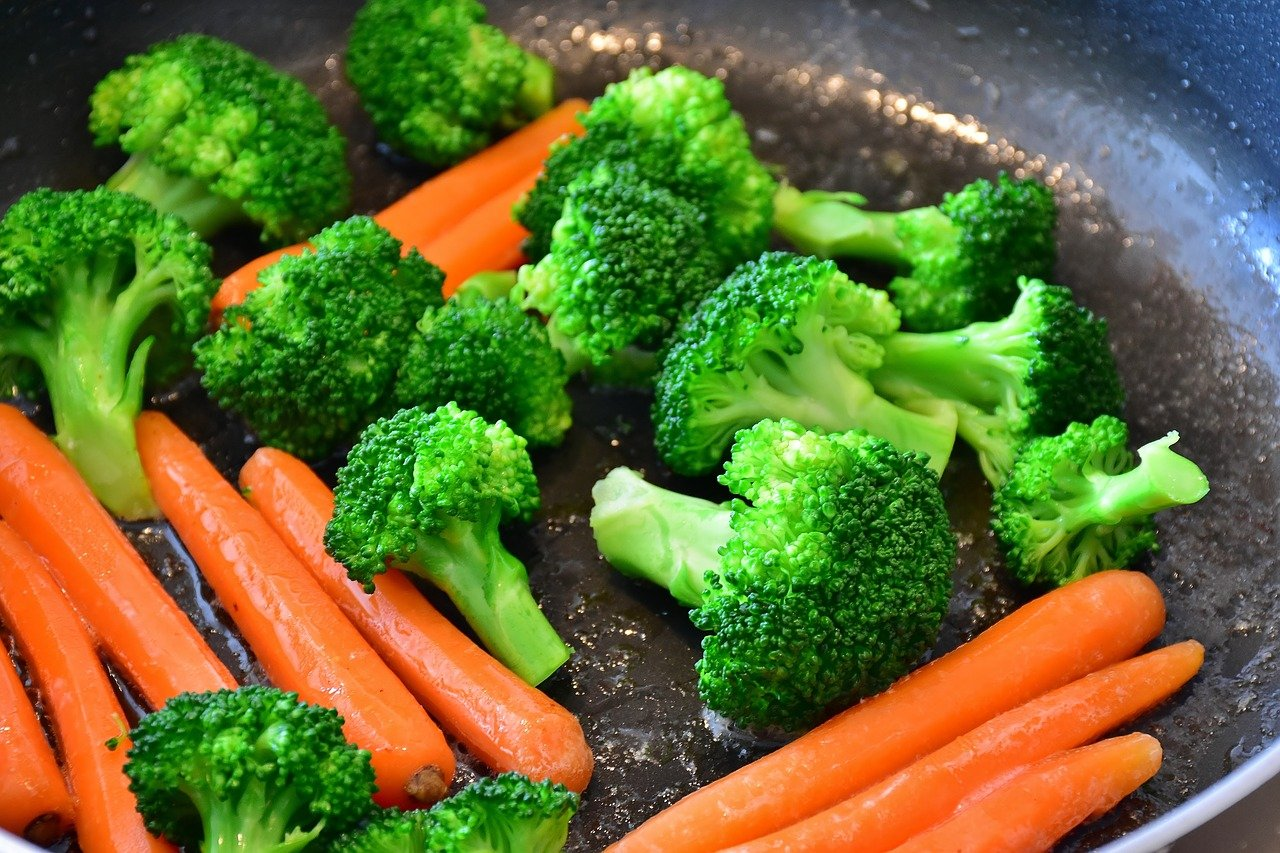 The Sides
While all the veggies at Christmas dinner will be vegan, there are better ways to serve them than boiled or steamed. My favourite thing to do with brussels sprouts and broccoli is to drizzle them with olive oil and toss them with salt, pepper, and garlic, and roast them so they're crispy and delicious. The same goes for carrots and parsnips, but with an added twist: drizzle them in honey (or use agave or maple syrup if you're vegan), add salt and pepper, and roast them up. I promise you'll never want to boil your veggies again.
Vegan pigs in blankets are sadly still a pipe dream at the moment, but they are possible to DIY very effectively. Take the veggie sausages of your choice, cocktail or not (I opted for the Richmond meat-free sausages – they're some of the most convincing out there!) and wrap them in any type of vegan bacon you fancy, and bake until crispy!
Yorkshire puddings are already veggie, and usually contain eggs and milk if you're buying frozen (always check the ingredients though), but vegan ones are available to buy and they're incredibly easy to make! I followed this BBC Good Food recipe, which swaps out the milk for plant-based milk and uses self-raising flour and baking powder to give them the perfect rise!
The Dessert
There are plenty of lovely vegan desserts ready to buy for Christmas. Tesco has a vegan Christmas pud that is also gluten-free, and Sainsbury's 6-month matured Christmas pudding is also vegan! As for mince pies, Oggs have vegan ones that also come in fully biodegradable packaging, and Asda also has vegan ones in their Free From range.
But it's also fun to be able to make your own! A lot of mincemeat fillings for mince pies are naturally vegan (but always be sure to check), and making the pastry is easy – just substitute the butter needed for vegan butter! Make sure it's butter and not spread, as most pie crust recipes require you to cut in the butter to ensure a super flaky, buttery crust!
The Extras
What's Christmas without a massive cheese board? Luckily, vegan cheese has come on leaps and bounds within the past few years, and (in my opinion) can taste even better than the real thing. Applewood has amazing vegan cheese slices with a perfect smoky taste, and Sainsbury's has its own brand Free From cheese in tons of different flavours, like cheddar style and blue style, which will pair perfectly with a crumbly cracker after Christmas dinner.
Or you can make your own cheese! This recipe for vegan smoked gouda uses coconut milk, nutritional yeast, liquid smoke, and agar agar powder to get the most realistic taste and texture. Simply combine all the ingredients in a saucepan and whisk, bringing it to a slow boil, and then pour into a container to set. There's also the possibility to make a meltable option!
And now you're all set for a meat-free (or vegan) Christmas!