The Story of Mesut Özil: When football becomes more than just a game
511 total views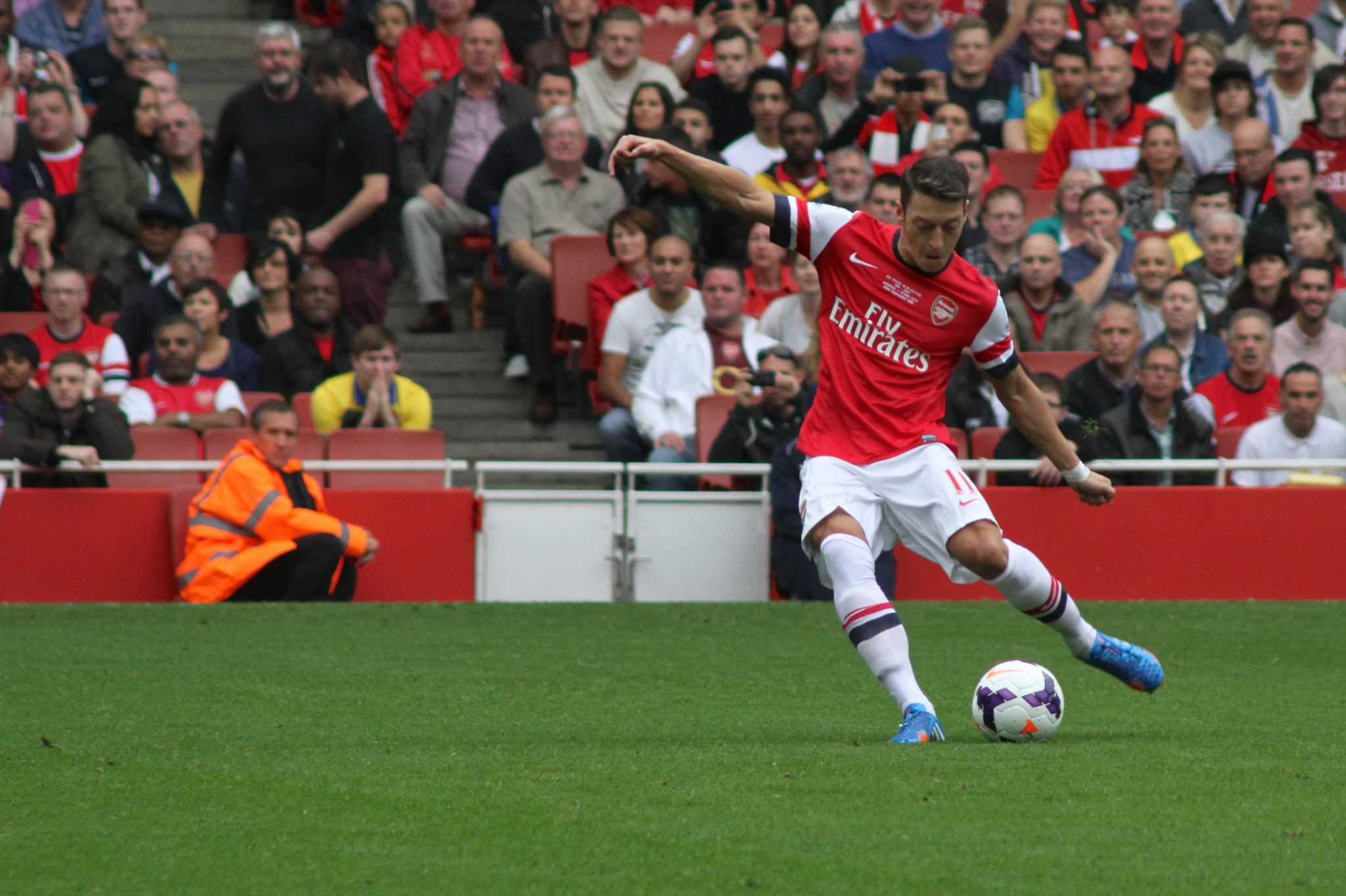 It wasn't too long ago that German magician, Mesut Özil, was lighting up European and International football with his delicate, deadly vision and passing execution. Now, two years on from signing his lucrative £350,000 a week contract extension at Arsenal – a move which should have paved the way for him becoming the central tenet of a much-needed rebuild – he is not even in the Premier League or Europa League squad.
Arsenal have fashioned an unenviable reputation in recent years for being rather unsuccessful in their transfers. The likes of Park Chu-Young, Sebastian Squillaci and Shkodran Mustafi, all signed by Arsène Wenger, is enough to send shivers down the spines of most Arsenal fans. Unai Emery's signing of Sokratis Papastathopoulos, who is also no longer in Arsenal's 25-man Premier League squad, was equally uninspiring. Even Mikel Arteta's signing of Pablo Mari, free transfer of Cedric Soares, and the contract extension of David Luiz have added to the feelings that Arsenal fundamentally make questionable decisions regarding players. But the signing of Özil in 2013 certainly didn't feel like one of these blunders.
First, let's start by saying that Mesut Özil has not been an unsuccessful signing. Özil registered 19 assists in the 2015/16 season, which has only been surpassed by Thierry Henry in 2002/03 and Kevin De Bruyne last season (2019/20). He also did exactly what he was brought in to do; end the decade-long trophy drought – which he did by leading them to three FA Cups wins. Also, Özil was instrumental in Arsenal's second-place finish in 2015/16 which would have resulted in a title had it not been for Leicester City winning the most unlikely title in Premier League history. Not only this, despite his limited involvement since the start of last season, he has created 38 chances in just 18 games – this equates to 2.4 chances-per-90-minutes (which is still the highest in the Arsenal squad).
Despite his considerable impact over the years, when his contract was due to expire in the summer of 2018, there were still doubters who believed that he was not worthy of a contract renewal. The January transfer window of 2018 saw Olivier Giroud leave the club, but Pierre-Emerick Aubameyang join. This left some book-balancing to be done in terms of financial fair-play. Consequently, Alexis Sanchez was transferred to Manchester United and – with the prospect of a fanbase outcry resulting from the loss of Sanchez and Özil for much cheaper than their worth – Arsenal hastily decided to hand out their biggest ever wage packet to a player who (even at the time) divided opinion.
Wenger was perfect for Özil. He loved the ability, the beauty and the elegance that a player like that can bring. It's why he loved Cesc Fabregas and Santi Cazorla. The former World Cup winner, whose assist numbers shone for years, is best in a team that dominates possession – in which Wenger's team averaged around 200 individual final-third possessions per 90 minutes. But this was not guaranteed to be future managers' philosophy and the winter breaks afforded to Mesut by Arsène – disguised as 'illness' – were unlikely to be accepted by new managerial reigns.
In came Unai Emery. Not only did the team's individual final-third possessions per 90 minutes cut in half (to 100), he also wanted the team to press. This – obviously – didn't sound like a plan that would revolve around Özil. When Emery brought in the 4-2-3-1 and used Mesut in No.10 he looked good, but he remained side-lined for big games. Arsenal won all four games in which he played, but they only had a 50%-win rate when he was left out. Not only this, but they also scored 3.5 goals per game when he played and only registered 1.8 per game without him. The stats said it all. However, Emery's move towards a 3-4-2-1 left no room for a No.10; it left no room for Özil.
But was it really all Emery's fault? If we look at the evolution of the game over recent years, the classic No.10 position (along with the classic No.9) is being faded out of the game. For example, De Bruyne is Manchester City's No.10, but he powers from box-to-box and influences play from a multitude of positions. This versatility is being increasingly preferred by the big clubs, but Mesut likes a free role; he's a luxury player and likes to float between the lines and find that killer pass. If we look at Jurgen Klopp's Liverpool and both Mauricio Pochettino and José Mourinho's Spurs, they play in the absence of any No.10-type players.
Wenger displayed his worry at this loss of value for beauty in football when speaking to SoFoot; saying that we, in football, are, "progressively taking the NBA route" and that we have "one-vs-ones…and certain creative players are being eliminated…[because] they're not athletic enough". He continued, "the danger is that football develops into a sport where players run like crazy to win the ball back and don't know what to do when they actually have it in their possession". This footballing evolution indicates that Arsenal's decision to offer Özil that contract was alarmingly hasty and naïve.
Although Emery could have easily given this as a reason for Özil's omission from the team, he described it as a club decision. This made it seem as though Özil had been ostracized for non-footballing reasons – and it continues to do so. The theories on why this may be have rumbled on for some time. Some believe his downfall may have resulted from him speaking his mind and standing up for what he believes is right.
For example, Özil was the scapegoat for Germany's poor campaign for reasons that were not based on his on-pitch performances in the 2018 World Cup. The real reason was his Turkish heritage. As a third-generation Turkish-German (who was born and raised in Germany), he – alongside İlkay Gündoğan and Cenk Tosun – was pictured with the President of Turkey (Recep Tayyip Erdogan) giving him a signed shirt, prior to the 2018 World Cup.
This was seen as a questionable decision by some due to Erdogan's controversial political reputation. However, Özil explained this by saying, "My job is a footballer and not a politician, and our meeting was not an endorsement of any policies". He continued, "Whether it had been the Turkish or the German President, my actions would've been no different." He merely wanted to respect the country of his heritage, is that really so bad?
DFB President, Reinhard Grindel, seemed to think so. In Mesut's Twitter statement, he said that he explained about his "heritage, ancestry and therefore reasoning behind the photo". However, Grindel was "far more interested in speaking about his own political views and belittling [Özil's] opinion." According to Mesut, they agreed that the best thing to do was to put it aside and focus on football – and the upcoming World Cup.
In the group stages of the competition the German midfielders created more chances than any other team in the competition, but the strike-force – comprising of a lacklustre Mario Gomez, wasteful Timo Werner, and desperately missing Miroslav Klose – failed to hit the mark. Germany only scored one goal from open play in the entire tournament (courtesy of Marco Reus) – with only one other goal (coming from a spectacular Toni Kroos free-kick). Considering Özil managed to fashion seven delicious chances during the South Korea game alone (none of which were converted) it seems ridiculous that Özil could be the one to blame.
However, following the World Cup exit, Grindel once again voiced his concerns and publicly stated that Özil should come out and explain his actions. Özil rightly (in my opinion) felt disappointment and anger towards being the scapegoat for the team's performances and believed that Grindel wanted him out of the team before the World Cup, but it was the support of Low that kept him in.
Özil has since decided to retire from international football. He no longer wants to be in a situation whereby he is "German when we [Germany] win, but I am an immigrant when we lose." The actions of Grindel, in my eyes and the eyes of many, are unforgivable and inexcusable. Seven years prior, Mesut gave Erdogan one of his signed Real Madrid shirts; not only this but the German Chancellor, Angela Merkel, herself was sat alongside the Turkish leader during a football game and was a key player in introducing Özil. For Özil to then get persecuted for the same actions years later is farcical.
This prejudice may be the reason for his lack of involvement internationally, but this does not explain his fall from grace at Arsenal. An explanation external to footballing performances may emanate from Özil's outspoken nature in his criticism of the Chinese regime in their treatment of their Muslim Uighur's – who are said to be detained without trial in high-security prison camps.
This led to China removing Mesut from the Pro Evolution Soccer video game and Arsenal's following game against Manchester City was removed from the state TV schedule. Arsenal, as a club, distanced themselves from the comments and failed to support Özil's fight for equality. Many believe that it is the fear of losing Chinese commercial connections that led to the club keeping Mesut at arms distance.
Another theory for Mesut's downfall lies within his reluctance to take a pay-cut during the lockdown period. Arteta's reign has seen a 'Three Musketeer-esque' 'all for one and one for all' mentality. Perhaps this initial reluctance is part of the reason for Özil's omission from the team post-lockdown.
Özil was not the only player who was reluctant at first, yet his name was the only one that was leaked to the press…coincidence? Many believe that this leaking was a ploy to turn the fans against Mesut, as the fans are perhaps the only ones that remain on his side.
It also seems somewhat suspicious that the characters within the Arsenal squad with whom Özil is close have been distanced from the team. For example, Matteo Guendouzi has been loaned out to Hertha Berlin, Sead Kolašinac has been loaned to Schalke 04, and the club is trying to shoehorn Shkodran Mustafi out of the club, despite him turning down transfer offers.
The story of Mesut Özil is a long and winding road and there have been so many opposing sides that it's difficult to know what to believe. For example, Özil deciding to personally pay the Arsenal mascot Gunnersaurus' wages could be an act of kindness or a sly and clever dig at the club who had decided to release the fan favourite.
There's never been any doubt in Mesut's ability. It's a shame that a club that has a proud history of creative players in Fabregas, Nasri, Hleb, Rosicky, Wilshire, Ramsey and Cazorla to name a few, has now lost their last remaining one – as he moves to his boyhood club, Fenerbahce.
But he's been a victim of so much: a racist individual in a powerful role within the Germany Football Federation; a club with greater priorities for commercial commodities rather than supporting humanitarian rights; weak coaches who have been strong-armed by their employers to ostracize him; and his own demeanour on the pitch which leads spectators to believe he's lazy or doesn't care.
No one likes to see players with such talent wasting away behind the scenes and I'd love nothing more than for Özil to be lighting up the footballing world once more. It's just a shame that that's not going to be at Arsenal, or in the Premier League. For now, I think we need to keep an open mind; Özil isn't just a money-hungry footballer who is out to make a quick buck. He clearly cares about the club – but he's hurt by his treatment and the lack of support.
This country has always loved the James Milner type of player – one's who aren't blessed with raw talent but work hard and give their all for the shirt. That isn't necessarily Özil. But it doesn't matter. When you watch him play and he's on-song, it's sublime. I for one am disappointed in how he's become a wasted talent and I can't wait to see him playing again.